A greenhouse is a great way to boost your plant cultivation, increase your growing season, and enjoy gardening all year long. However, hiring a contractor to build a greenhouse from scratch is not only time-consuming but extremely expensive, too.
The solution? Getting a geodesic greenhouse kit, of course!
Geodesic greenhouse kits are designed for enthusiastic DIY'ers and home gardeners. Along with detailed plans and instructions, these kits come with almost everything you need to start building your own greenhouse.
In this article, we'll compare three of the best geodesic greenhouse kits on the market today to help you figure out which kit is most suitable for you? Let's find out!
What's Geodesic Mean?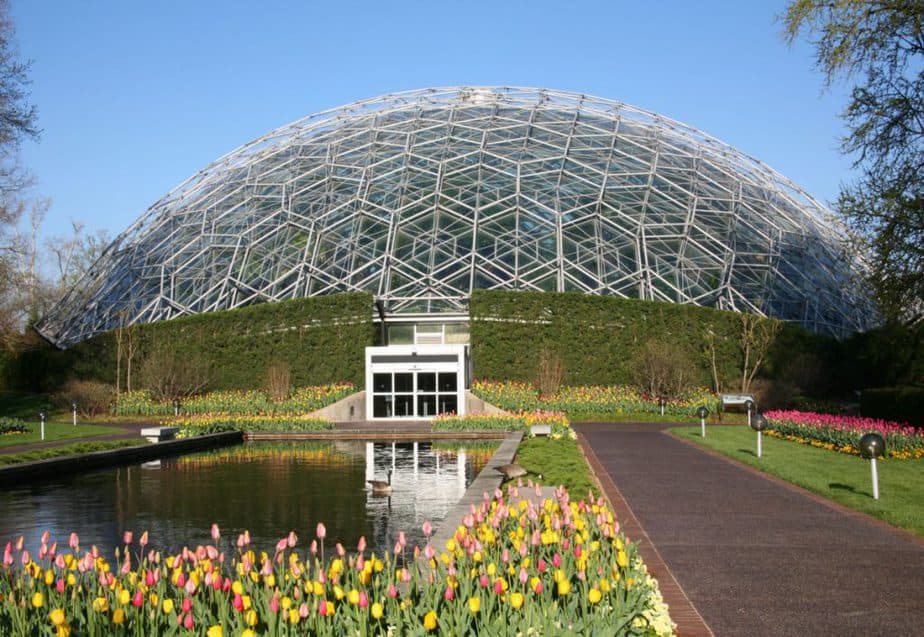 Why is Geodesic Good for Greenhouses?
This brief list is by no way exhaustive but should begin to show you the benefits of choosing a geodesic design for your greenhouse.
Stronger – some shapes are stronger than others and a geodesic design combines basic geometry with advanced engineering to create a stronger greenhouse
Upfront Costs – to purchase a complete greenhouse kit is an undertaking because it's really costly upfront and you haven't had it constructed or constructed it yourself. These geodesic greenhouse kits offer the opportunity to save on upfront costs by providing a foundation from which to build.
Energy Efficiency – less surface area and a more efficient design means that geodesic greenhouses are better at retaining heat year-round
Sustainability – designed to be lightweight and moveable a geodesic greenhouse offers an opportunity to construct your own greenhouse without substantial tool.
Top 3 Geodesic Greenhouse Kits
Geodesic domes are among the most popular greenhouse options in the market today. Their conventional shape maximizes the sun's light and warmth without damaging your plants. They also sustain airflow movements and constant temperatures much better than rectangular and square-shaped greenhouses.
The listed three geodesic greenhouse kits below were picked according to functionality, material-build quality, size, and price. Let's take a look: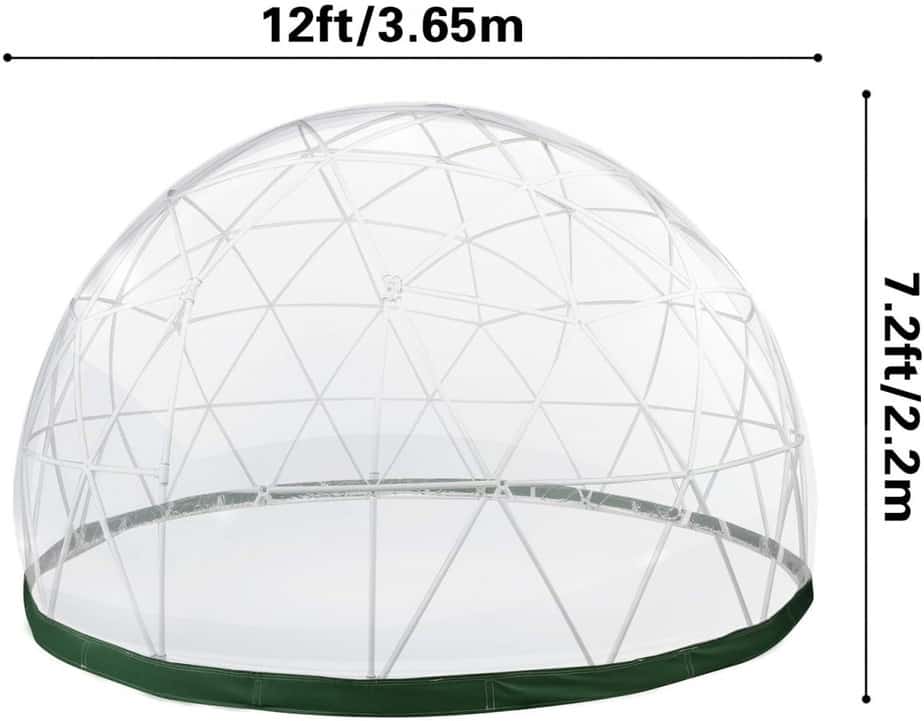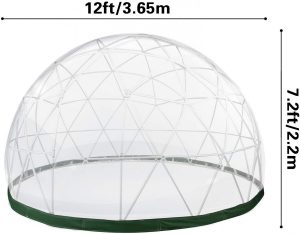 The Patiolife Garden Dome is the ideal choice for backyard glamping, greenhouse farming, and solitary entertainment.
This gorgeous geodesic dome is made from non-corrosive, durable ABS plastic frames and thickened PVC. It comes with a pre-installed zippered front door and two triangular zippered windows for summer ventilation.
To further beautify your greenhouse, Patiolife included 10-meter LED string lights at no extra cost. These lights can be used to decorate and liven up the inside of your greenhouse. You can also use these wires as a hanger for potted plants and the like.
The Patiolife Garden Dome is an absolute breeze to install. All required pieces, along with plastic nails and metal clamps, are included in the kit, so you don't need to purchase or use anything extra.
The PVC screen that comes with the product is designed to protect the inside of your greenhouse from harsh exterior elements. It's lightweight, moisture resistant, and extremely durable. It's wind and snow resistant, as well.
This geodesic dome greenhouse sits on a 107 square foot base area and has a max height of 7 feet, making it large enough for most people to stand in. If you don't have much floor space, you'll be glad to know that Patio life also sells a 9.5-foot model with a max height of 6 feet.
Pros:
Designed to withstand strong winds and snow
Wide indoor space
Zippered doors and windows
Extremely easy to assemble
Cons:
Doesn't come with extra replacement parts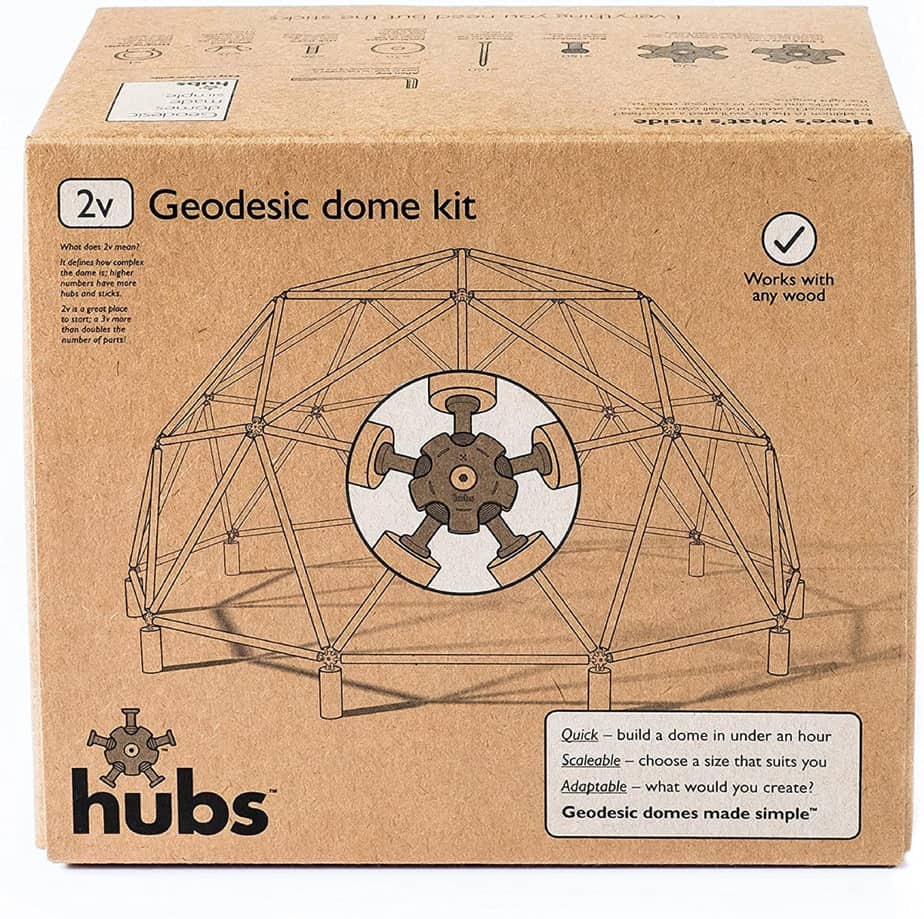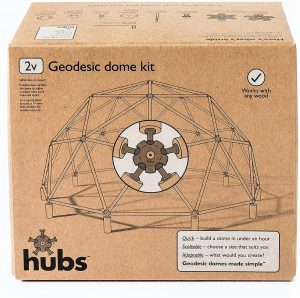 The Hubs Geodesic Dome Kit perfectly balances quality, price, and functionality. Along with all the screws and metalwork required, the kit itself contains a total of 26 hubs and 150 ball connectors. Hubs have also included spare washers, bolts, and the like in case pieces are damaged or lost.
One of the best things about the Hubs Geodesic kit is that it's extremely simple to put together. After you've cut, painted, and screwed the balls on the sticks, it'll take you less than an hour or two to build and set up. Plus, it's entirely scalable, giving you the freedom to increase or decrease the size of the greenhouse to your liking.
Made with high-grade polyacetal resin and stainless steel, this geodesic greenhouse is built to last. To further increase the product's lifespan, Hubs have added UV stabilizers to protect the resin from long-term degradation and UV light.
You can build and dismantle the dome as many times as you'd like without having to worry about accidentally snapping or damaging the parts.
The Hubs Geodesic Dome is designed for multiple functions. If you're not a big fan of greenhouses, you can instead use the Hubs as a planetarium, an observatory, or even a dome home for your dog. The possibilities are virtually endless!
Pros:
Made of high-quality materials
Multiple functions
Clear, easy-to-follow instructions
Can be dismantled and rearranged
Exceptionally tolerant to errors
Cons:
Difficult to move after it's built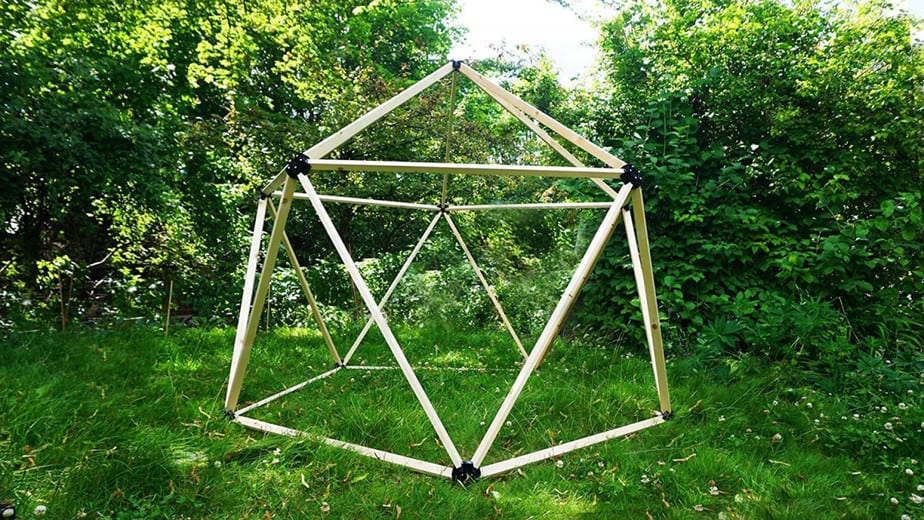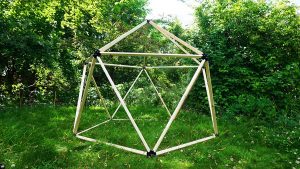 The Magidome Geodesic Greenhouse Kit is a suitable choice for farmers who aren't ready to spend a lot of money on a greenhouse kit. For just under $100, it's certainly a winner!
This product comes with 11 UV-resistant HDPE connectors. Simply fit your pre-drilled timbers into the connections, screw it in until snug, voila! You've got your own geodesic greenhouse.
To make construction as quick and easy as possible, make sure your timbers are no more than 1×2 or 0.75×1.5 inches wide.
There's no limit as to how high or low the Magidome greenhouse can be. If you want it to be around 5.5 feet tall, use 25 equal length 4 feet timbers. For 8 foot high greenhouses, use 6 feet timbers. And so on.
Before you build extremely high domes, however, take the greenhouse's location and potential exposure to high winds into consideration.
Aside from the timber and screws, the Magidome kit contains everything you need in order to build a geodesic greenhouse.
Pros:
Relatively lightweight
Exceptionally versatile
Straightforward assembly
UV-resistant HDPE hubs
Works indoors as connectors won't scratch your floors
Budget-friendly
Cons:
Final Thoughts on Geodesic Greenhouses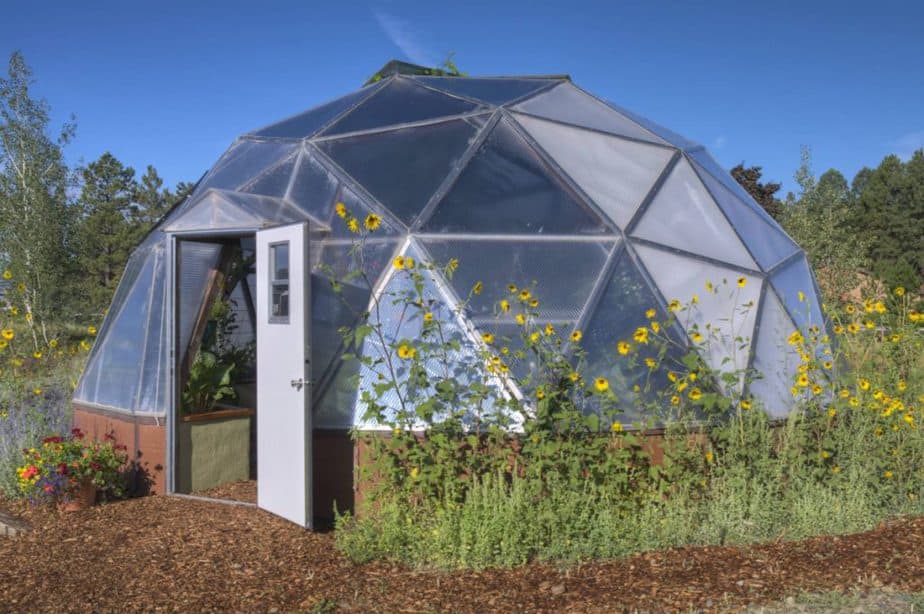 Geodesic greenhouse kits come in many shapes and sizes. They're the ideal choice for handymen and women who find great pleasure in building things from scratch. Plus, they're super budget-friendly!
Our top pick for the best geodesic greenhouse kit is hands-down the Patiolife Garden Dome due to its solid construction material and easy-to-understand assembly instructions. If you're looking for a cheaper alternative, the Magidome and the Hubs Geodesic Kits are also fine choices for the money.
Comment down below what size geodesic greenhouse you're going to build!