Harnessing the power of the sun is really the root reason you built a backyard greenhouse, after all. Plants use the sun to grow, and you want to grow more plants.
All greenhouses are technically "solar," but let's talk about what you can do when your greenhouses' electricity uses photovoltaic power (the traditional method of solar power). Specifically: what you can do with airflow. More specifically: what a few solar-powered greenhouse exhaust fans can do for your greenhouse's airflow.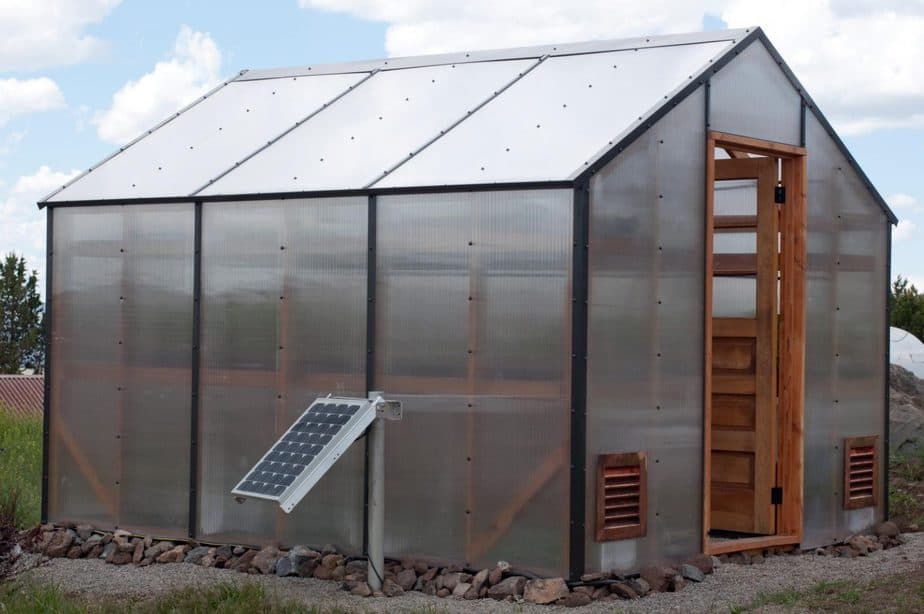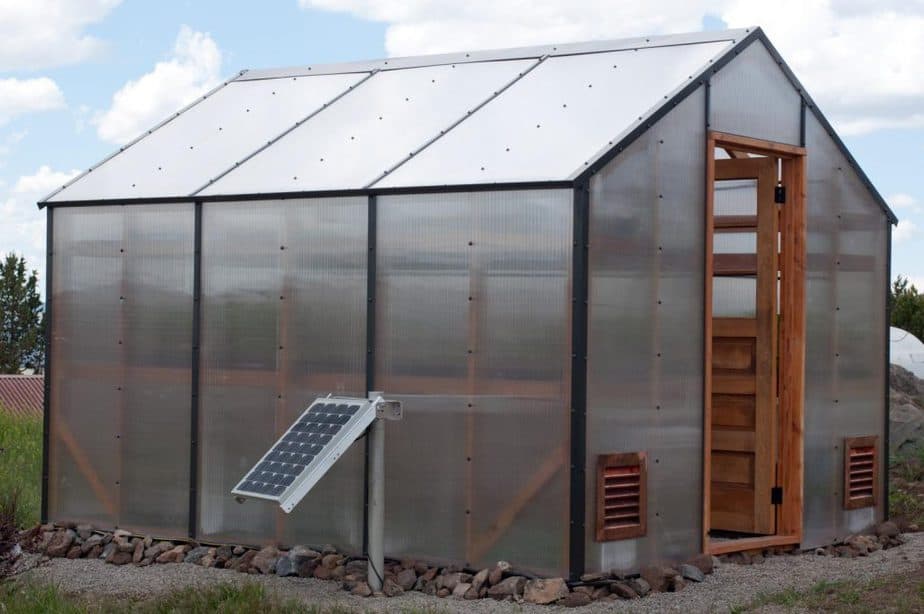 Want to explore more about all the ways you can utilize solar energy (with photovoltaic cells or without) in your greenhouse endeavors? Check out our Solar for Greenhouses guide.
Using photovoltaic panels to capture the sun's rays in order to transmute them to electricity that powers your greenhouse's devices is a brilliant way to go even more eco with your greenhouse projects.
Whatever the reason you've turned to solar, adding a solar-powered fan to your greenhouse is a fun and effective step toward making your life more environmentally friendly. Ready to save money on your electric bills and use less fossil fuel power? It's time to go solar.
A Note On Solar Panels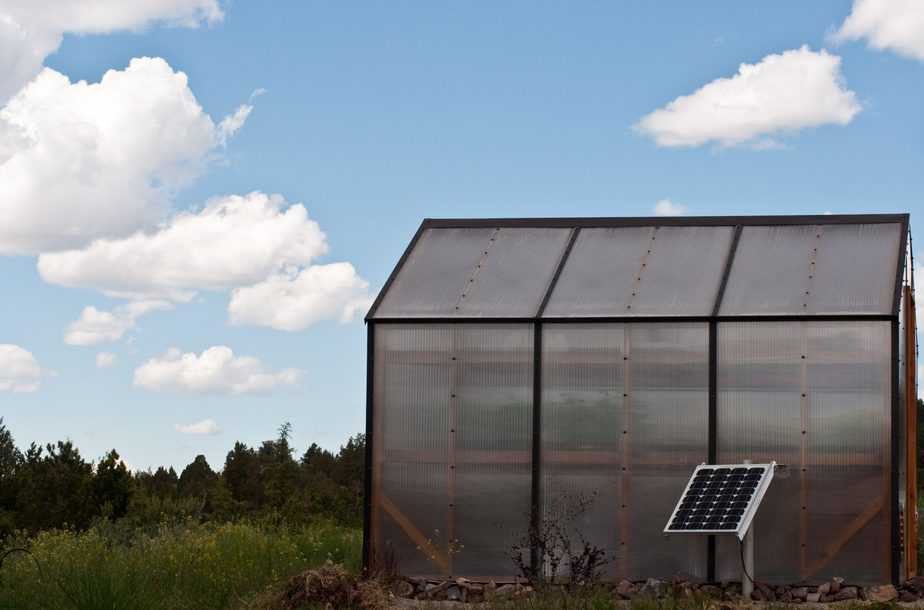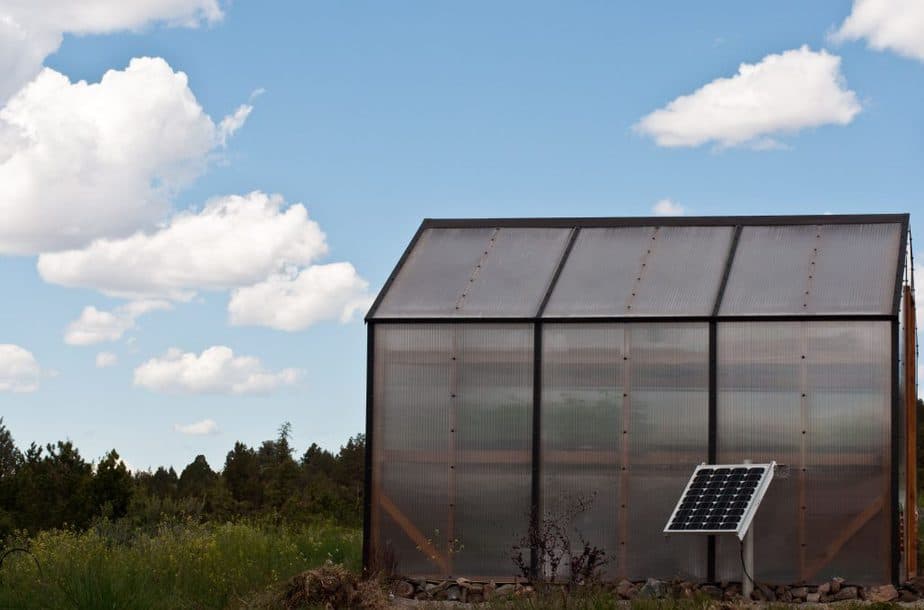 Solar panels convert the sun's energy into electric current in their photovoltaic (PV) cells. They work on sunny and cloudy days, but do to collect less energy on cloudy ones.
Simple enough. But as you can imagine, placing a big, opaque object on top of your sun-loving greenhouse isn't the wisest choice. Be careful when installing your solar panel(s) that it isn't blocking essential rays that plants need.
In general, your greenhouse needs to be quite large in order to hold enough panels to power all your stuff. But the beautiful thing about most of these recommended solar-powered greenhouse fans is that they come with solar panels on the smaller side. You'll see that some of them are even folding, portable panels.
2020s Best Solar-Powered Greenhouse Exhaust Fans
Preview
Best Quality
Best Deal
Best Price
Title
Amtrak 14" Galvanize Steel Fan with 70-Watt Panel
ECO-WORTHY Fan with 30W Foldable Panel
Natural Light 24-Watt Exhaust Fan
Available Watts
70
54
24
Instillation Grade
8.5/10
8.4/10
9.0/10
Our Rating
8.8/10
8.4/10
9.1/10
Cost
$$$
$$
$$$
Link
Click Here
Check Price
Check Price
Best Quality

Preview
Title
Amtrak 14" Galvanize Steel Fan with 70-Watt Panel
Available Watts
70
Instillation Grade
8.5/10
Our Rating
8.8/10
Cost
$$$
Link
Click Here

Best Deal

Preview
Title
ECO-WORTHY Fan with 30W Foldable Panel
Available Watts
54
Instillation Grade
8.4/10
Our Rating
8.4/10
Cost
$$
Link
Check Price

Best Price

Preview
Title
Natural Light 24-Watt Exhaust Fan
Available Watts
24
Instillation Grade
9.0/10
Our Rating
9.1/10
Cost
$$$
Link
Check Price
We're focusing solely on exhaust fans here because they're simply the best choice when it comes to greenhouse fans. Plus, a majority of the ready-to-go solar-powered fans on the market are exhaust fans meant to be used in attics and greenhouses.
If you're still a beginner when it comes to greenhouse fans and ventilation, click back to the Greenhouse Ventilation guide and our Overview of Greenhouse Fans before choosing a solar-powered greenhouse fan.
Amtrak 14" Galvanize Steel Fan with 70-Watt Panel
No, not that Amtrak. But a reputable U.S.-manufactured company with decades of experience in solar equipment nonetheless.
Even at 70 watts, this panel is still relatively lightweight and the fan is strongly built. The heftier price tag reflects the heftier wattage potential. (Remember, it's only potential wattage because it all depends on the sun's shiny-ness.)
This comes with Z brackets for mounting the panel, and instructions for fan installation are included as well.
You can't beat the 25 year warranty that Amtrak Solar throws in for this one.
ECO-WORTHY Fan with 30W Foldable Panel
With its small and light solar panel, this fan only needs a minimum of 4 volts to operate, so even on cloudy days, you'll get some airflow. But with a fan that can use up to 25 volts of possible power, you can get a great breeze going in your greenhouse with this one.
This fan's simple design is just that—not a lot of installation needed—but if the included mounting hardware doesn't work for your purposes, you may need to purchase some additional installation tools.
Features a 16-foot cable to connect the panel with the fan, so you can find just the right spot for that solar panel. A warranty that covers both fan and solar panels, and a new motor can even be bought separately if it gives out after years of use beyond the warranty scope.
Natural Light 24-Watt Exhaust Fan
This solar-powered fan is compact and quiet. Another great company with a good reputation, Natural Light also offers a 25-year warranty on this device.
One particularly fantastic feature of this fan is the mounting frame included in the fan design. As you research solar fans, you may notice that many exhaust fans that run on PV panels are round, without the square frame. That's fine if you're placing it in an attic and can cut a whole in the roof or wall, but it's not great for a greenhouse user. The square design allows you to pop it right in the greenhouse frame without too much fuss.
Pretty extensive mounting hardware is included for the panel. Easy installation that Natural Light boasts only takes one hour!
This fan can fully vent up to 2,100 square feet, even with a panel whose wattage is less than others.
What Else Will You Power?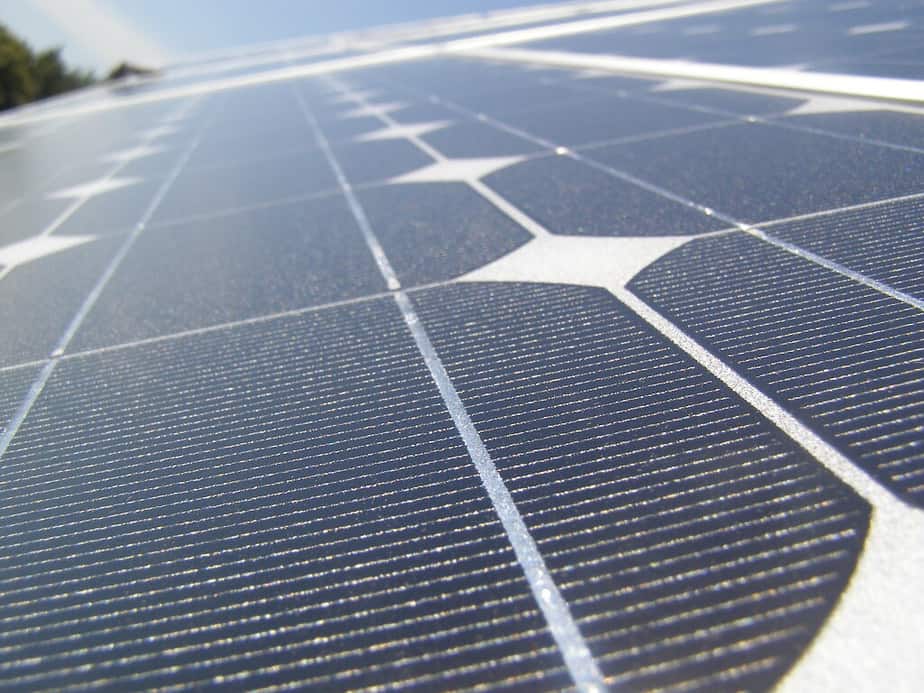 Of course, you don't have to stop at fans when it comes to solar-powered greenhouse equipment. Let your imagination run wild! Maybe your new-found love of solar energy will lead you to install solar-powered thermostats, lights, even a flat-screen TV entertainment system? Maybe not in the greenhouse.
Here are our 9 1/2 favorite greenhouse accessories so that you can get an idea as to what is reasonable to include in your greenhouse. Maybe the TV is unreasonable after all!
The sky's the limit when it comes to creative ways to use solar energy in your greenhouse. Well, technically the sun is the limit.