If you're interested in making the most out of your greenhouse, but want more flexibility than growing in containers, consider raising your crops in grow bags.
Grow bags typically have better airflow and drainage than the average pot, and most have handles to make it easy to move them from inside your greenhouse to the outdoors or vice versa. 
Why Use Greenhouse Grow Bags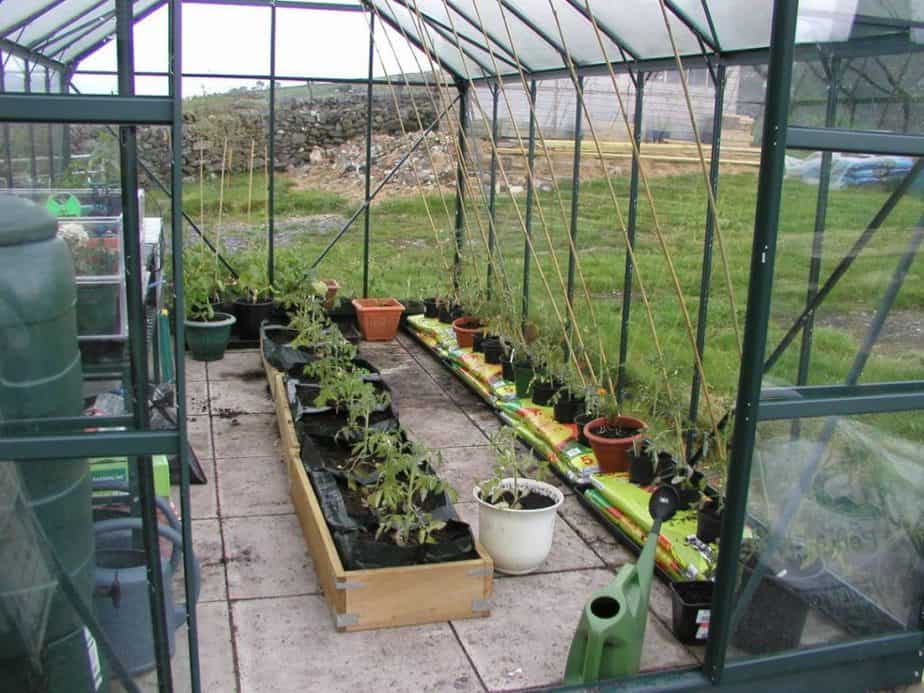 Grow bags prevent circular root growth via air pruning. If you aren't familiar with this term, it simply means that the roots that reach the edges of the bag will be exposed to relatively low humidity, which means they're pruned off naturally. Healthy roots will continue to grow deeper inside the bag in a branching structure.
Additionally, several studies done by Dr. Carl E. Whitcome of Oklahoma State University have shown that plants grown in soft containers grew up to 15 percent bigger than those grown in rigid plastic pots thanks to the natural process of air pruning.
So, do you put trays under grow bags? Yes, you should. Check out the best greenhouse trays!
However, not all grow bags are created equally. Some bags are constructed from higher quality material than others, so choosing wisely is essential. To help you with that decision, here are five of the best grow bags on the market in 2021.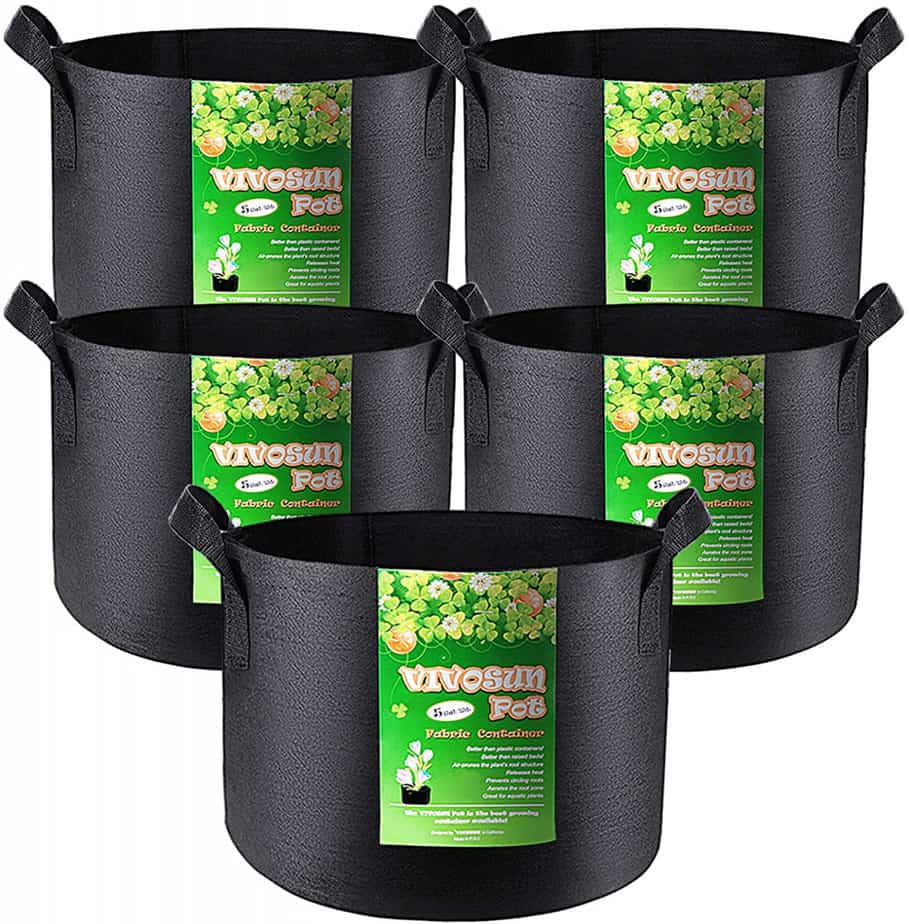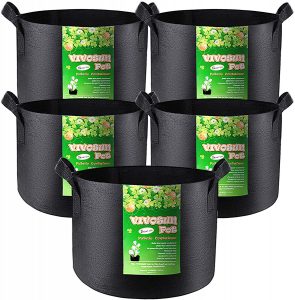 Vivosun grow bags are one of the bestselling on the market, and for a good reason. The 300g nonwoven fabric is BPA-free and heavy-duty enough to be reused year after year. 
They are available in a range of sizes, from just one gallon to 30 gallons, so no matter what type of plant you're growing, Vivosun has you covered.
The company prides itself not just on the quality of the bags but the handles in particular. The rugged handles are sewn on with serger stitches to ensure they're strong enough to support a full grow bag of soil.
Despite its durability, the fabric that Vivosun uses for their grow bags is also incredibly breathable. The roots and soil stay more oxygenated and cooler during the summer.
You also won't need to worry quite as much about overwatering, as the excess water will quickly drain through the bags. This excellent drainage also makes the bags ideal for drought-loving plants such as succulents or cacti.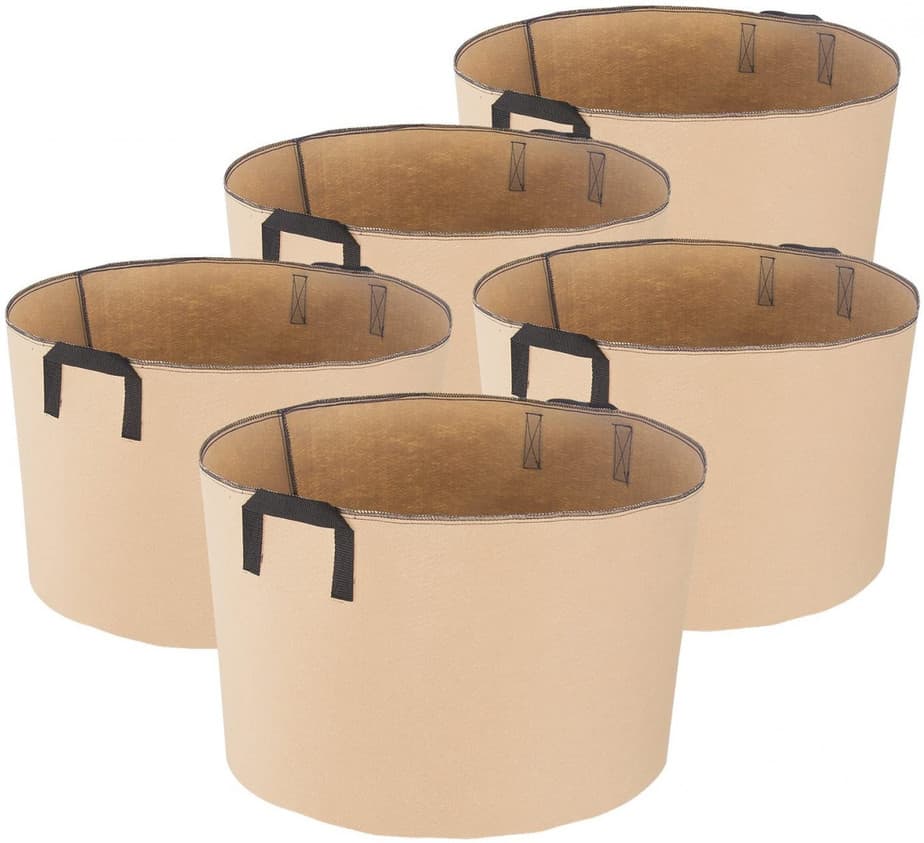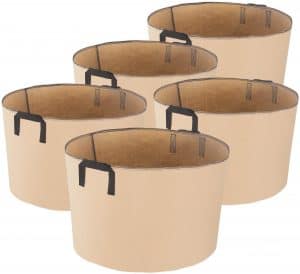 If black bags don't suit your décor, or you're worried about heat absorption, iPower grow bags are tan-colored and come in both a 5- and 10-pack. Their sizes range from just 3 gallons up to 20 gallons.
iPower's grow bags feature a 300g thickened nonwoven fabric, which is moderately permeable and environmentally friendly. They are BPA-free and reusable for several growing seasons.
The handles on these heavy-duty grow bags are made of reinforced 300D nylon to ensure that they're strong enough to carry the weight of an entire bag of soil.
If you're worried about the soil staining the lighter-colored fabric, don't worry, the bags are entirely washable between uses. You can simply wash them after use and fold them down for storage until next time.
Finally, iPower offers a lifetime warranty on their product, so if you're not satisfied with your purchase, they're sure to make things right with you.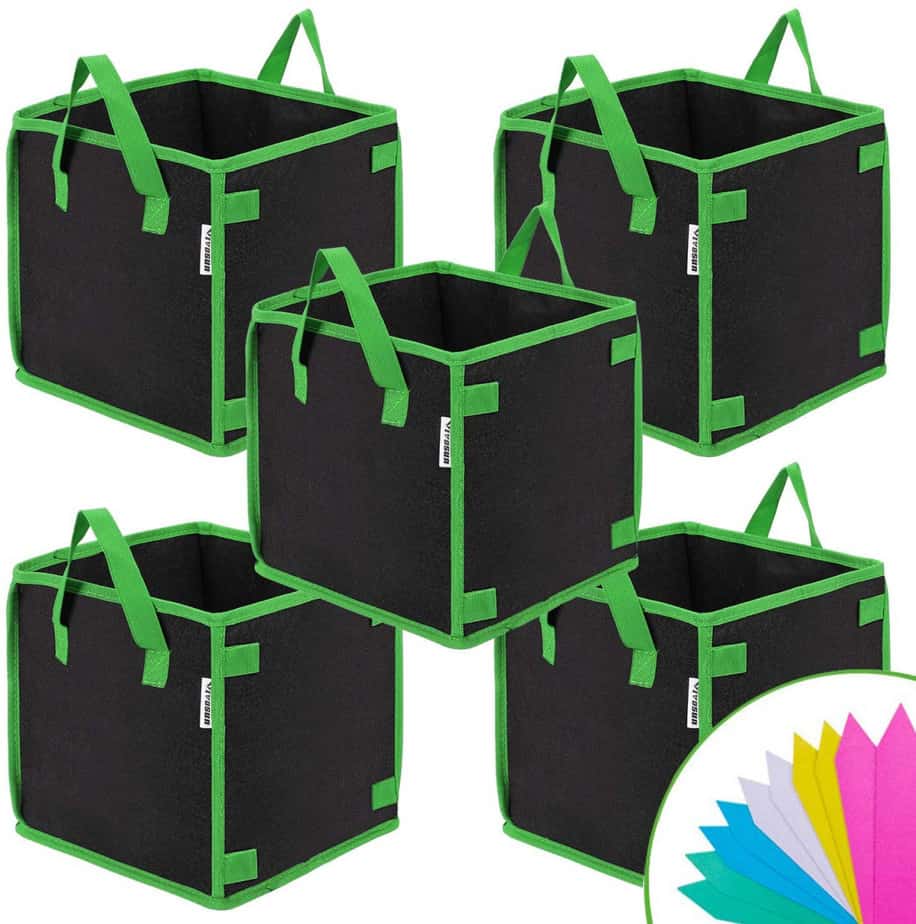 Vivosun is back, but this time with a new and unique look to their grow bags. Rather than the traditional round shape of grow bags, these are Vivosun square grow bags. This shape is ideal for growing your crops in rows, similar to a raised garden bed, but with improved drainage and airflow.
The square grow bags range in size from 3 gallons to 10 gallons, making them ideal for all but the largest plants.
The bags feature a heavy-duty 260g thickened nonwoven fabric. The handles are reinforced with double stitching so that you can transport your grow bags without worry.
In addition to the shape, another unique feature of the bags are the loops on the sides. These loops hold sticks or stakes to help maintain the structure of the plant without damaging roots or the container itself.
Like other Vivosun grow bags, these ones are reusable for several seasons. Each bag is labeled with the size in gallons so that you can quickly grab the right size out of storage without having to unfold each one.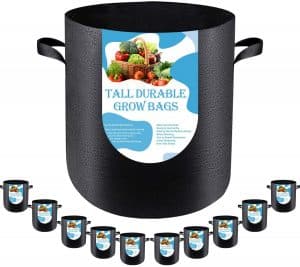 Dark Green offers a unique twist on the classic grow bag, as their product is taller than it is wide. These dimensions are ideal for crops that require deep roots for maximum production while still benefitting from natural air pruning.
Dark Green Grow Bags are available in 3-, 5-, 8-, and 10-gallon options. The bag is made from durable but breathable 280g nonwoven fabric, no matter which size you choose. 
The fabric is designed to be used and reused for many growing seasons, even if you frequently move the bags around to take advantage of different lighting in or out of your greenhouse.
Dark Green prides itself in after-sales service, so if you ever have any problems, they're more than willing to send you a replacement or full refund if necessary.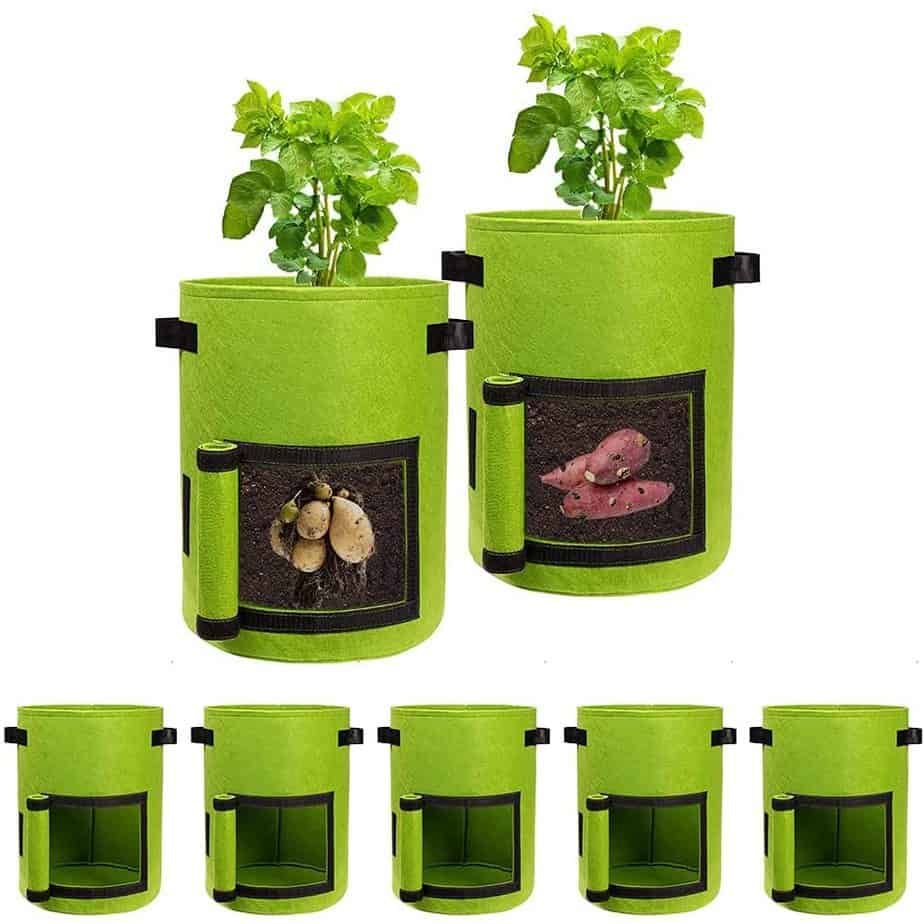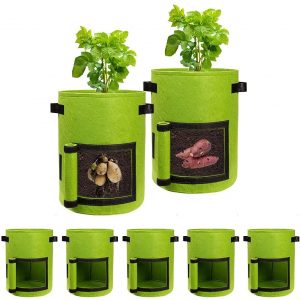 OutCreator grow bags feature a unique trademark in the world of grow bags. They've taken the classic design and added a "harvest window" to allow you access to the roots without the hassle of digging.
Not only can you easily check root health or plant maturity, but you can also harvest below-ground crops such as potatoes.
The vibrant green grow bags are made of durable 300g thickened nonwoven fabric, so you know it's as heavy-duty as it is breathable. The handles are also reinforced to make relocation more manageable and the bag's lifespan longer.
The harvest window is easy to open and can simply be rolled to the side for easy underground access. Simply roll the cover back into place and secure with the sewn-on hook and loop closures when you're done.
Like the other grow bags on this list, OutCreator's product is designed to last for several growing seasons, eliminating the need to replace the bags each year.
Do Grow Bags Really Work?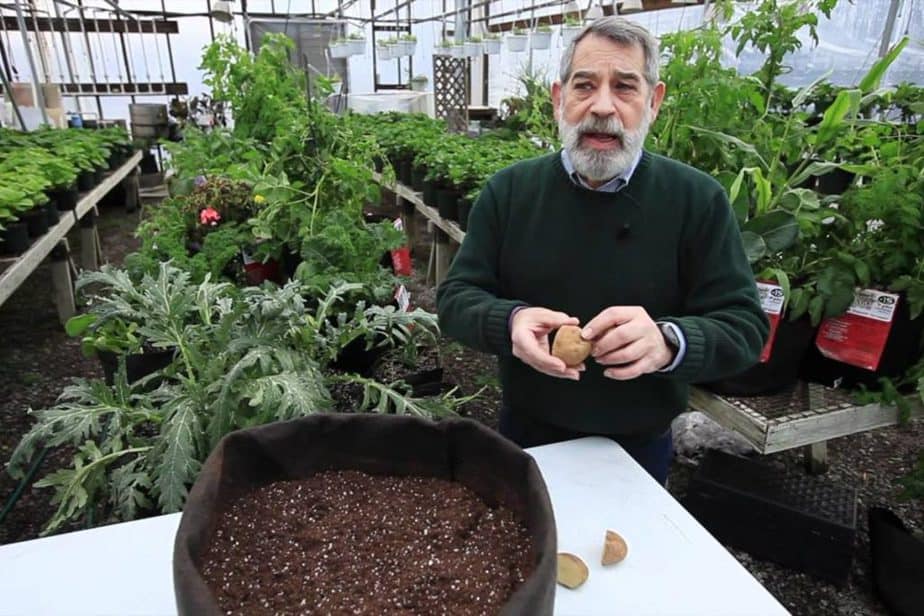 Yes. There are pros and cons to using greenhouse grow bags, but as a whole, they are effective in gardening. Check out the pros and cons list below to decide whether grow bags are right for you!
Grow Bag Pros
Saves time
Portable
Can be biodegrable
Easily storable
Can't overwater
Regulate temperature
Can be used anywhere
Grow Bag Cons
Expensive
Requires more water
Not durable
Not aesthetically pleasing
Heavy
Not all are biodegrable