Many greenhouse gardeners start their crops from seed, typically in a seed starter tray. There are many different styles of greenhouse seed trays to choose from, but the best option will likely depend on the type of plant you're growing.
Instead of spending hours researching the best greenhouse seed tray for your chosen crop, check out these five different types of trays. Each one has its own unique features, so read on and decide which one will work best for your greenhouse.
Reusable Seed Trays for Greenhouses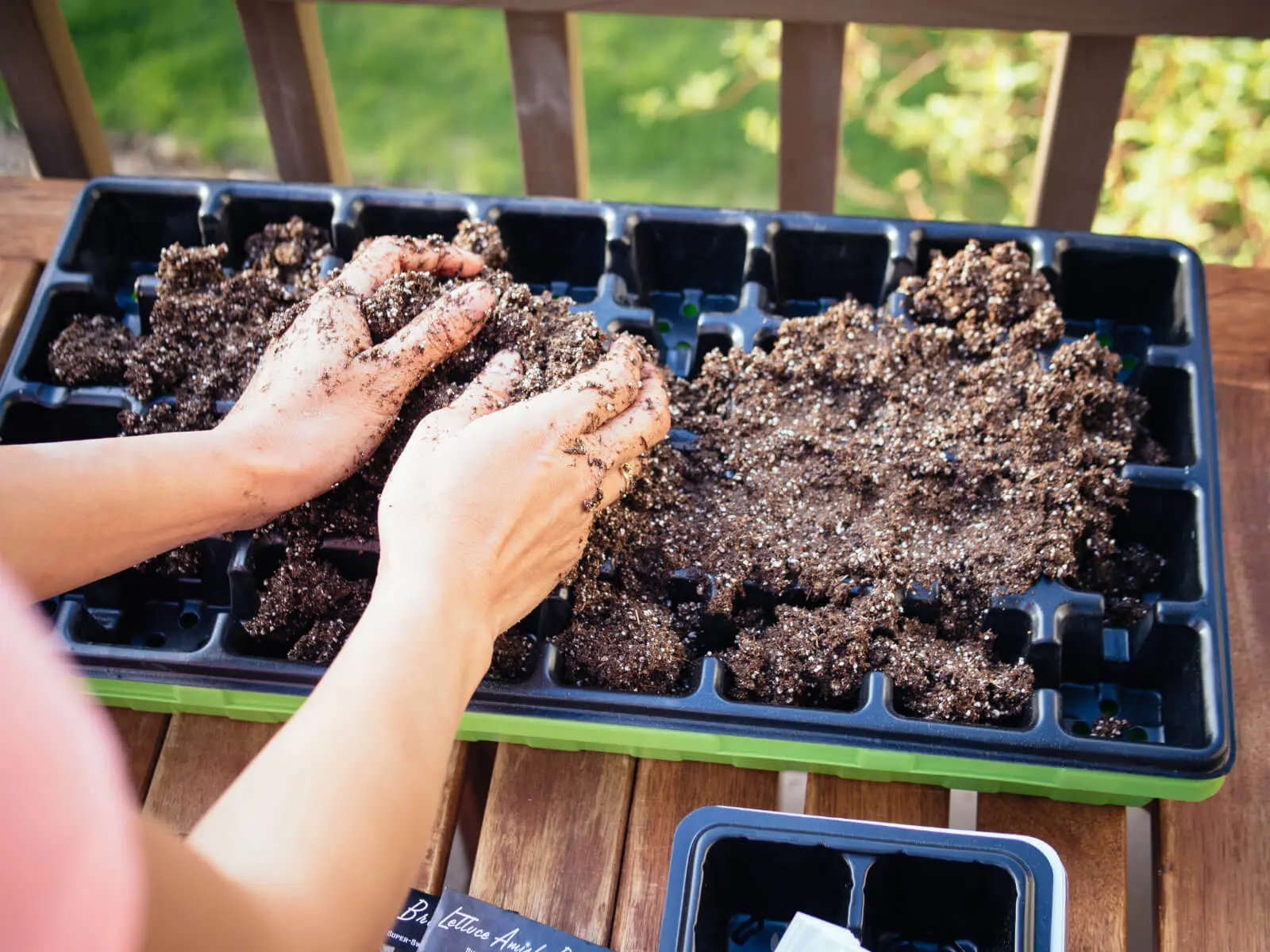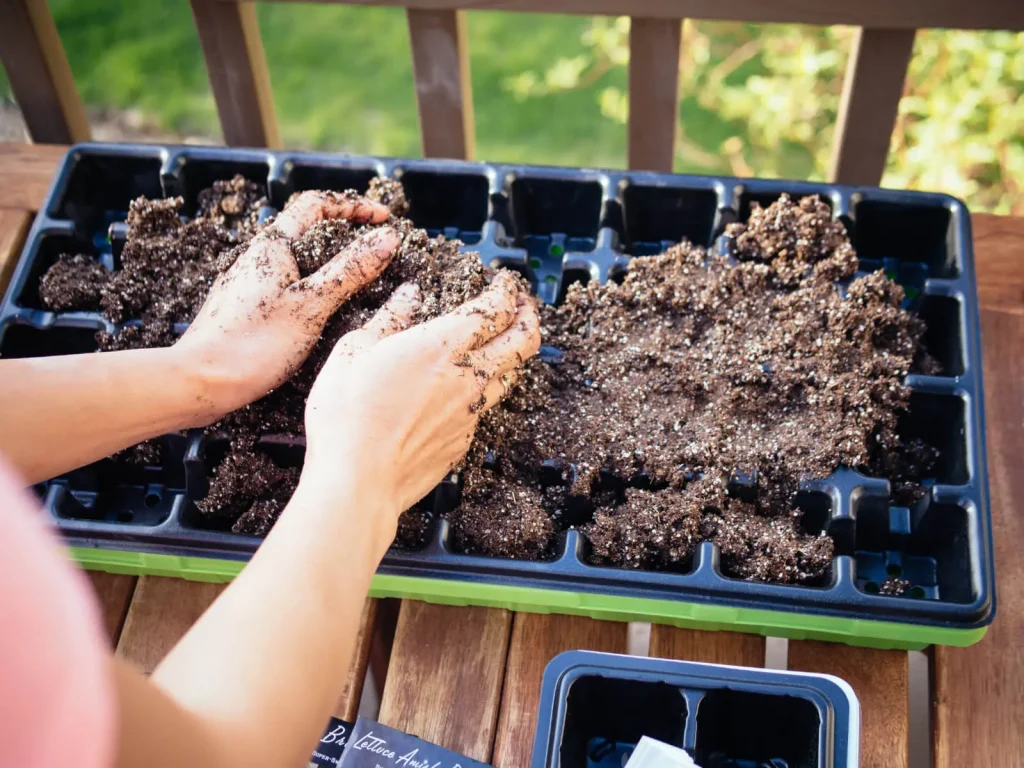 It's worth noting that only four of the five of these are real reusable seed trays as there is one biodegradable seed tray in the group.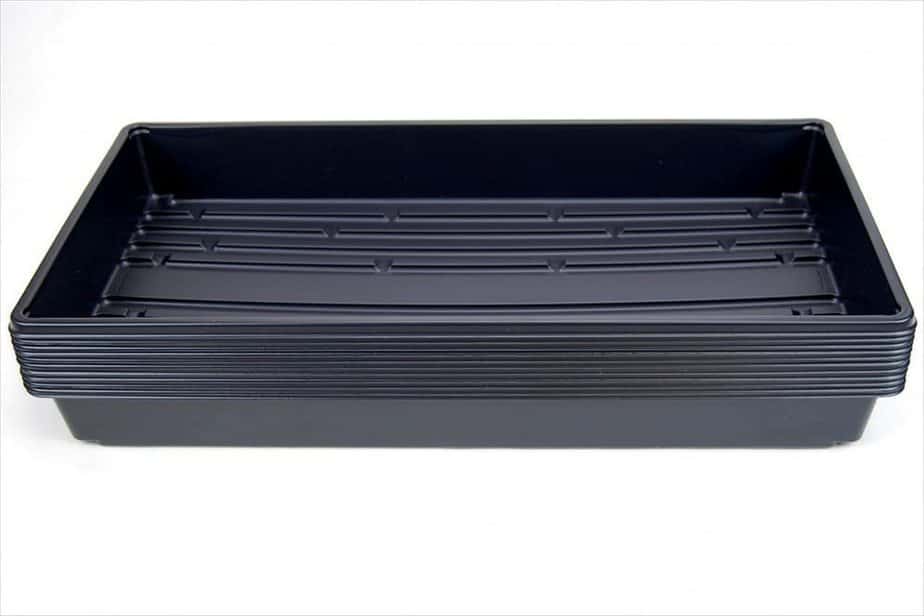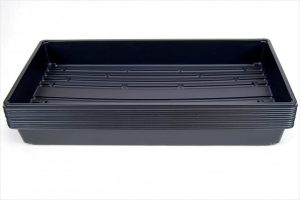 This seed tray from Living Whole Foods is a great option for a variety of plants. It measures 20 inches in length and 10 inches in width and does not have drain holes. For just $23.99, you can get 10 trays, which may be the perfect amount for a smaller greenhouse.
These trays are made of recycled polypropylene, which means that they should last a few growing seasons as long as they're not handled too roughly. Polypropylene does have a habit of breaking down in sunlight, so it's recommended to minimize their exposure to UV light if possible.
They measure 2.375 inches deep, making them an ideal choice for starting a variety of different seedlings. Additionally, they can be used with either soil or with grow pads or hydroponic pads.
Since these trays do not have drainage holes, they're not recommended for plants that require well-draining soil and containers, such as cacti and succulents. However, they're a great option for moisture tolerant crops such as wheatgrass and microgreens.
It should be noted that these trays do not come with covers or domes, so they will need to be purchased separately if needed.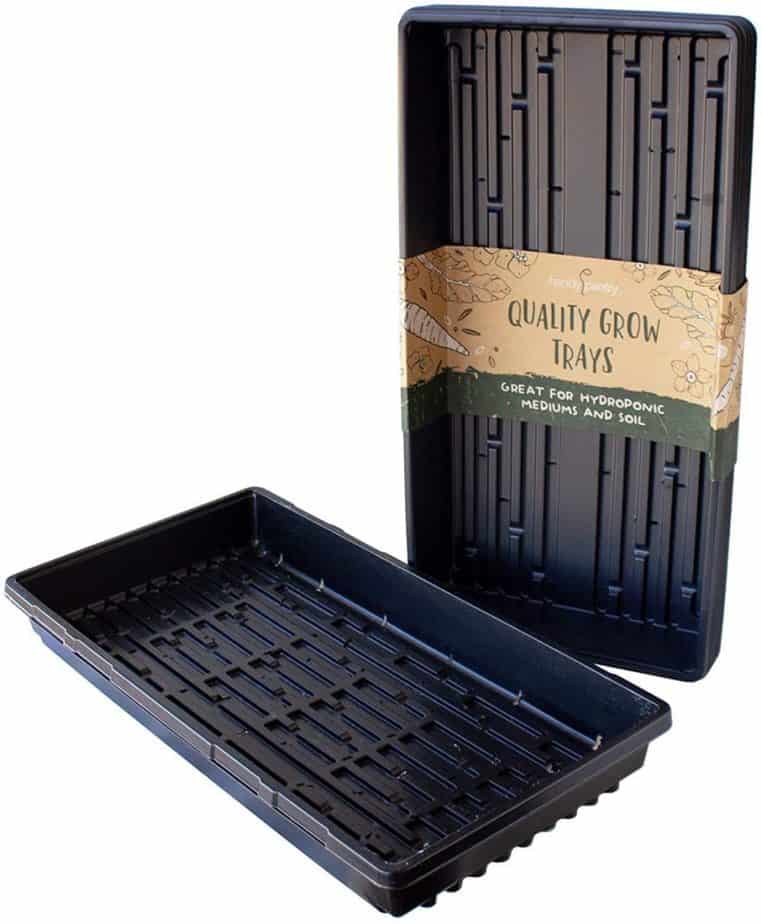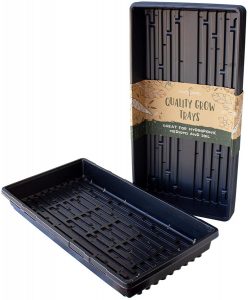 If you thought the previously mentioned trays were perfect for you, but you need something with drainage holes, look no further than Handy Pantry's Plant Trays. They come in packages of 5, 10, 50, or 100, so you'll be able to buy the perfect amount for your greenhouse or garden.
These trays are made of BPA-free plastic and measure 10 inches wide and 20 inches long. They also nest perfectly in trays of the same size, so you can use your favorite drainage-free trays as drip trays to contain the mess. They are about 2.5 inches deep.
Handy Pantry also sells these same trays without drainage holes, as well as trays that measure 10" x 10" if the larger size doesn't work for you.
These seed trays are ideal for any number of greenhouse crops. Whether you're growing vegetables, wheatgrass, sprouts, or microgreens, these trays are perfect.
Handy Pantry's trays have a reputation for working well so long as they are not handled too roughly. Rough handling may cause the trays to crack or break. However, many gardeners find that their Handy Pantry trays last for several years before breaking down.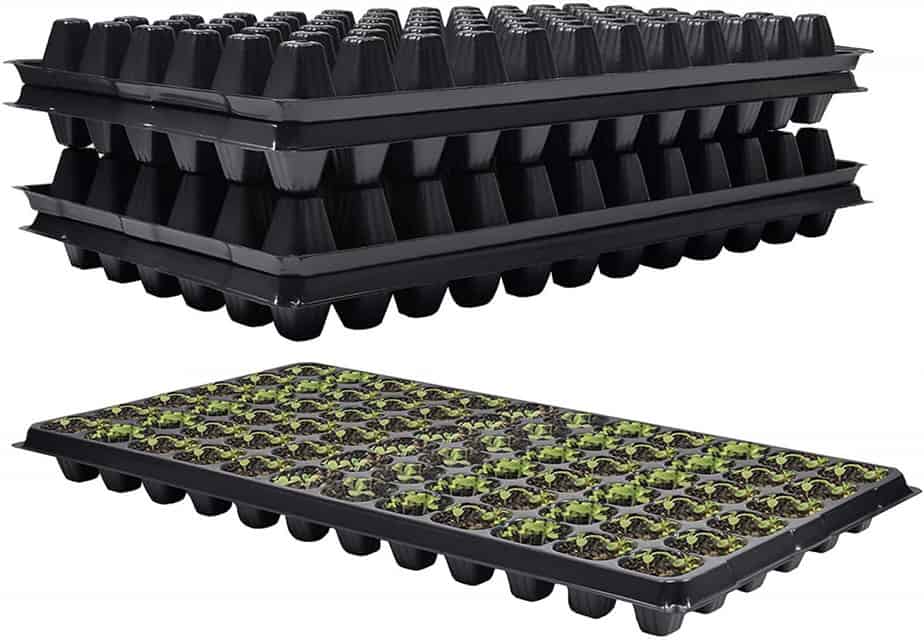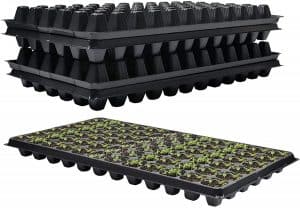 Perhaps you're looking for a seed starting tray, but would prefer to give your seeds their own space and make it easier to transplant them when the time comes. This can be difficult with the two previously mentioned trays.
However, the WainbowA Seed Starter Kit comes with 10 trays that allow you to grow 72 individual cell plugs in each. That's a total of 720 individual plants when you're ready to transplant them into larger containers.
The trays measure 21.2 inches in length, 11 inches in width, and 2.2 inches in depth. Each individual cell is tapered and measures about 1.57" x 1.57" at the top and .8" x .8" at the bottom.
These trays are made with root health in mind. Each cell also has its own drainage hole, which helps prevent root rot caused by overwatering. Plus, transplanting the plug without having to untangle the roots from neighboring plants will result in a happier plant without the risk of transplant shock.
WainbowA also offers a 180-day warranty on their product to ensure your satisfaction. They also boast that their customer service team responds to all questions within 24 hours.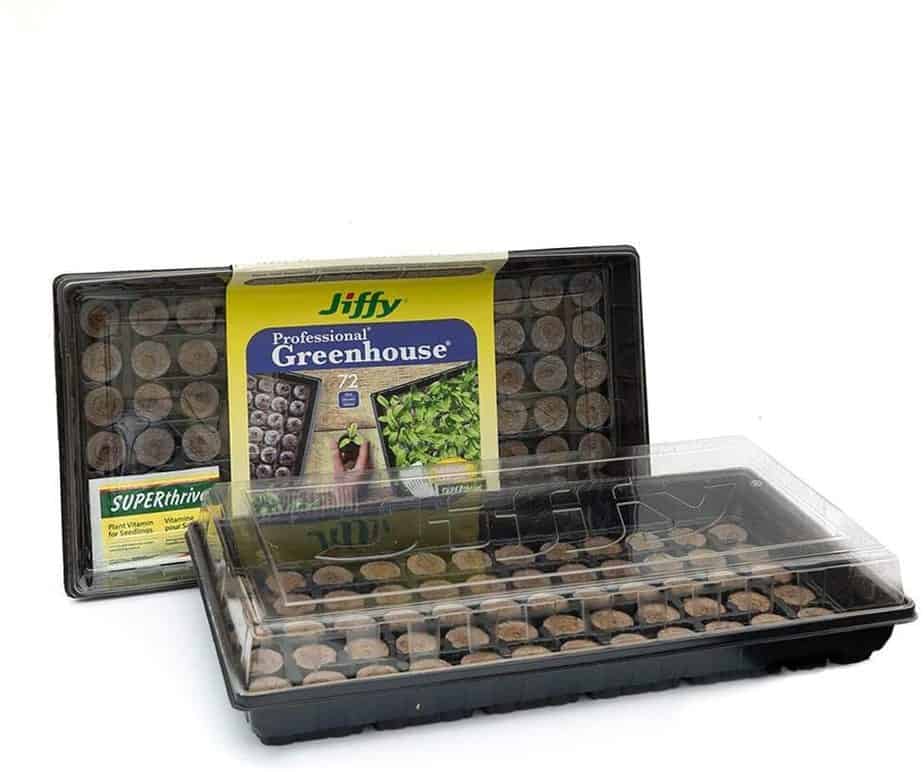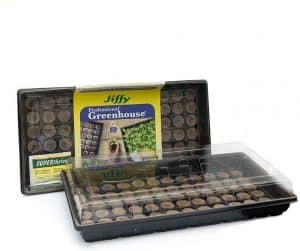 Jiffy Seed Starting Trays are a classic among gardeners and are often mentioned as bestsellers. Like the WainbowA trays, Jiffy's trays allow each seedling to have its own individual cell to grow in. 
The difference is that Jiffy gives you everything you need to get started. The kit comes with 72 36mm peat pellets for each tray, as well as plant markers so you know what you planted in each tray. This 2-pack is priced at just $26.99, which is more costly than some trays, but you won't need anything else except your seeds.
The trays themselves measure 21" x 11" x 2.5" and are ideal for flowers and herbs, but will also work well for a variety of vegetables and other moisture-loving crops.
The trays do not have drainage holes and the peat pellets are sphagnum peat that has been responsibly sourced from Canadian Peat Bogs. If you need to retain additional moisture, each tray comes with its own plastic humidity dome.
As an added bonus, each purchase comes with a SUPERthrive Plant Vitamin sample for you to try.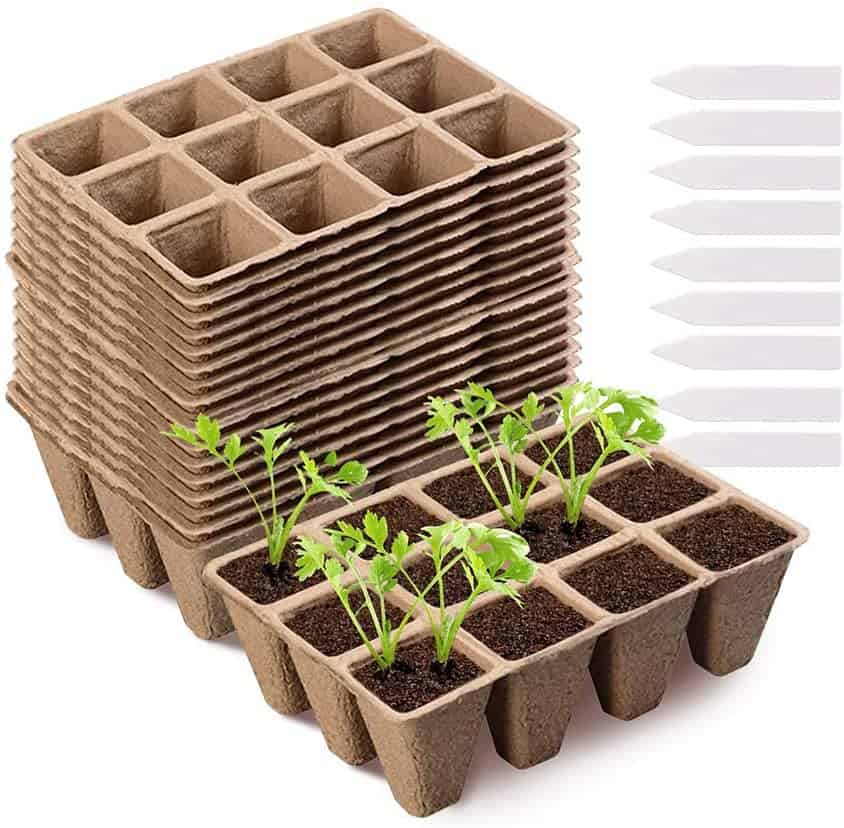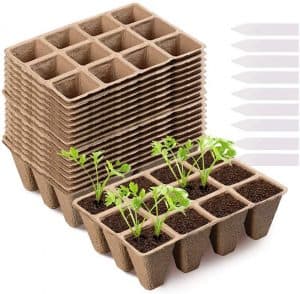 If plastic seed trays aren't your style, QYB offers biodegradable trays made out of peat-based plant fiber. It degrades naturally in the soil when planted and can serve as organic fertilizer. As it breaks down, the roots are free to expand into the surrounding soil.
Since you can plant the tray, you won't have to worry about your plants experiencing transplant shock once you move them to your garden or into larger containers. Simply cut each cell from one another and plant directly in the soil.
Each tray measures 20" x 12" with 12 cells in each. The kit comes with 20 trays for a total of 240 individual cells. Each cell measures about 1.4" x 1.4" x 1.4". Plant labels are also included so you can make sure you know exactly what you're growing and where.
QYB also offers a 30-day guarantee, so if you're not happy with your purchase, you can contact them for a full refund.
What Are The Top Greenhouse Seed Trays?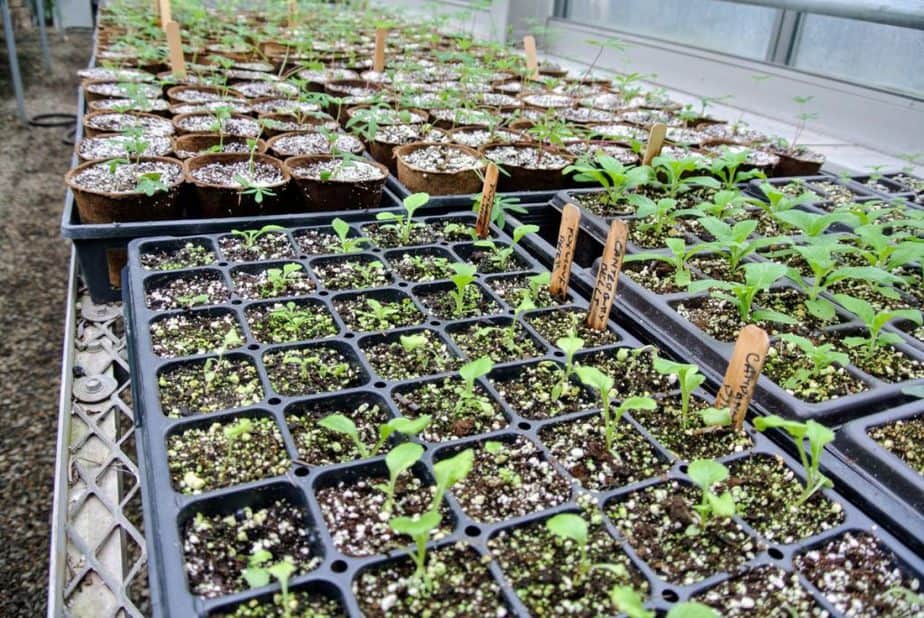 While seed trays seem simple to choose, there are plenty of things to consider. Do you want reusable seed trays or biodegradable seed trays? Do you want your seed trays with holes or without? Does your seed tray need a lid?
Do you need some help using these greenhouse seed trays? Then learn how to start seeds in a greenhouse!
The WainbowA Seed Starter Kit is great for those that require drainage holes whereas the Jiffy Seed Starting Greenhouse Trays come with a lid. For those greenhouse gardeners who are especially eco-friendly though it's worth considering the QYB Seed Starter Tray Kit as it's biodegradable – just plant it and it will degrade!