In the market for reliable 4×8 greenhouse kits? Then you've come to the right place!
In this article, we're reviewing the 3 best 4×8 greenhouse kits you can find on the market, as well as sharing buying guide to help you choose the right product for your needs.
What to Consider When Buying a 4' x 8' Greenhouse Kit
Best Quality

Preview
Title
porayhut Pop-Up Greenhouse
Size Options
27.6"x27."6x31.5"
98" L x 49" W x 53" H
Material
Polyethylene, Plastic, Polyvinyl Chloride

Warranty
Unavailable
Our Rating
8.5/10
Cost
$$
Link
Check Price

Best Deal

Preview
Title
Quictent Pop-up Greenhouse
Size Options
98" x 49" x 53"
Material
- 18mil clear PVC cover - 1.5mmx6mm steel-wire rods
- 8.5mm fiberglass poles
Warranty
See for yourself
Our Rating
8.6/10
Cost
$$
Link
Check Price

Best Price

Preview
Title
Palram Hybrid Lean Greenhouse
Size Options
96" x 49" x 88.6"
Material
Polycarbonate + aluminum
Warranty
5 Years
Our Rating
9/10
Cost
$$$
Link
Check Price
When shopping for the best 4' x 8' greenhouse kit, there are several aspects and features that you need to consider so you can make the most out of your purchase. Below are the most important ones to keep in mind.
Your Location – both in terms of on the globe and on your property
Greenhouse Size – more cubic feet means more work to adequately heat and ventilate
Construction Materials – some materials trap heat better than others, duh
Water Supply – how are you planning to get water into your greenhouse?
If you feel like you need a little bit more information in general on greenhouses than this guide provides, then consider reading our Ultimate Greenhouse Guide to become more acquainted with these glorious contraptions.
Location
It doesn't matter if you got the most expensive greenhouse on the market, a bad location isn't something it can recover from. The ideal spot for setting up a greenhouse is somewhere that'll let receive as much sunlight as possible. This goes for all of the sides.
The best positioning for your greenhouse is when it's oriented towards the east-west, but if you can't achieve that, there are other solutions. Just about any other direction will do, given that it allows for adequate exposure to sunlight.
Don't pick a spot that's close to big structures. These can cast a shadow over the greenhouse, inhibiting its exposure to the sun.
Additionally, avoid setting up your greenhouse near trees, walls, buildings, hedges, or anything you think may prevent enough sunlight from reaching the greenhouse.
Size
The size of the greenhouse depends on the type of crops you plan on growing as well as your budget. Today, we're reviewing 4' x 8' greenhouses, which offer plenty of room for the average gardening enthusiast.
These greenhouses, however, differ in height. So make sure you have enough height if you want to grow climbers.
Construction Material
Next, you need to think about the type of construction material of the greenhouse.
In general, greenhouses are made using plastic or glass. If you're worried about the risk of breakage, you may be better off with tempered glass or plastic.
Water Supply
As you probably know, water is essential for any garden to grow. So before you spend money on a greenhouse, you need to make sure that there's a reliable supply of water available to accommodate your plants.
Watering methods come in different types. If you're opting for a sophisticated in-greenhouse water supply, you may want to consider some plumbing. If you're not always present at your home, it's a smart idea to install a semi-automatic system.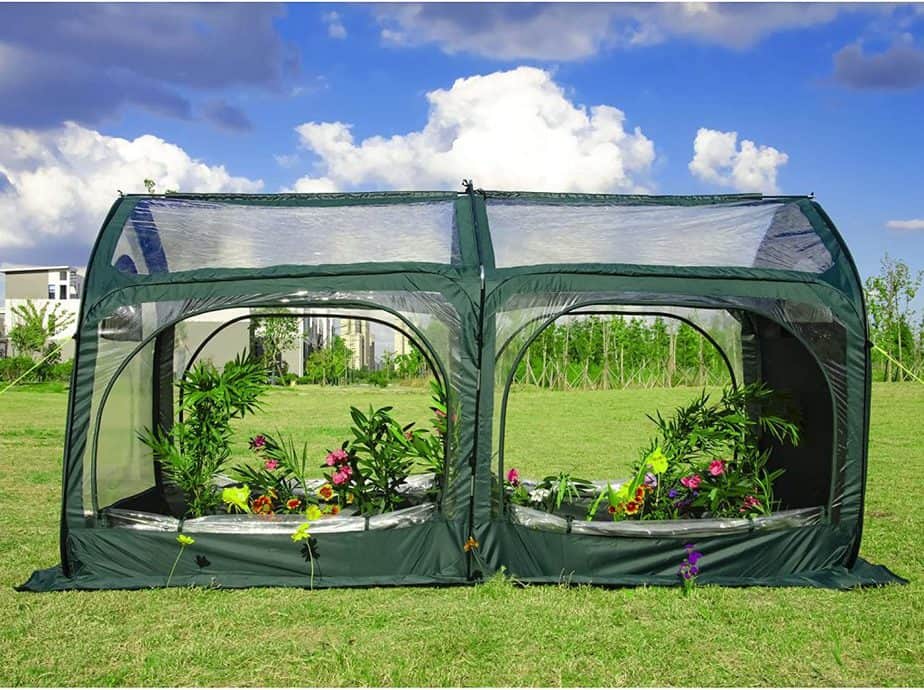 First up is the widely popular porayhut Pop-Up Greenhouse. This unit measures 98″ L x 49″ W x 53″ H, so it's large enough to fit a decent-sized plant pot and seedbed.
You can use it both indoors and outdoors since it's very portable and easy to move from one place to another. Not to mention, the setup process is fool-proof thanks to the pop-up/collapsible mechanism.
The frame of the porayhut greenhouse is made using UPF 50+ cold-treated clear PVC with 1.5mm x 6mm steel-wire rods and 8.5 mm fiberglass poles. The durable and transparent 600D oxford waterproof cover protects the plants while allowing sunlight to pass through.
There are 4 doors with a double zipper and double stitching for extra convenience and sturdiness. Additionally, both ends feature mesh windows to support adequate ventilation.
What's more, the triangular design on the roof forces the water to quickly slide down the structure when it rains.
Pros
The zipper doors allow for easy access.
Mesh windows support ventilation
UV resistance
Budget-friendly price
Cons
Poor instructions
Frost protection can be improved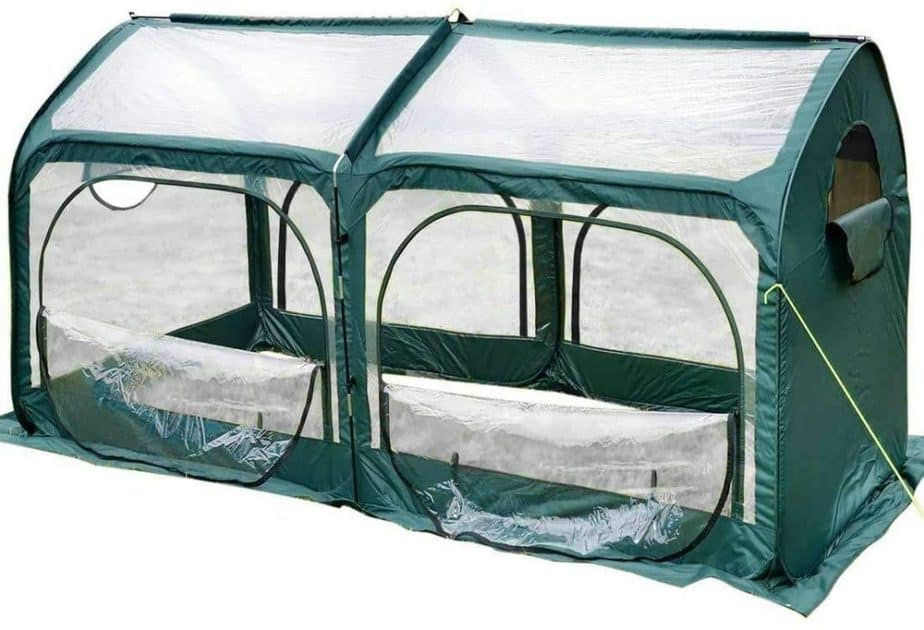 Next, the pop-up greenhouse by Quictent is another easy-to-set-up unit that shouldn't take you a long time to figure out. Simply stretch the collapsible pop-up cover and pass the 2 folding fiberglass poles through the top.
Made out of eco-friendly materials, this greenhouse is constructed using 600D oxford fabric and clear PVC for the cover. It's waterproof with UV protection.
Also, it features 1.5mm x 6mm steel-wire rods and 8.5mm fiberglass poles, providing high-end quality and impressive longevity.
The Quictent greenhouse comes with 6 stakes to help reinforce the tent. It has 4 large zipper doors that roll down from the upper part.
The pressure-type buckle design offers effective protection of the rolled zipper door and lets you walk in easily. There are 2 zipper screen windows to help you adjust the sunlight and temperature inside.
Additionally, the overlong cover design provides reliable protection for plant growth.
Pros
Pressure-type buckles for the rolled zipper door
Quality construction
Quick set up
Cons
Not high enough for standing
The zippers can be sturdier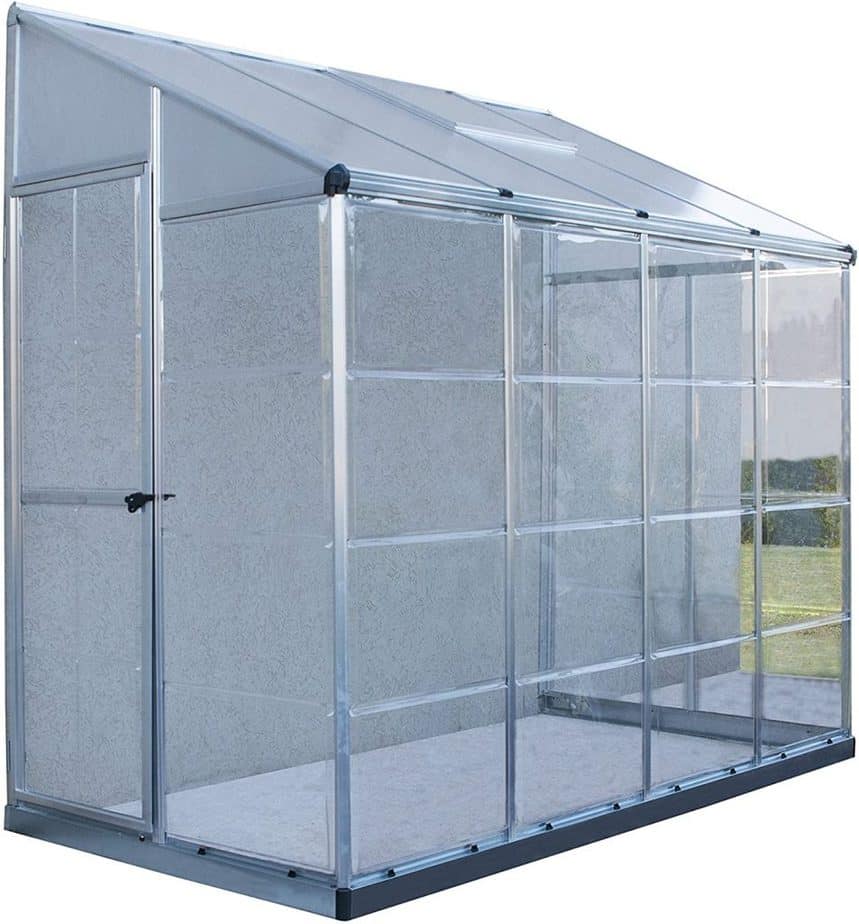 Last but not least, the Palram hybrid lean greenhouse is for serious green thumbs looking to purchase a premium unit.
This unit features 4mm twin-wall roof panels that block up to 99.9% of UV rays. The panels are crystal clear and virtually unbreakable, made out of durable polycarbonate that offers 90% light transmission.
The frame is built using rust-resistant aluminum, which adds to the longevity of the structure. It also comes with a wall mounting kit so you can start setting up right away.
There's an adjustable roof vent to provide ventilation for the regulation of heat and humidity levels. The built-in rain gutters allow water collection to form a sustainable irrigation system.
The Palram hybrid lean greenhouse is on the costly side, but it includes a 5-year limited warranty to protect your investment.
Pros
Virtually unbreakable
Comes with a wall mounting kit
Provides a sustainable irrigation system in the rain
5-year limited warranty
Cons
Wrap Up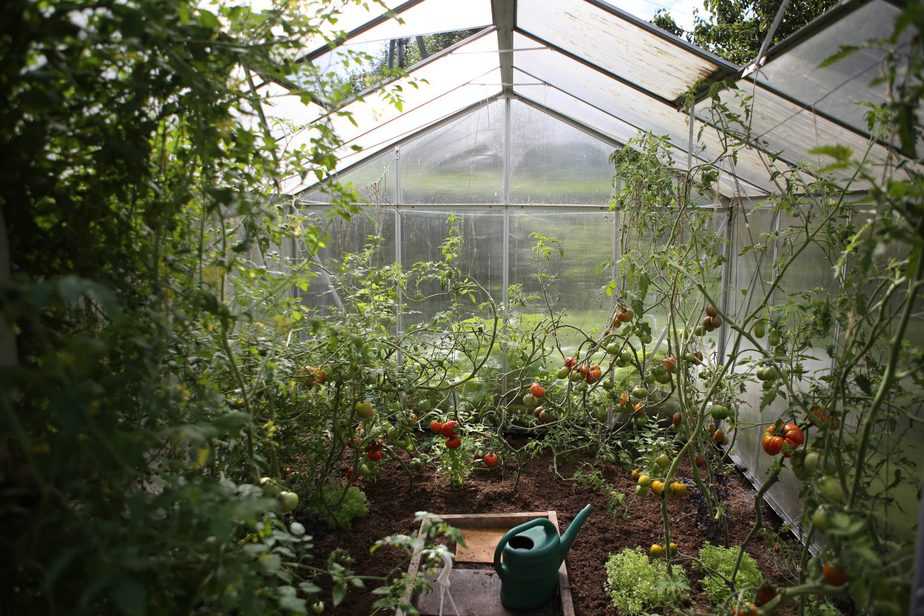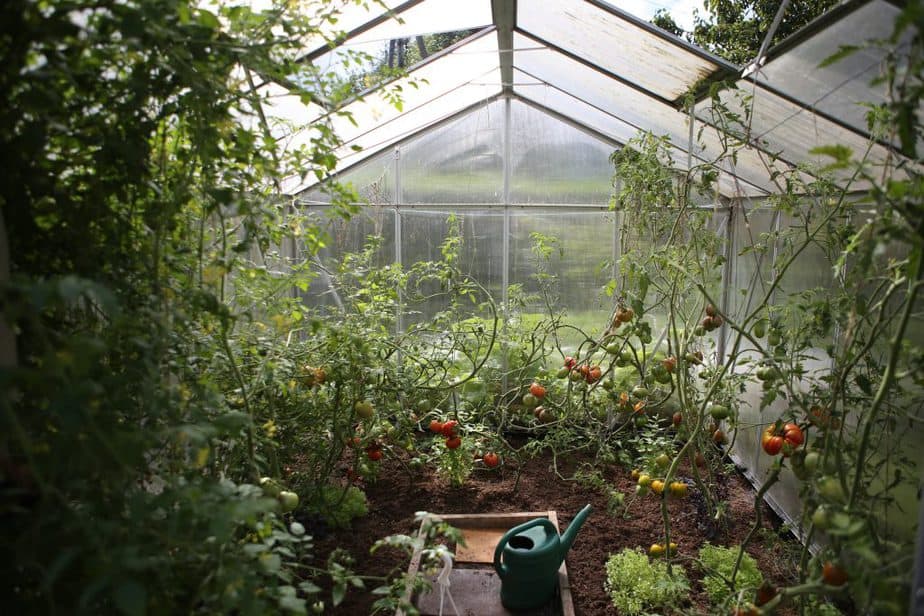 Choosing the best 4' x 8' greenhouse kit can be tricky, this is why we included only the top-performing products on the market to make sure you end up with a reliable kit no matter what.
Remember, maintaining a successful greenhouse isn't just about buying the best one. You also need to decide which type you want, where to place it, and what material fits your growing requirements.