There's no doubt that CO2 supplementation can be the best thing you can do for your greenhouse or grow room. The right setup can increase your yield anywhere between 40–100%!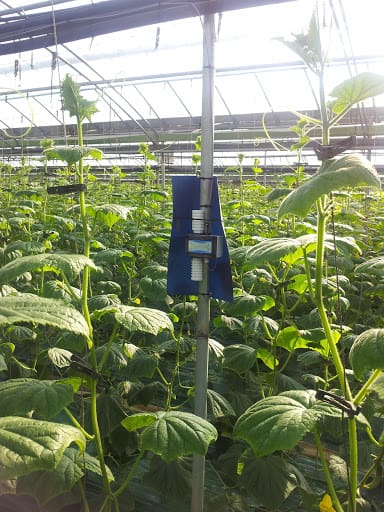 But controlling your CO2 tank with a timer may deplete your reserves faster, thereby costing you more money. That's when CO2 sensors come in handy. These ingenious devices will manage the CO2 supplementation to maintain the ideal ppm (part per million) level. 
Let's not waste any more time and start reviewing the best CO2 sensors for greenhouses in 2021.
3 Best CO2 Sensors For Greenhouses and Grow Rooms
Best Quality

Preview
Title
CO2Meter Day and Night TY-NI5P-3OZB Monitor and Controller
Size
6.5 x 2.5 x 5 inches
Powered By
100-240 VAC 5A piggyback power cord
Warranty
1 Year
Our Rating
8.7/10
Cost
$$
Link
Check Price

Best Deal

Preview
Title
Autopilot APC8200 Monitor & Controller
Size
7.4 x 9.6 x 3.4 inches
Powered By
AC 100 ~ 240 VAC
Warranty
3 Years
Our Rating
8.9/10
Cost
$$$
Link
Check Price

Best Price

Preview
Title
Titan Controls HGC702618 Atlas 2 CO2 Monitor
Size
12.1 x 8.8 x 4.8 inches
Powered By
120 Volts/15 Amps/60 Hz
Warranty
6 Months
Our Rating
8.6/10
Cost
$$$
Link
Check Price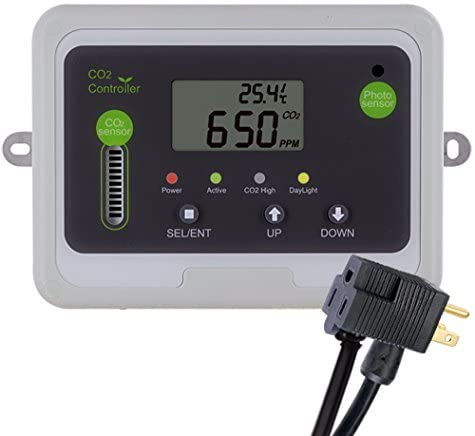 The CO2Meter TY-NI5P-3OZB sensor is one of the few products that combine efficiency with affordability.
As the name implies, this CO2 monitor comes with a built-in photosensor. Why is this beneficial? Well, at night, your plants can't perform the photosynthesis process since there's no light. So if you continue to supply them with CO2, you'll deplete your tank and waste energy for nothing. 
Thanks to the photosensor, the CO2Meter will automatically power off your regulator at night. But if you're using supplemental light, it'll keep working normally.
The CO2Meter allows you to set two CO2 levels: a high and low. When the CO2 concentration drops under the low level, the sensor will turn on the regulator automatically. Then, it'll shut it down when the concentration rises above the high level.
I like how simple the digital display looks. It shows the temperature and the current CO2 level. You'll also find a bunch of LEDs on the main unit, informing you about the power, whether the regulator is active, and whether the CO2 concentration is at a dangerous level for humans. 
Although I'm generally satisfied with the CO2meter, I wish its sensor was installed on a separate probe rather than the main unit. It's not a significant flaw, but it prevents you from placing the control unit outside the greenhouse.
Pros
More affordable than most CO2 sensors
Features a light sensor
Detects CO2 level between 0–10,000 ppm
Hassle-free use
The LEDs don't emit UV light, ensuring a peaceful night for plants
Cons
You have to put it inside your greenhouse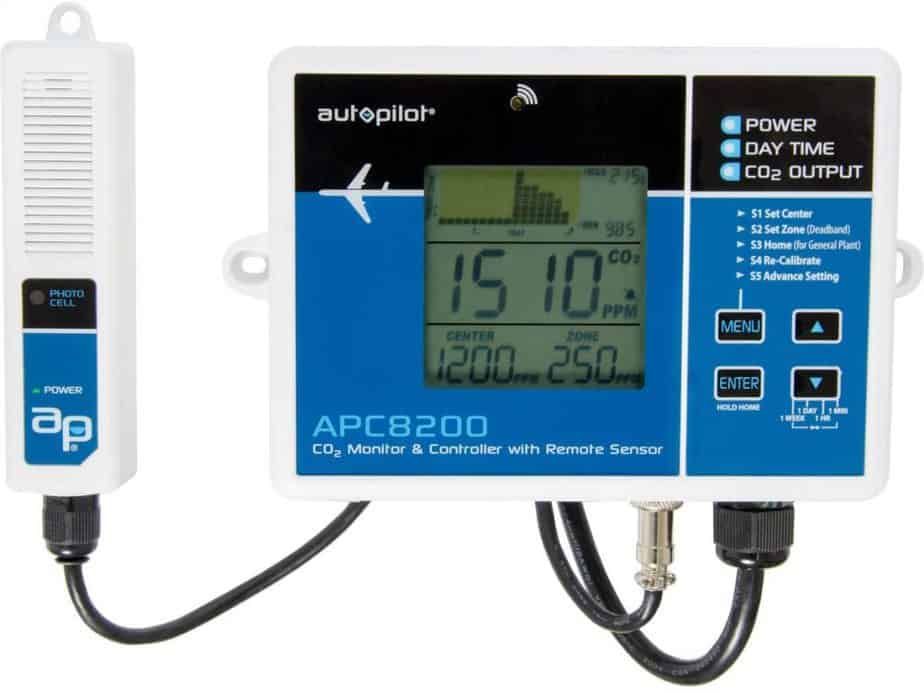 The Autopilot APC8200 Monitor offers pretty much the same as the CO2Meter TY-NI5P-3OZB. However, it comes with a bunch of extra features, which explains why it's a tad pricier.
The first unique feature is the built-in memory. This monitor records the CO2 concentration for up to 7 days, allowing you to analyze your yield percentage and solve any hiccups that happen along the way.
You'll find an extremely convenient chart at the uppermost point of the digital display. This chart will show the previous 17 readings of CO2 concentrations throughout the following time spans: 1 minute, 1 hour, 1 day, and 7 days.
The rest of the display shows the current CO2 concentration, the highest and lowest concentrations in the specified time span, the CO2 set point, and the CO2 permissible zone (aka deadband). It doesn't read the current temperature, unfortunately.
Unlike the CO2Meter TY-NI5P-3OZB, this monitor has a detachable CO2 probe.
I was super happy when I found that the photosensor is installed on the probe rather than the main unit. Not only can you place the main unit wherever you want, but you can also mount the probe as close to the plants as possible.
There's only one tiny flaw in this monitor. The detachable probe has a blinking LED that might inadvertently coerce your plants into photosynthesis at night. However, you can just cover it with masking tape. 
Pros
Records the CO2 level for up to 7 days
Shows the previous COs readings in a convenient chart
Comes with a detachable probe with a 15' data cable to set it up anywhere
Cons
It doesn't read the temperature
The CO2 probe has a tiny LED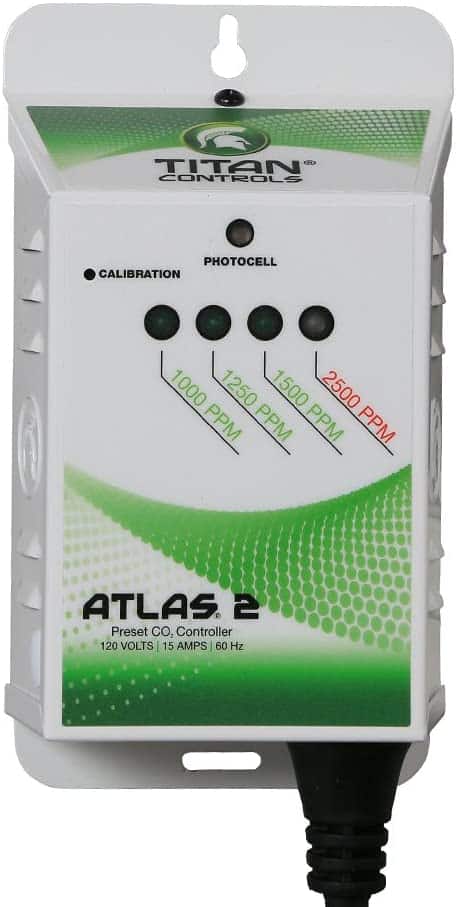 If the previous products seemed too complicated for you, I'm pretty sure you'll love the Atlas 2 monitor from Titan Controls.
This monitor doesn't need you to worry about anything. You don't have to specify a CO2 set point because it's already programmed to shut off the regulator above 1500 ppm, which is the ideal range for most plants.
Although it lacks a display, this monitor can still notify you of the current CO2 reading by 4 LEDs, marking 1000, 1250, 1500, and 2500 ppm.
Bear in mind that this monitor operates with 110 volts. If your grid supplies higher volts, you'll have to include a voltage transformer in your setup. And I have to say, this is a disappointing setback from a brand as big as Titan Controls. 
When I learned about the modest capabilities of this monitor, I was expecting a fair price. Sadly, this monitor is more expensive than the previous products, which is completely absurd for me. Then again, I guess it'll pay off if you're big on hassle-free equipment.
Pros
A set-and-forget system with zero controls
Shuts off automatically at night
The smallest sensor on the market
Cons
It should've been cheaper
What's the Ideal CO2 Concentration for Plants?
If you want an accurate answer, I don't think you can find it anywhere. You have to calculate it yourself based on factors like your crop type, greenhouse size, temperature, light intensity, ventilation, etc.
However, here are the generally recommended levels for some common crops:
1,000–1,300 ppm: the gold standard for most vegetables
800–1,000 ppm: perfect for seedlings, especially tomatoes, cucumbers, lettuce, and peppers
500–800 ppm: ideal for African violets and most Gerbera species
Regardless of the crop type, never go above 2,000 ppm since higher levels can limit growth and harm some plants.  It's worth noting that depending on the material of your greenhouse – polycarbonate, polyethylene, or glass – the formula linked above changes slightly.
The Verdict on CO2 Sensors for Greenhouses and Grow Rooms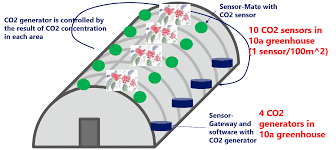 Personally, I love the Autopilot APC8200 Monitor. The fact that it records the CO2 readings across 7 days will let you get the most out of your greenhouse. 
Remember, it's crucial to analyze your setup to know the ideal CO2 concentration. Proceeding with the average estimations may not be friendly to your wallet.  Carefully consider your needs and what's available to you before purchasing because if you do this right your crop yields will increase dramatically. If you do this wrong, however, you'll spend a substantial amount of money for little benefit.