Aluminum greenhouses are great for some situations and terrible for others. As such, it's imperative to be absolutely certain that you actually want an aluminum greenhouse in 2021 because the wrong choice could be disastrous and costly.
Don't fret though, as in this guide we'll tell you the pros and cons of using this material and go over the 3 best greenhouses made of aluminum on the market today.
What to Consider Before Buying an Aluminum Greenhouse
Before you buy your aluminum greenhouse, you must be familiar with what you're getting into.
Pros and Cons of Aluminum Frames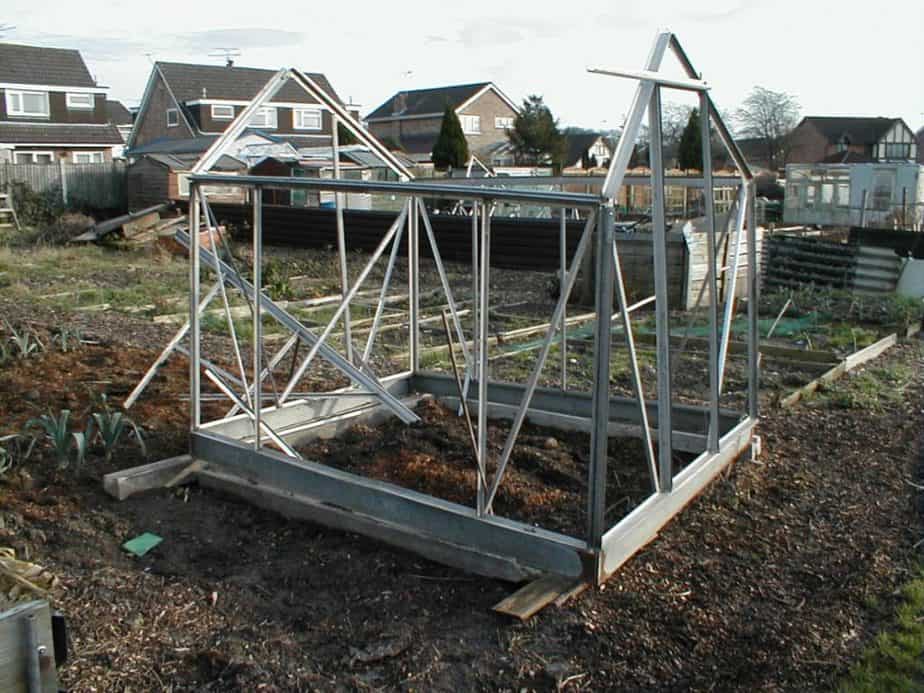 Many gardeners love aluminum because it doesn't rot like wood, rust like iron, or degrade from heat like PVC.
Plus, while it's not technically affordable, it's isn't extravagant either. As you'll see later, an aluminum greenhouse that measures 8'x6' will cost around $600 whereas a steel frame with the same measurements will run you more than $1,800.
Does this mean that everything about aluminum greenhouses is perfect? Not exactly.
The most significant drawback of aluminum is that it's so light that high winds might knock it down. Luckily, you can reinforce it by anchoring a couple of steel stakes into the ground at each corner.
Another disadvantage of aluminum is that it's bendable, especially in comparison to steel. That's why you might find your greenhouse slightly deformed after delivery. The good news is, you can always reshape it back to its original form.
Clear vs. Opaque Panels
Choosing between clear and opaque panels comes down to your needs.
Clear Panels Deliver Direct Light and Higher Heat
Clear panels allow the highest amount of sun rays to reach your plants, raising the greenhouse's internal temperature. This option should be your best bet if you're growing starters or germinating seeds because heat will encourage sprouting and overall growth.
On the downside, clear panels may encourage overheating during hot days, especially if you're living in the Southern US. If this is the case for you, consider light deprivation.
After the plants grow bigger, you should either transplant them outside or relocate them to a greenhouse with opaque panels. Why? Well, clear panels supply light from specific angles, so your plants might become leggy as they try to grow towards the brightest light spots.
Opaque Panels Deliver Diffuse Light and Moderate Heat
Opaque panels will diffuse the light into lots of different angles, meaning that your plants won't have to chase the light or grow to such weird stances.
And because they block more heat than clear panels, they should be perfect if you're living in a southern states. But in northern and northeastern states, they'll block too much heat and light – plants won't grow optimally.
The 3 Best Aluminum Greenhouses: Reviews
Model
Panel Light Transmittance
Ease of Construction
Our Rating
Cost
Check Price
Palram HG5508 Hybrid Hobby Greenhouse
Side - Clear Polycarbonate on the side
Roof - Opaque
2/5
8.3/10
$$$
Check Price
Palram HG5008 Mythos Hobby Greenhouse
Opaque Polycarbonate
3/5
8.1/10
$$$
Check Price
Outsunny Aluminum Greenhouse
Opaque Polycarbonate
3/5
7.8/10
$$$$
Check Price
What's the panel material of each greenhouse? How difficult is the installation? And how much heat and light does each option provide? These are some of the questions that will be answered below.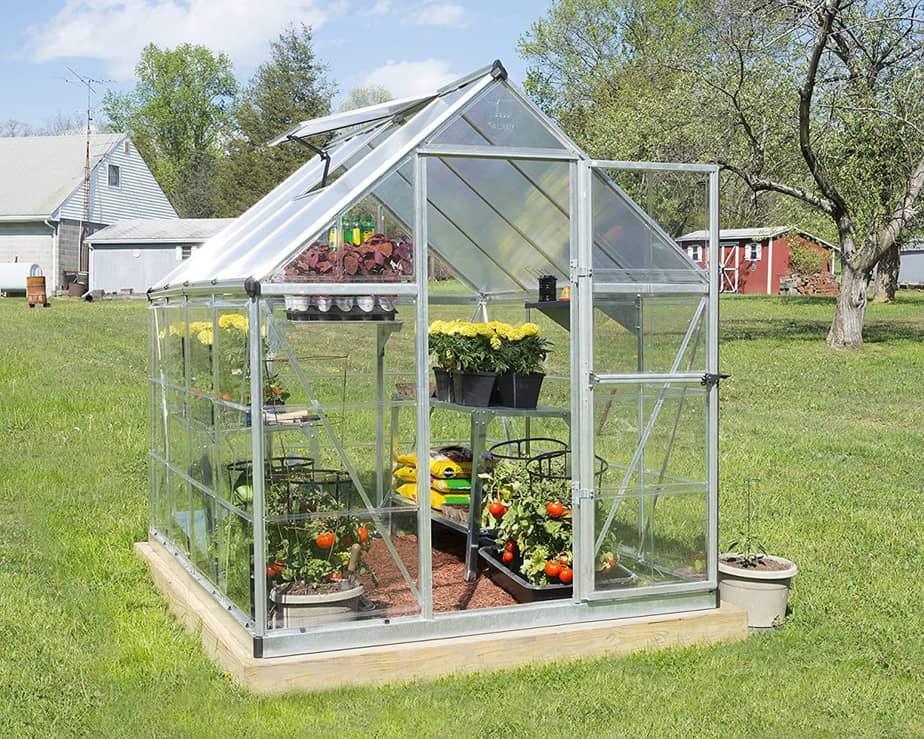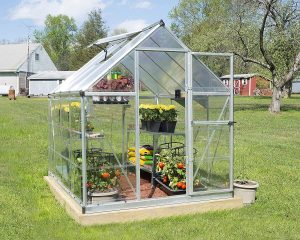 The first greenhouse on this list features clear polycarbonate panels on the side, which should be great if you're living in a cold climate with scarce sunlight. They allow about 90% of light to pass through, ensuring a healthy environment for your plants.
On the other hand, the roof panels are opaque, allowing about 70% light transmission. That clear/opaque combination should be your best bet if you're planning to grow your plants throughout the year.
On the roof, Palram puts a hinged vent that you can use to control the internal heat. However, some customers said that this vent is quite flimsy, complaing about breakages in high winds.
One of the best things about this greenhouse is the built-in rain gutters, which do a great job at collecting the rainwater for sustainable irrigation. Learn more about collecting water in rain barrels if the Palram HG5508 intrigues you.
Installing this greenhouse in your backyard won't be hassle-free, which is quite understandable because of the large size. However, there's an illustrated manual to guide you through the process. 
Specs
Sizes (LxWxH): 8'x6'x7'
Panels: clear polycarbonate on the side, opaque on the roof
Door: hinged
Total weight: 63 lbs
Pros
Has both clear and opaque panels
Sturdy construction
Features rain gutters
Covered with a 5-year limited warranty
Cons
The installation might be complicated for some people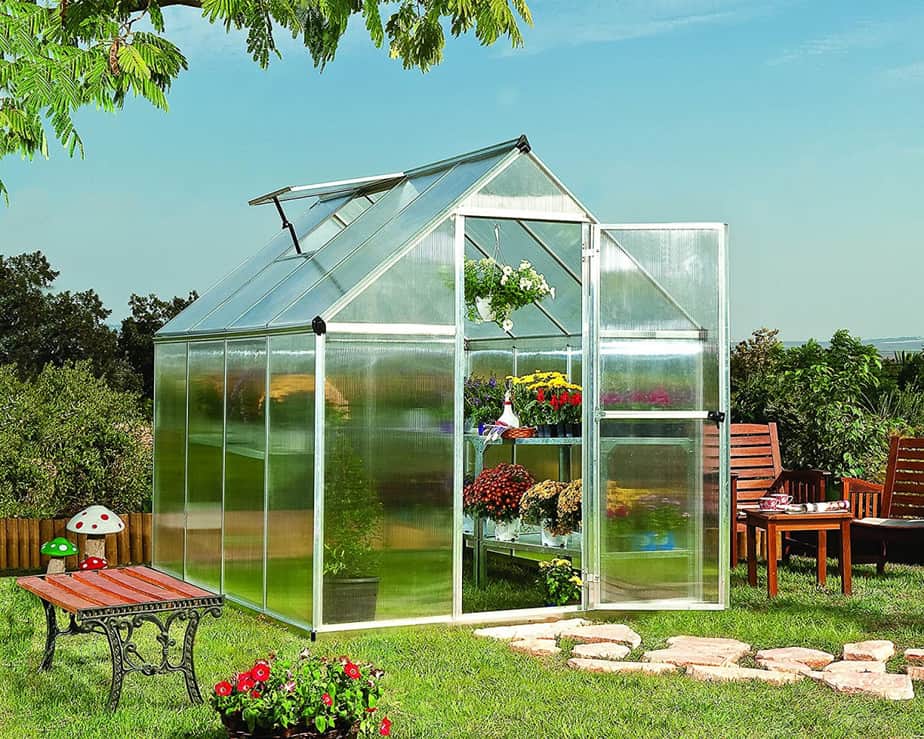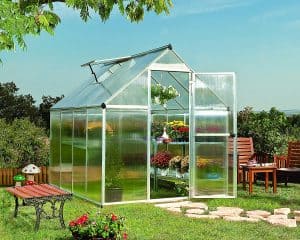 This greenhouse is fairly similar to the previous one, except that it has opaque polycarbonate panels on both the roof and sides. As a result, it should be perfect if you're living in the Southern US. 
Although this greenhouse has the same measurements as the previous one, it weighs 31 pounds only . With such a puny build, it probably won't stand its ground against high winds, even if you reinforce it with anchors. 
Aside from this flaw, the greenhouse performs as it should.
Specs
Sizes (LxWxH): 8'x6'x7'
Panels: opaque polycarbonate
Door: hinged
Total weight: 31 lbs
Pros
Features rain gutters and roof vent
Comes with fully opaque panels
Covered with a 5-year limited warranty
Cons
The lightweight construction makes it unsuitable for windy areas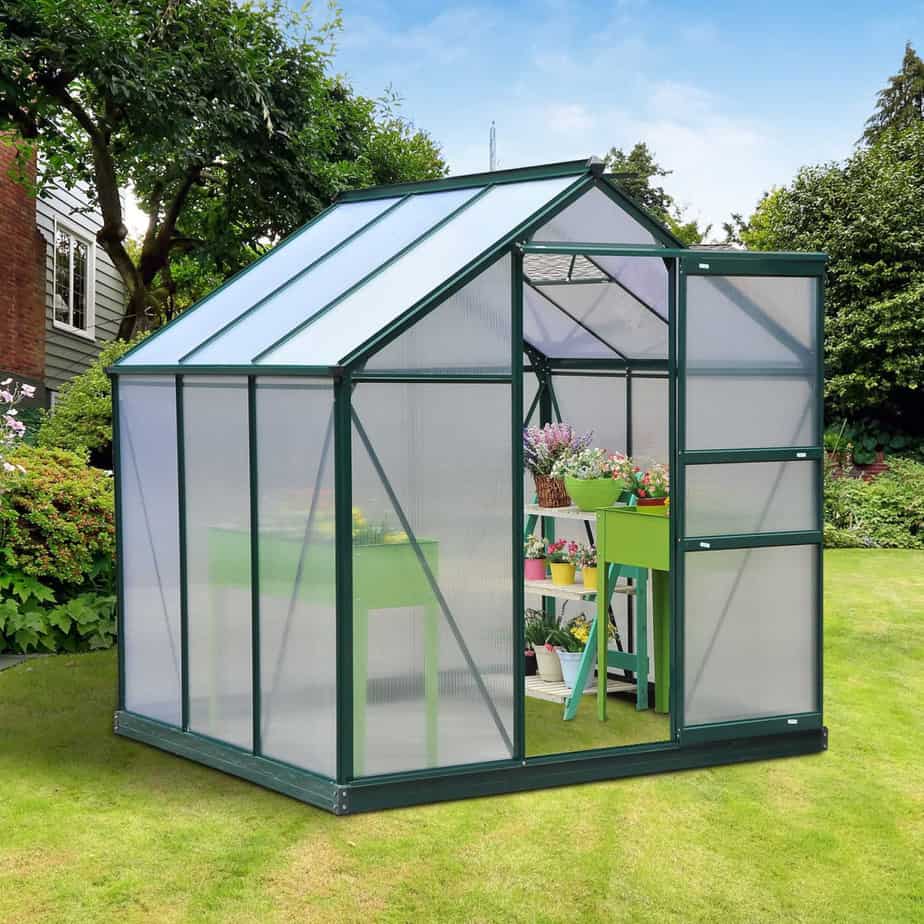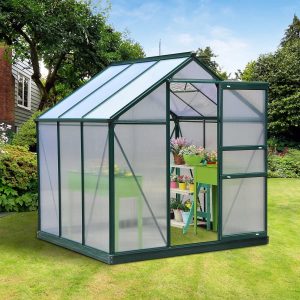 The Outsunny greenhouse features fully opaque paneling, just like the previous product. However, the panels here are slightly flimsier than most, which explains the affordable cost. 
Don't get me wrong, though, they're not horrible, but you should get higher quality if you want a product that lasts for years. 
Most of the customer reviews said that they found gaps around the vent and the door. You can easily fix this issue by applying a waterproof silicone sealant.
The installation should be relatively easy, but there are a lot of part to deal with. 
Specs
Sizes (LxWxH): 6'x6'x7'
Panels: opaque polycarbonate
Door: sliding
Total weight: 63.9 lbs
Pros
Reasonably priced
The sliding door provides easy access
Features a hinged roof vent
Cons
The panels are quite flimsy
Final Verdict on Aluminum for Greenhouses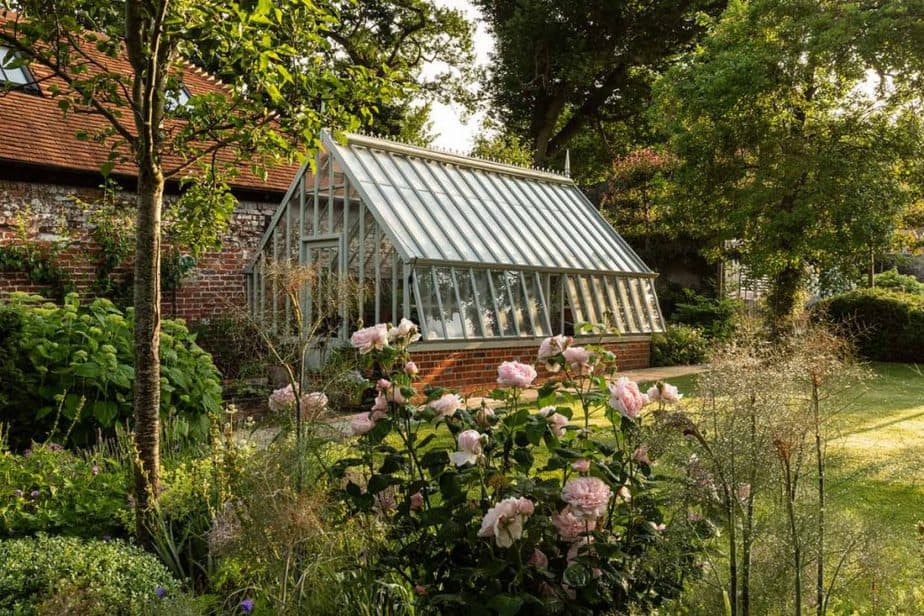 The Palram HG5508 Hybrid Hobby is the best aluminum greenhouse for the money because it combines opaque and clear panels, which work well in hot and cold climates, with rain gutters, a roof vent, and a sturdy frame all for under $500. While there are other options out there for more money if you're going to invest more it should be in greenhouse with a sturdier build material.