Do you have a greenhouse? Do you need a place to store and display your plants and tools? If so, you've come to the right place!
In this article, we review the best greenhouse tables and benches on the market. It must be noted that there's a certain level of ambiguity in naming products, hence why this is about tables and benches even though those are clearly different things. The products we've selected strike an excellent balance between style, convenience, and affordability and are useful in any greenhouse.
Let's make the most of your space for hassle-free gardening by going over the six best greenhouse tables and benches available today.
Greenhouse Benches and Tables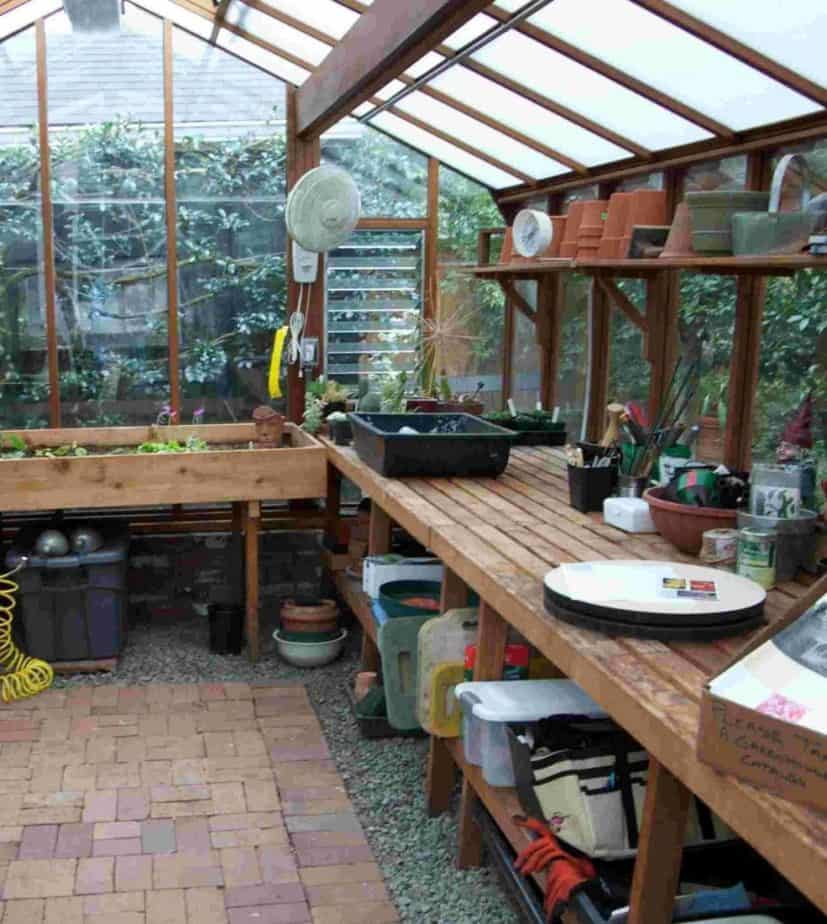 This guide is really all about something to put your beloved plants on and somewhere to store all those gardening tools. Do consider that the greenhouse flooring will allow you to place plants directly on the ground and some of the best greenhouse options for renters include shelving. If you have questions about any in particular that isn't on this list, then ask about it in the comments section below!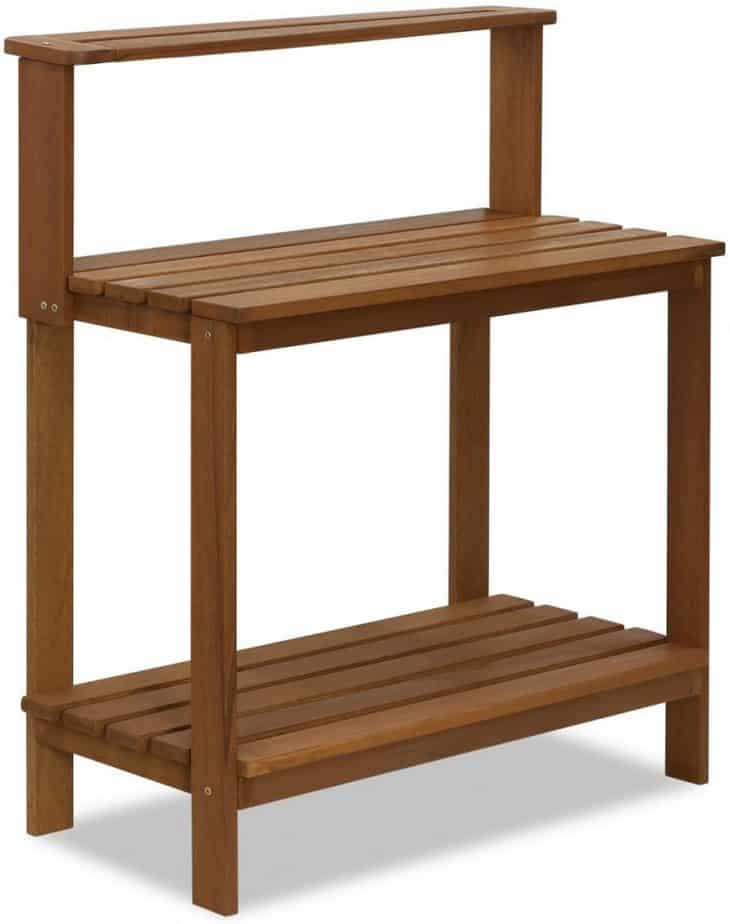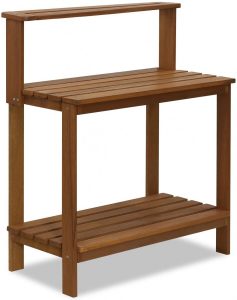 This Furinno potting bench is made from Malaysian hardwood, which is notable for its sturdiness and durability. It features a basic yet stylish design with lots of shelf and storage space.
We like how quickly this table can be put together, as it belongs to Furinno's Ready to Assemble (RTA) line of furniture. Once assembled, the bench is easy to clean and maintain.
The dimensions of this table are 36 x 43 x 21 inches, and it can hold up to 175 pounds. Its compact, high-quality design makes it an ideal choice for all gardening needs.
Pros
Hassle-free assembly
Easy to clean
Basic, compact design
Spacious lower shelf
Cons
Wood tends to chip if not properly maintained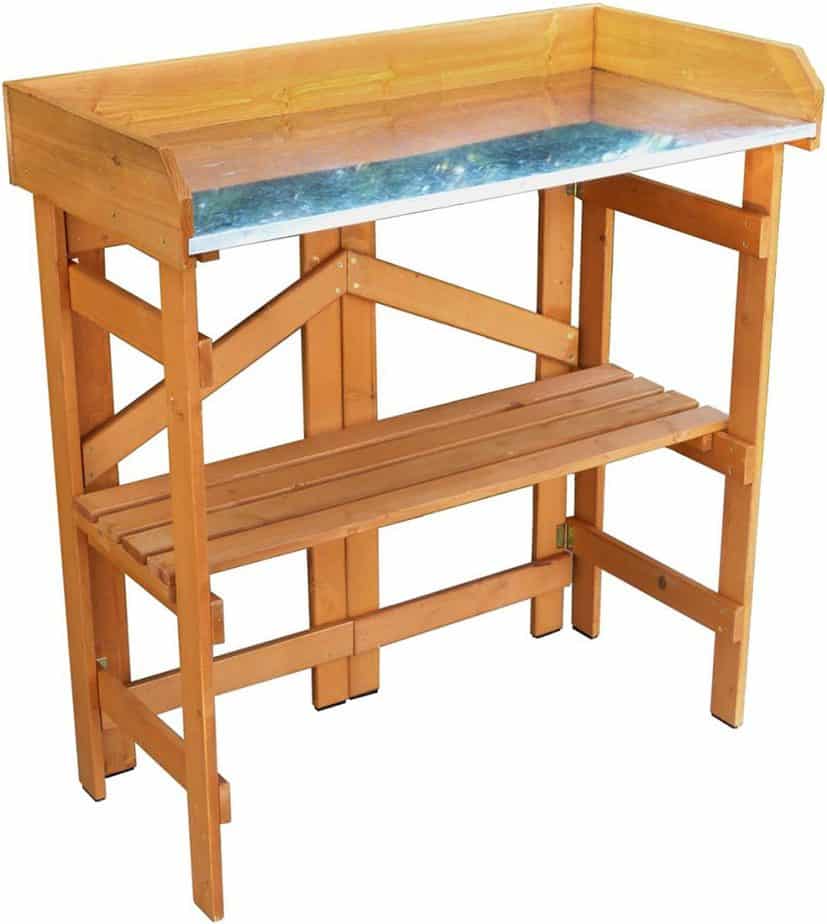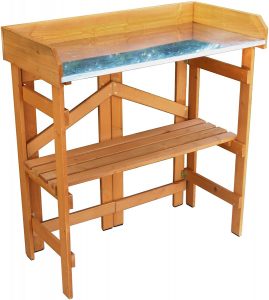 The Merry Garden greenhouse table is one of the most reliable foldable tables on the market. The simple yet compact design makes it a nice addition to any greenhouse.
This table is made from Canadian Hemlock and has a natural, oil-based stained finish that's notable in its aesthetic appeal. We were impressed by how easy it is to clean, maintain, fold, and store.
The dimensions of this greenhouse table are 16 x 32 x 34 inches, with a maximum weight capacity of around 80 pounds. It has a spacious work surface made of galvanized metal. There's also a lower shelf that's perfect for storage.
Pros
Easy to assemble and fold for storage
The stained wood finish is easy to maintain
Works great both indoors and outdoors
Moderately priced
Cons
Tends to feel unsteady at times
Doesn't hold a lot of weight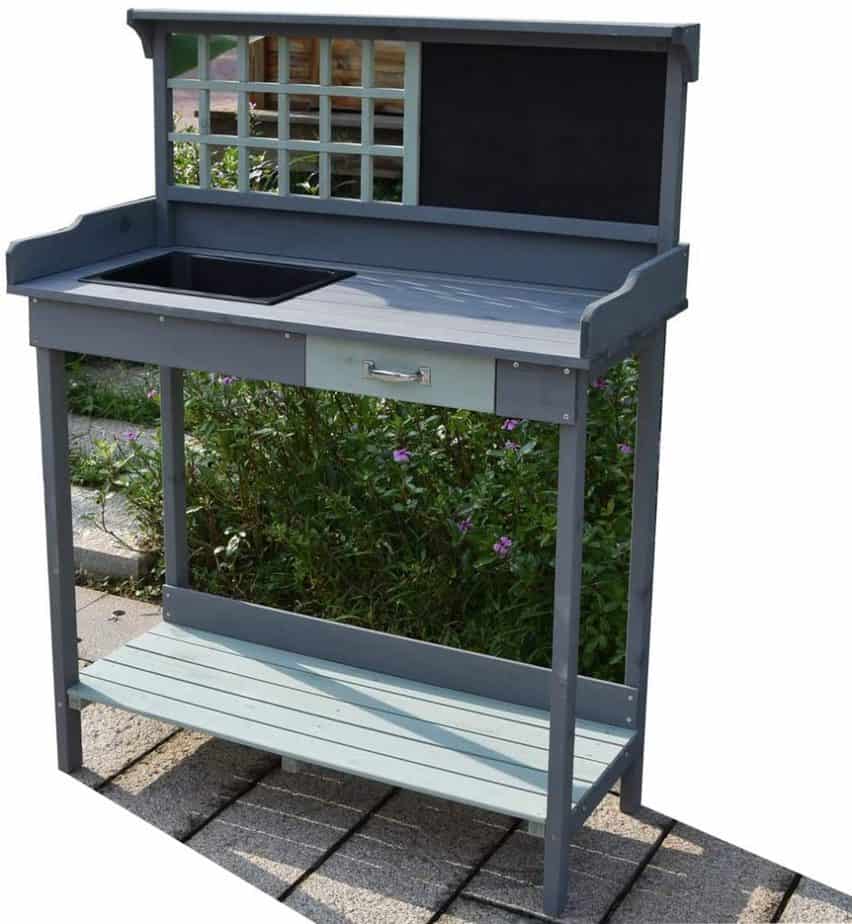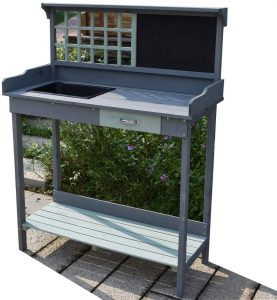 This wooden potting bench from the Bering Channel is made of solid fir wood. It's weather-resistant, sturdy, and provides maximum protection against pests and rotting.
One of the features that caught our eyes on this table is its multiple storage spaces. There's a drawer to store your tools, as well as a lower shelf with an open back.
In addition, there's a removable sink to help keep your work surface clean and tidy. Check out this tutorial on how to put together the Bering Channel potting bench. 
The dimensions of the table are 34 x 48 x 14 inches, with a work surface of about 22 x 16 inches. It's best used for light gardening and carries a maximum load of 45 pounds.
Pros
Sturdy build
Resistant against rotting and pests
Multiple storage spaces
Great value for the price
Cons
Assembly can be a bit difficult
Doesn't hold a lot of weight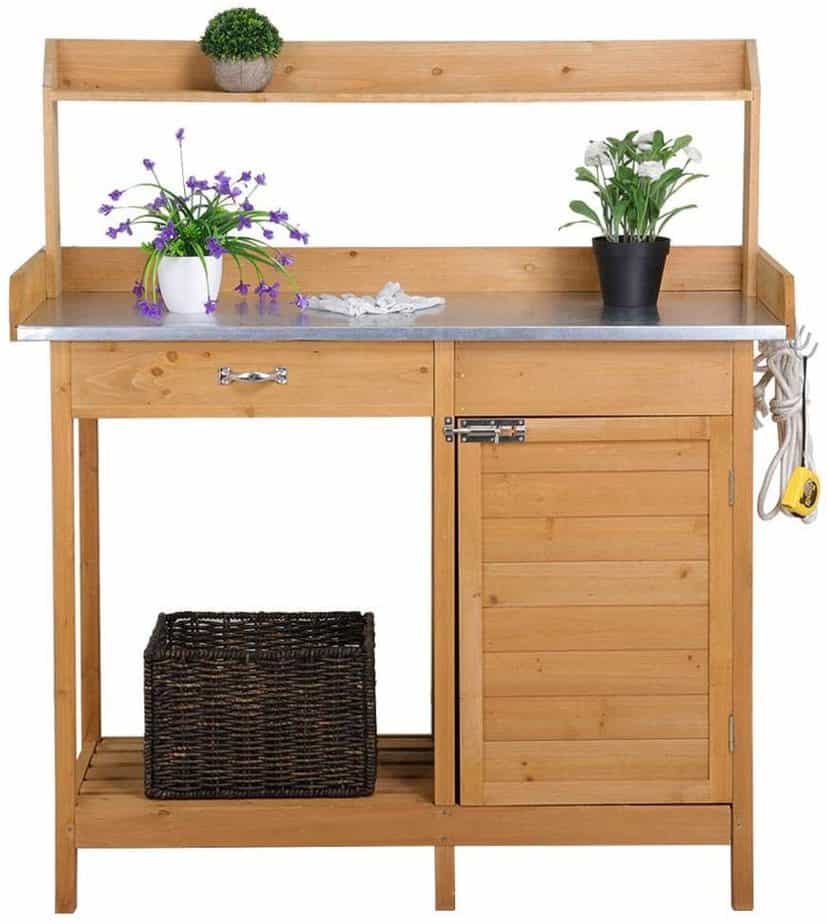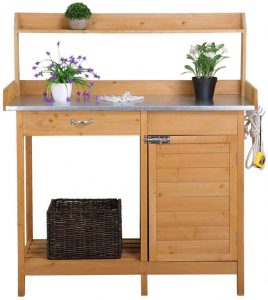 The YAHEETECH potting bench is perfect for all your gardening needs. We like how it features a super usable but aesthetically pleasing design, which adds to the overall look of your greenhouse.
It's made of fir, so durability is guaranteed. The upper shelf maxes at at 220 lbs whereas the lower shelf can hold approximately 176 lbs – that's impressive for a greenhouse bench designed for potting. Not only is the carrying capacity impressive but so is the available storage. The YAHEETECH potting bench comes standard with hooks, slatted shelves, a drawer, and a cabinet in addition to all that counter space.
The dimensions of this compact-sized potting table are 49 x 44 x 18 inches.
Pros
Made of heavy-duty fir wood
Impressive storage capability

Attractive aesthetic design

Unbelievable carrying capacity
Cons
Less affordable than other models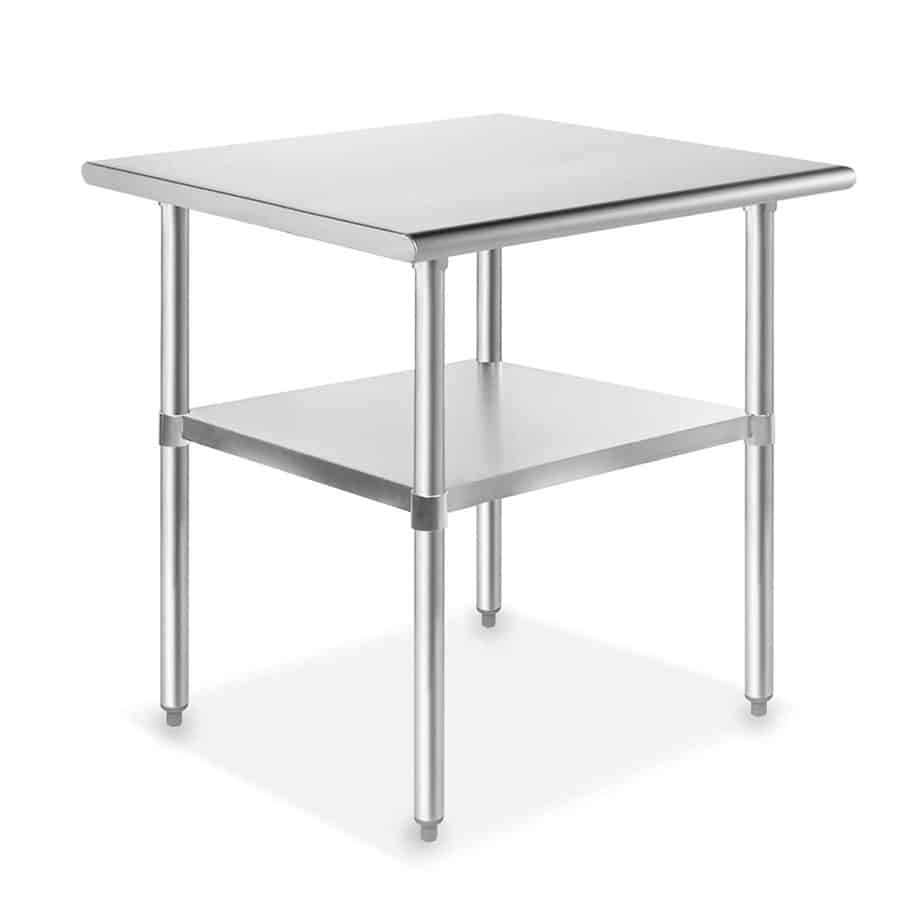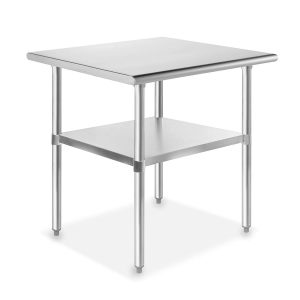 This work table from GRIDMANN is definitely designed for industrial kitchens. That being said, it's easy to clean, can hold anything you can imagine, and is the perfect size for a smaller greenhouse. You can use the GRIDMANN work table to store your gardening tools and display your plants without any concerns over capsizing.
Do note that this work table is fairly heavy itself as a result of the stainless steel design. At 41l bs it's probably best to have a helper install this greenhouse table with you.
The dimensions of this table are 36 x 24 x 4 inches and while there is no listed carrying capacity, one has to assume that it's north of 200l bs.
Pros
Weather-resistant
Powder-coated
Two wheels and trolley handle for easy portability
Reasonably priced
Cons
The instructions are difficult to follow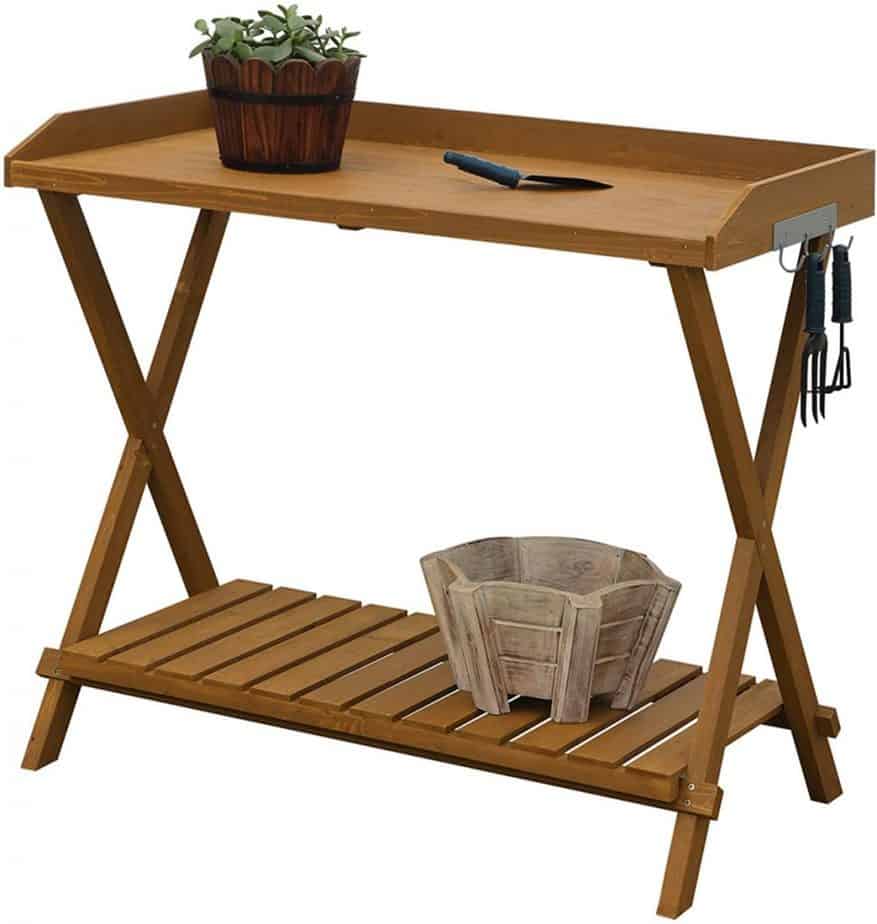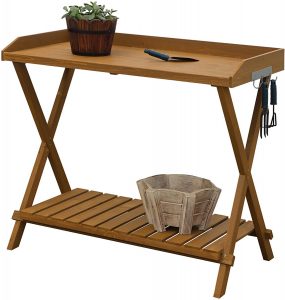 One of the great things about the Convenience Concepts Potting Bench is its simplistic design. It's perfect for no-fuss potting and gardening.
This table offers the perfect amount of workspace and storage in one area without making you feel cramped. At the same time, it won't take up much space in your greenhouse because it folds up like a tv dinner tray.
We like that it's easy to assemble but that once put together, it feels solid and sturdy. The top bench is spacious enough, while the lower shelf acts as a handy storage area.
The dimensions of this Convenience Concepts Potting Bench are 39.5 x 20 x 34.25 inches. There is no listed carrying capacity for this potting bench but reviews of the product indicate that it can hold over 50lbs on both shelves.
Pros
Rustic design
Sturdy build
No-fuss assembly
Moderately priced
Cons
Our Pick for Best Greenhouse Bench or Table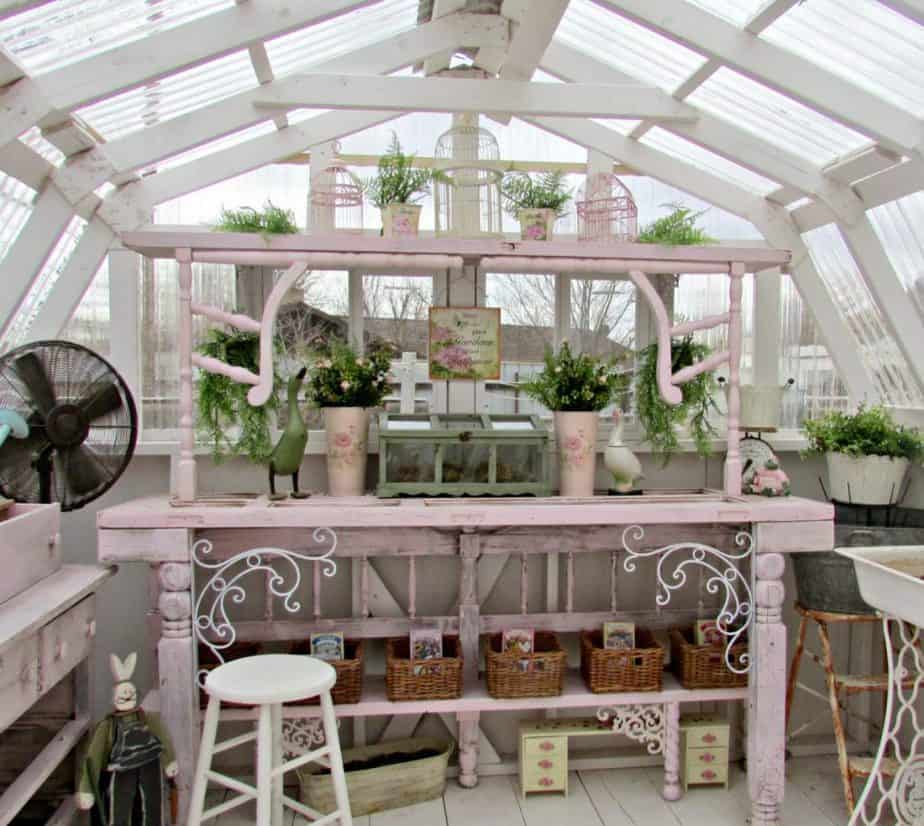 When it comes to greenhouse tables and benches, there are many styles and designs that you can choose from. Chances are, none of them are really what you expected as a greenhouse bench or table but all of them can fit your purposes.
If you're looking for an easy option for greenhouse storage, we recommend trying the Furinno FG17478 Potting Bench. It's made from heavy-duty Malaysian hardwood. It's ideal for keeping up with all your potting and gardening needs for years to come. Best of all, it's easy to put together and offers plenty of storage.
Our second favorite is the Merry Garden Folding Utility Table and Potty Bench. It's affordable, sturdy, and multipurpose plus, it folds up for easy storage. This makes it practical if you have limited space or you need to store it away for the winter.
If you're looking for other bits and baubles for your growing paradise, then give this guide on greenhouse accessories a read.