Choosing the right greenhouse flooring can tie things together aesthetically and in terms of productivity. Luckily, there are several types of greenhouse flooring that you can choose from depending on your specific needs.
In this article, we'll be discussing the eight most common greenhouse flooring options and highlight their pros and cons to help you make an informed decision. Let's get started!
Does Your Greenhouse Need a Floor?
If you're planning to grow directly from the ground, then you can have your greenhouse directly sit on the soil. It naturally provides sufficient drainage, but you can only use it for places with good loam soil.
So, if you're dealing with soil that's too muddy, then you'll need foundation and flooring to avoid turning the soil into useless dirt after watering.
Other than that, you don't really need a floor if you build a raised bed in your greenhouse. Simply covering the central path with gravel and building raised beds on each side of the base should work fine.
What Are the Types of Greenhouse Flooring?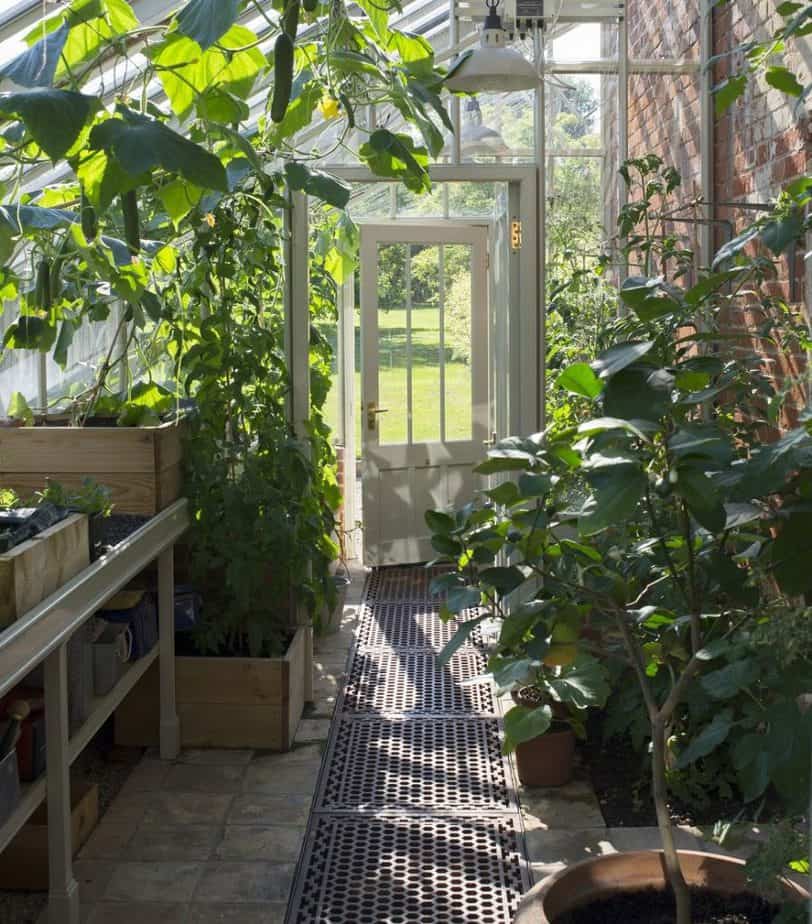 1. Concrete
A concrete slab doesn't just serve as a base, but it can also function as flooring for your greenhouse. Do note that this is the most costly type of floor because the raw materials are expensive and it can require hiring a professional company for installation.
But if you can get over the price, concrete makes for excellent greenhouse flooring in the long run. In addition to being easy to clean and maintain, concrete flooring is very durable and can handle most any weight.
Granted, concrete doesn't offer good drainage, but you can simply fix this by pouring the concrete slab at a slight slope.
2. Stone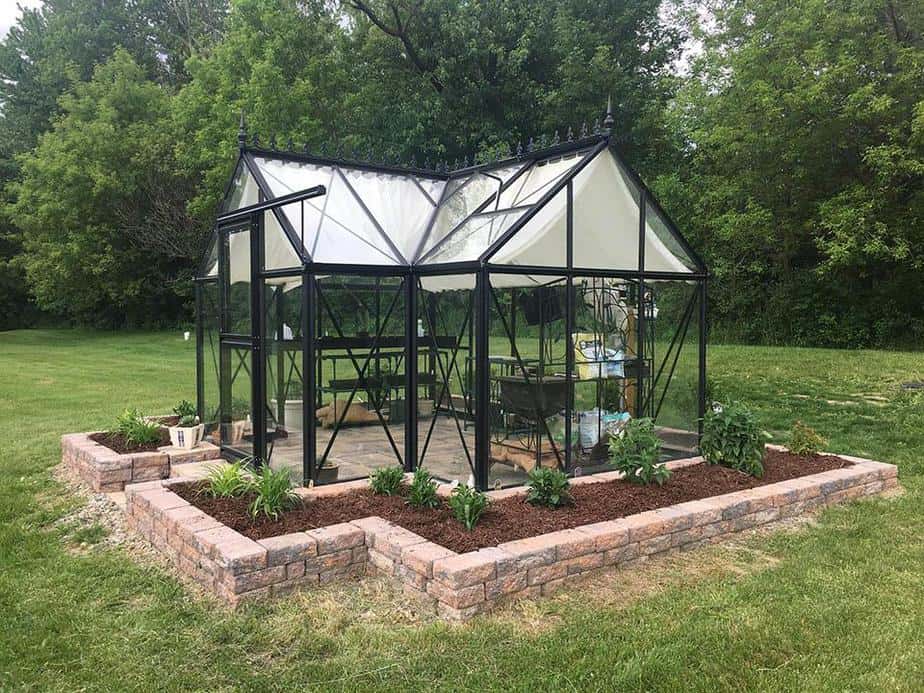 A permanent greenhouse flooring option, stone floors are typically mortared in place. If not mortared together, decomposed granite is used in between the stones to stabilize their arrangement.
As a result, stone flooring is often paired with a surface drain to make the removal of excess water easier.
If you choose to opt for stone greenhouse flooring, using stone slabs (also known as patio stones and flagstones) is probably the best idea. The flatness of the slabs minimizes the risk of tripping and falling while working in your greenhouse.
However, you should avoid using fieldstone flooring since it has an irregular surface that makes you prone to tripping and falling.
3. Landscape Rocks and Pebbles
If you're interested in an aesthetically pleasing look, using landscape rocks and pebbles as greenhouse flooring can be a great option for you. Not to mention, it's also rather easy to install yourself.
However, the cost of landscape rocks and pebbles can be out of budget for gardening enthusiasts. Also, you need to ensure you have sufficient drainage if you're planning to lay pebbles because water can build up between the rocks.
Additionally, weeds can sprout through pebbles. So, you need to prepare the site for flooring removing any weeds and plants in the designated space. Be sure to get rid of their roots too.
You may need to install a weed mat as well to block vegetation growth. After that, you can lay pebbles and rocks on top.
4. Bricks
Brick greenhouse flooring can cost you as much as concrete flooring, but it looks more polished so it's worth the extra money for many gardeners.
It also helps that brick floors don't require mortaring in place nor do they need a draining system because bricks absorb water and can increase the humidity inside the greenhouse.
For a small greenhouse, a single-skin brick flooring is more than enough. As for larger structures, a double-thickness floor is better for stability.
With bricks, you'll be saving money since they double as foundation and flooring. They'll last for a long time too.
5. Gravel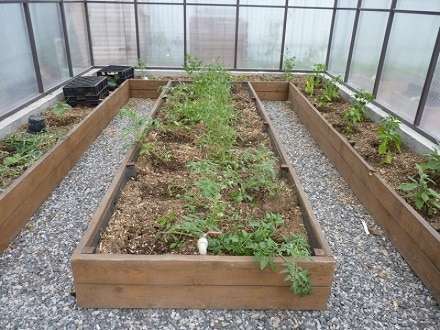 If you're in need of a budget-friendly flooring option for your greenhouse, then consider using gravel. Simply install a plastic ground cover and cover it with gravel.
This combination offers a cheap yet sturdy floor for a greenhouse. It's also easy to maintain and serves as a rodent barrier that prevents erosion.
Additionally, gravel is extremely easy to install and effectively improves drainage. The porous plastic cover will prevent weed growth while allowing moisture to soak through.
Although gravel tends to travel underfoot, this shouldn't be an issue if it's contained with an edging material such as lumber or bricks.
6. Vinyl
You can buy commercial vinyl flooring meant specifically for greenhouses. Polyvinyl and polypropylene are the most common materials used in manufacturing this type of flooring.
Besides being quite durable and easy to maintain, vinyl flooring is porous and drains well. Some brands treat their flooring to be UV-resistant, anti-microbial, and anti-bacterial.
7. Mulch
Mulch greenhouse flooring is stable, offers good drainage, and improves the quality of the soil. So, if you're planning to grow directly from the ground, this is one of the best greenhouse floors to install. 
Mulch is affordable and readily available, but it's prone to breaking down. This is why you'll need to replenish it at least once a year.
Shredded mulch is the most suitable type of mulch for greenhouse flooring because it quickly interlocks to create a more stable walking platform compared to wood chips mulch. Remember to buy your mulch per cubic yard to save money.
8. Weed Barrier
A weed barrier, also known as weed cloth, is a woven fabric used typically in commercial greenhouses to prevent weeds from growing through the floor. This makes it a great option if your garden has weeds.
A weed barrier is also level, which means it's easy to walk on. It even promotes better drainage because it allows water to pass through but keeps the floor from becoming muddy.
Have You Chosen The Best Greenhouse Floor?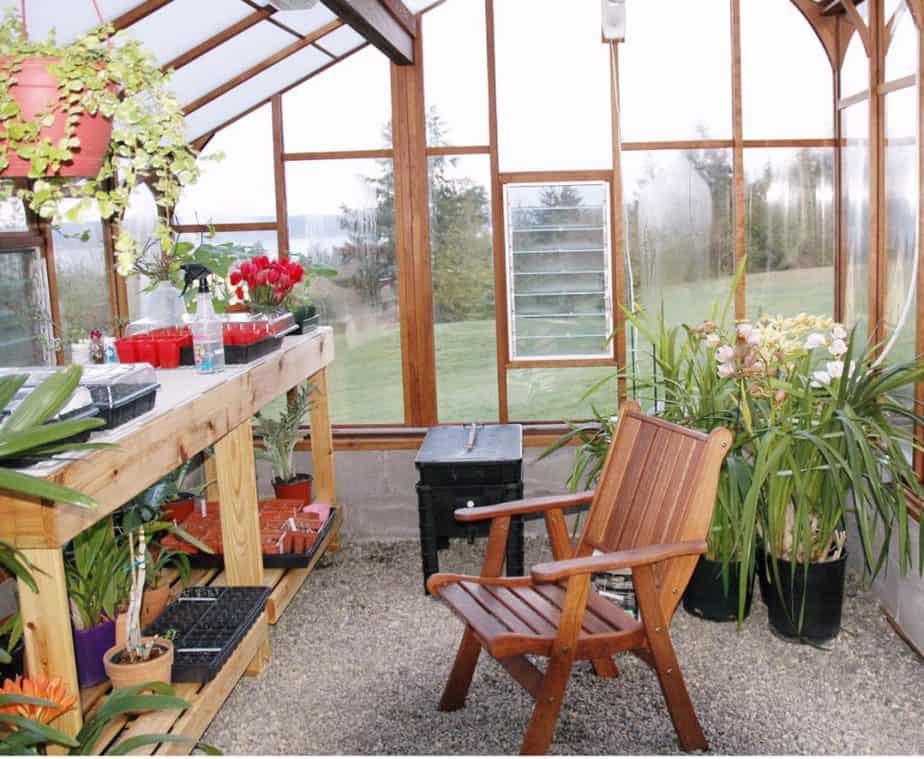 There you have it, a comprehensive guide on the most common types of greenhouse flooring to help you make the right choice for your gardening needs.
Are you building your own greenhouse? Or are you considering a 4×8 or 8×16 greenhouse kit? Regardless, these greenhouse flooring options should be viable. If you have any additional questions then ask them in the comments below.