Installing or building a greenhouse means extending your growing seasons. By introducing greenhouse heaters to your setup, though, you can grow all year long.
If you want to grow year-round and you don't live along the equator, then you'll absolutely have to consider how to heat your greenhouse. Here are some of the best greenhouse heating methods available for both commercial and backyard grow-ops.
The 5 Best Options for Greenhouse Heating
Product Name
Product Photo
Type of Heat
Square Footage Heated
BTU
Cost
Check Price
Dr. Heater Greenhouse Heater
Infrared
150 square feet
1500 watts (5,200 BTU)
$$
Check Price
Bio Green Greenhouse Heater
Infrared
120 sqare feet
1500 watts (5,118 BTU)
$$$
Check Price
Comfort Zone Ceiling Heater
Combination
550 square feet
3000 watts (11,285 BTU)
4000 watts (14,105 BTU)
5000 watts (17,065 BTU)
$$$$
Check Price
Thermoflow Infrared Heater
Infrared
45 square feet
1500 Watts (5,100 BTU)
$$$$$
Check Price
Do you think there should be another greenhouse heating option added to this list? Comment below and maybe it will be added!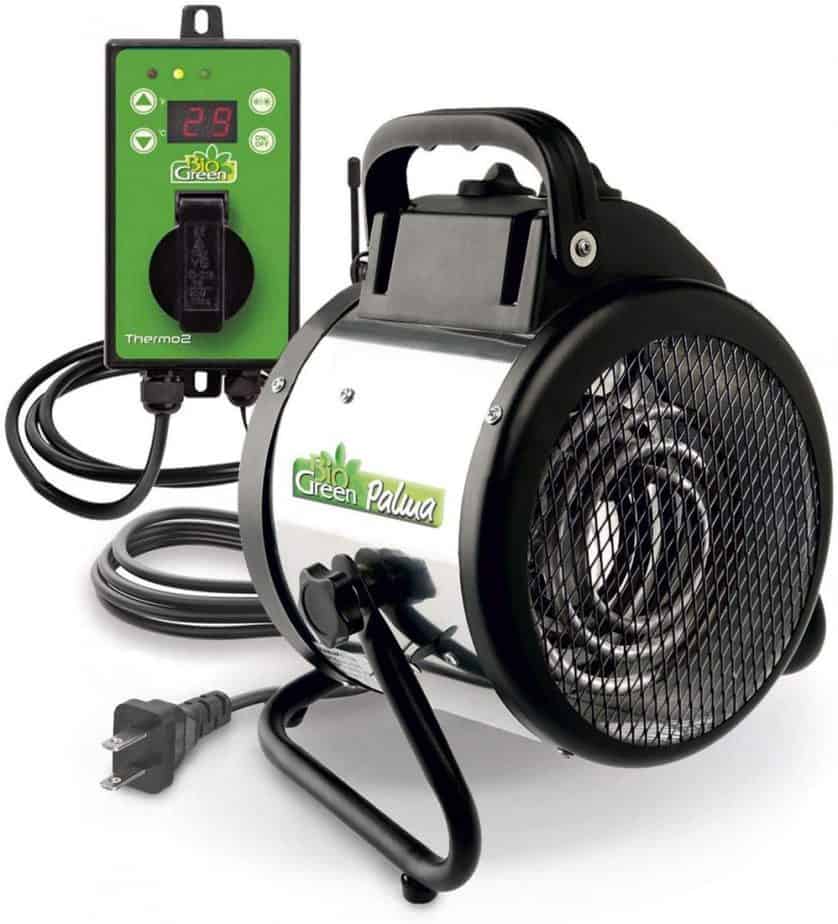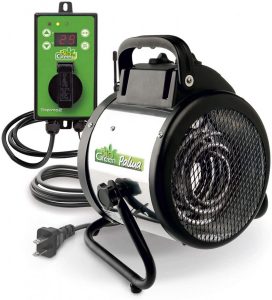 Greenhouse heaters from Bio Green are universally positively reviewed and this 1500 watt offering is no different. This energy-efficient heater is simple to use and clearly designed by greenhouse growers. Features include:
simple knobs for adjusting
ventilation control
water-resistant (spraywater is ok – flooding is not)
easy to understand controls for themostat
Bio Green offers greenhouse heaters for a number of different square footages too. Even if Bio Green doesn't make a heater large enough for your operation, you can use multiple heaters in your space. With dimensions of 11″ x 8.25″ x 36″ the Bio Green Greenhouse Heater shouldn't take up too much growing room either. At 11 pounds this greenhouse heater should be easy enough to move around if necessary.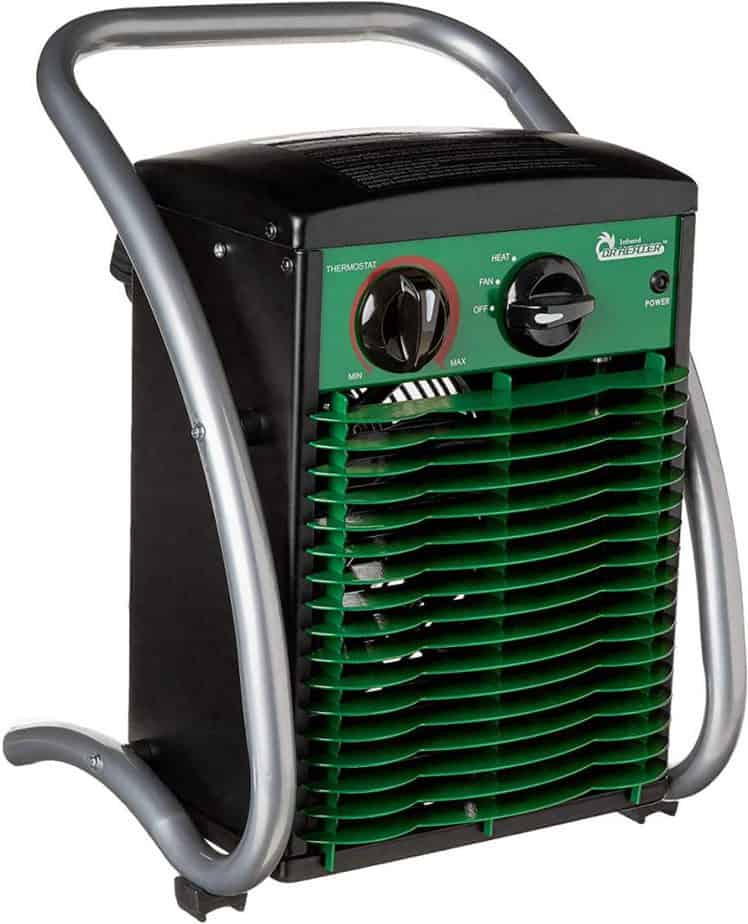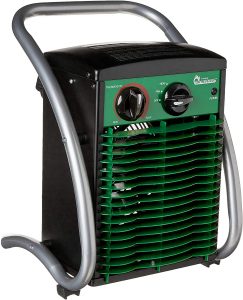 The Dr. Heater Infrared Greenhouse Heater lacks some of the frills of the other offerings on this list, but if you're looking for effective heating for your plants without breaking the bank then it's hard to ignore. It's worth noting that this infrared greenhouse heater will warm your greenhouse – not heat it. The dial for adjusting heat also lacks precision so if you need perfect temperatures consider a greenhouse heater with a thermostat built in.
Customer reviews of the Dr. Heater Infrared Greenhouse Heater are a tad bit concerning as they mention faulty wiring and a lack of dependability. That being said, this greenhouse heating solution is both smaller and lighter than expected so it is space-saving. It is also splash-resistant and doesn't increase the electricity build exorbitantly.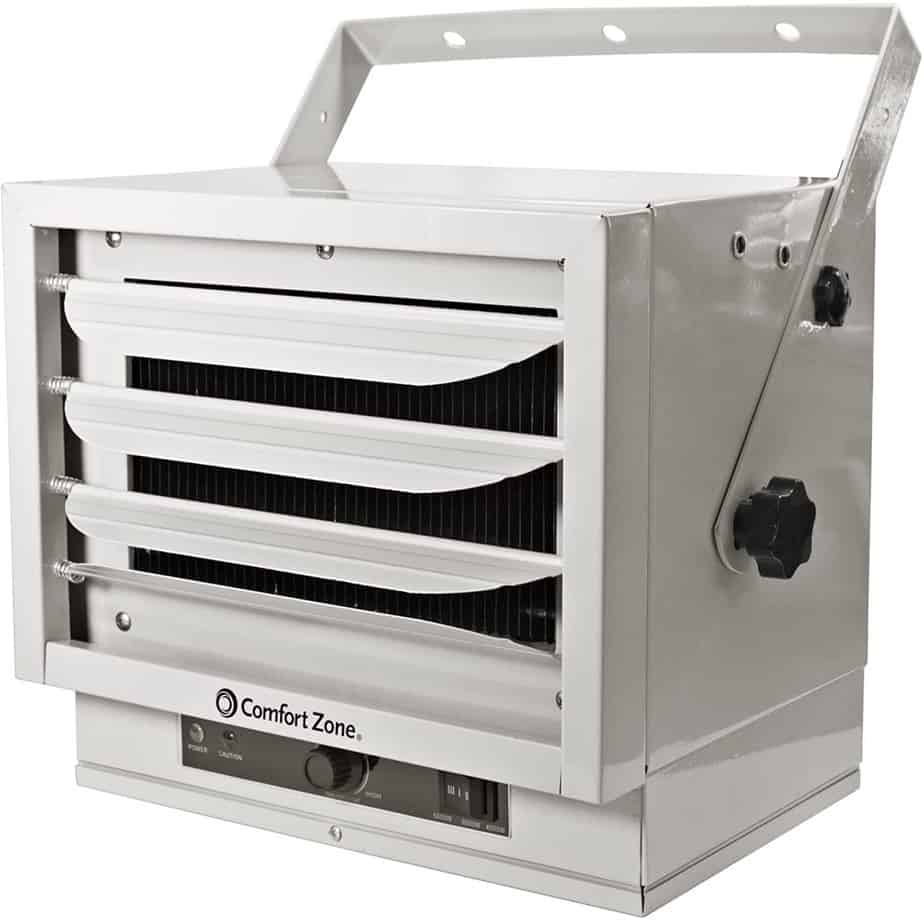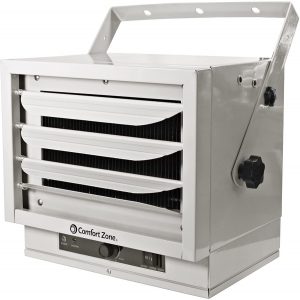 If you're running a commercial greenhouse operation, then the Comfort Zone Ceiling Heater is likely your best greenhouse heating option. With a 550 square foot heating radius, this heater is the most powerful on our list. That being said, unless you're an electrician it is best to hire outside help for installation as this isn't your run-of-the-mill plug-and-play heating solution – it must be hardwired into your circuit breaker.
Once the Comfort Zone Ceiling Heater is hardwired in place, though, it will provide safe and effective heating where needed. The heater is easy to adjust both in terms of direction and temperature. Between the high-quality steel construction and automatic switch-off feature to avoid overheating it's easy to feel good about spending $250 plus installation on this greenhouse heating solution.
Based on the customer reviews, it is worth deconstructing the heater housing and inspecting that everything is attached soundly. A small number of buyers noted that the heater malfunctioned (safely) due to parts coming unattached but none of them checked to ensure everything arrived intact.

While the Thermoflow Infrared Heater is more expensive than anything on this list and heats less square footage, it is the most technologically impressive. This greenhouse heater comes with numerous heating settings and timers that can be flipped on and off via a long-range remote. This Themoflow greenhouse heater is also both energy-efficient and aesthetically pleasing.
As is the case with the other greenhouse heaters on this list, the Thermoflow Infrared Heater features automatic shut-off features to avoid overheating. This heating solution is best suited for smaller, more insulated greenhouses.
Do I Need A Greenhouse Heater?
Yes, you need to heat your greenhouse. Do you have to heat your greenhouse with electricity? Not necessarily.
The general rule of thumb is that your greenhouse must stay frost-free. This means that your greenhouse temperature should never dip below around 40-degrees Fahrenheit or 4-degrees Celsius. If your low temperatures dip below 0-degree Fahrenheit, then you'll definitely need to introduce a greenhouse heater to your operation.
Between solar and geothermal energy you do have passive options to cheaply heat your greenhouse and as long as you aren't too far North or South you won't require too much heat. While you shouldn't cut corners when it comes to greenhouse heating, you shouldn't pay for something that you don't need. Passive greenhouse heating is all about capturing the heat that your greenhouse creates via the sun in solar panels or a heat sink.
In most cases, just adequately preparing your greenhouse for winter is more than sufficient for dealing with those wintertime temperature drops. Additional ways to incrementally increase greenhouse temperatures include:
integrating greenhouse grow lights
replacing broken greenhouse panels
keeping chickens in your greenhouse
If you need to drastically increase your greenhouse's temperature, though, read on to learn about the more intensive options available to you.
How to Heat Your Greenhouse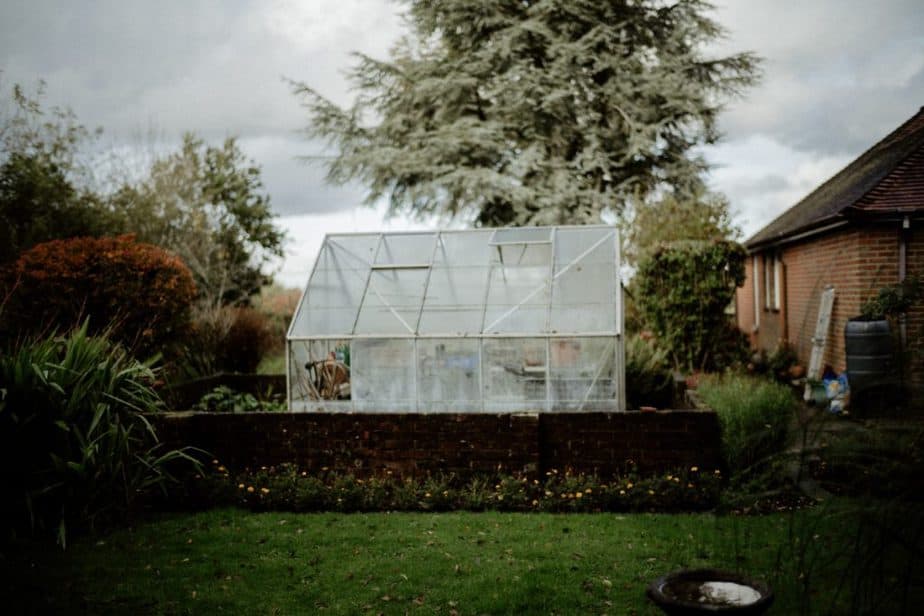 Chances are if you're reading this portion of the post, you're in one of two camps.
You're looking to increase the tempature in an already constructed greenhouse
You're building a greenhouse, realize that you live in a colder area, and want to be proactive about heating said greenhouse during winter
Those in the second group are going to be happier than those in the first. If you already have a greenhouse and you want to increase the temperature inside, then you really only have one option – a greenhouse heater. Consider our greenhouse heat calculator and choose one or more of the options above to heat your greenhouse.
On the other hand, proactive greenhouse growers can design their setup with temperature regulation in mind. Consider a heat sink for your greenhouse if you fall in this camp. While this method of heating a greenhouse is effective in milder climates if your wintertime temperatures tip too far below 0-degrees Fahrenheit then you will also need an active greenhouse heater.
Keep Your Greenhouse Warm During the Winter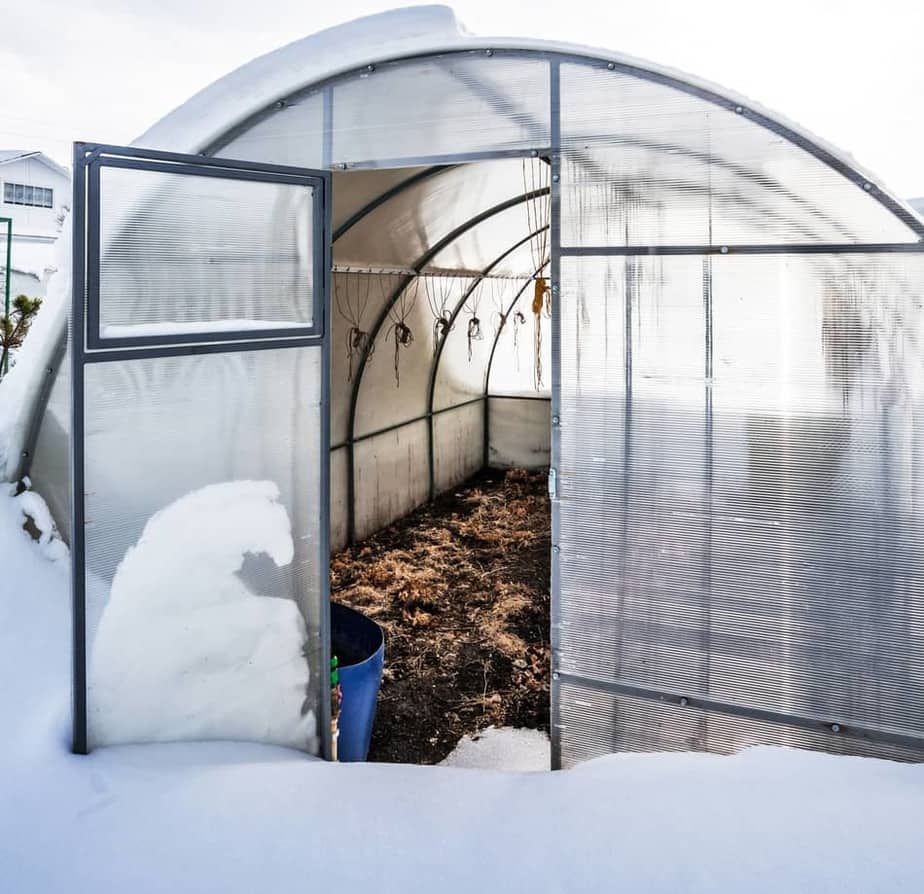 So, your greenhouse is heated. Now, how do you keep it warm? We have multiple guides on the subject that are worth consulting. Head on over to our Winter Greenhouses hub page to find all of our hot resources in one place!
Is there anything else about winter greenhouses that you'd like to learn about? Comment below and we'll create a guide on the subject.
As far as greenhouse heaters are concerned, though, you're best off going with the Comfort Zone Ceiling Heater depending on the size of your operation. Both are cost-effective and perform at a reliably high level.