When you first begin your greenhouse journey, it's easy to become frustrated with all the questions you may have. Sure, the internet may have answers, but it's all too easy to be overwhelmed with information. If only you could ask the experts…
Well, you can! Courses on greenhouse growing are a great way to learn straight from the people who do it best. Though these courses aren't free, they are available at a range of price points to suit different budgets and needs.
To save you the time and energy of researching, we've compiled a list of the four best greenhouse growing courses. Depending on your experience level with gardening, these courses are sure to teach you something new.
Online Greenhouse Training Courses
This list is a great place to start if you're new to greenhouse gardening or if your yields just aren't where you want them to be. Do you think there's a course worth adding to this list? Comment it below – we'll take it and vet it for you!
Greenhouse Guide is taught by professional gardening expert Ron Finley and is offered on MasterClass. If you aren't familiar with MasterClass, it's a great website where you can learn directly from the experts. Monthly memberships are priced between $15 and $23, depending on how many devices you'd like to view courses on and whether you would like offline viewing.
Ron Finley's course is ideal for gardeners new to greenhouse growing. It starts with the absolute basics, including different types of greenhouses. From there, the course discusses how to get your greenhouse set up and what crops are ideal for beginners.
There are also brief sections in the course that help beginner greenhouse growers spot potential problems. Whether it's fungus and mildew in an overly moist environment or the presence of unwelcome pests, this course will guide you on the best course of action.
Finley even teaches you how to upcycle common household items to turn them into attractive and useful planters. He also teaches you what tools you'll need to make the most out of your greenhouse garden.
Additionally, Finley discusses the nearly endless opportunities that come with growing in a greenhouse. Whether you'd like to try your hand at growing tropical fruits or simply want fresh vegetables in the middle of winter, this course will help you achieve your gardening goals.
Build Your Own Hydroponic Farm is a best-selling course offered by Caleb Johnson on Udemy. Like MasterClass, Udemy offers a range of classes taught by experts in their field. Udemy, however, charges per class rather than a monthly membership fee. This course is currently offered at $29.99.
The price includes full lifetime access, and you'll earn a certificate of completion once you've finished. With over three hours of on-demand video and 6 downloadable resources, this course will be available to return to any time you have questions about hydroponic farming.
If you're new to the world of hydroponics and want to get started in your greenhouse, this is the ideal course for you. You'll learn simple methods for hydroponic gardening, both in your home and greenhouse.
Additionally, Johnson covers how to build a DIY hydroponic rail system garden. From designing the system from scratch to constructing and assembling the rails, it's all covered here.
The course also covers proper lighting and the ideal greenhouse environment for hydroponics. After you've gotten your environment set up, you'll learn a bit about troubleshooting with the reservoir and pump, as well as the finer points of getting started.
The final two lectures of the course cover the growing process. In addition to getting your crops planted, Johnson discusses how to establish a nutrient routine. Remember, hydroponics is a bit different from traditional gardening methods, but this inexpensive course will make sure you know exactly what you're doing.
Drip Irrigation Design and Installation for Beginners is another best-selling Udemy course, this time offered by landscape architect and educator Rob Littlepage. Littlepage is a dynamic instructor who provides his students with valuable information gained from his many years of first-hand experience.
Priced at just $24.99, this incredible course also includes full lifetime access as well as a certificate of completion. It contains over two full hours of on-demand video as well as five downloadable resources.
Though this course isn't specifically about greenhouse growing, a drip irrigation system can really up your greenhouse game. This course starts from the absolute basics so even if you know nothing about drip irrigation systems, then you'll learn exactly how they work.
Additionally, you'll learn about the importance of filtration as well as the basics of designing your very own drip irrigation system. Finally, Littlepage covers installation techniques and tips to share with fellow gardeners. There's even a section on system maintenance and troubleshooting.
The only requirements for this course are a basic understanding of math, the ability to use a calculator, and some basic drafting skills, which will help with drawing out your drip irrigation design. At the end, you'll be able to test your knowledge with a brief quiz about the information contained in the course.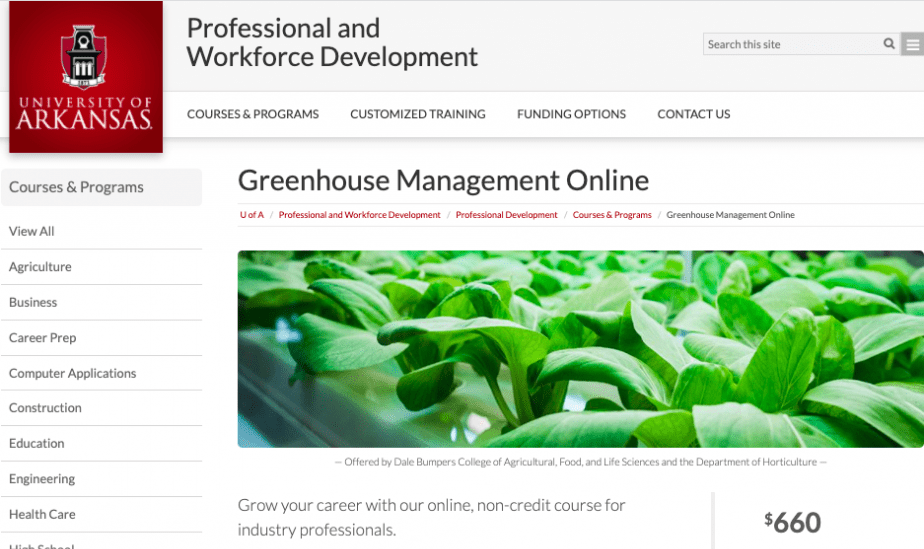 If you're looking for a more substantial course, the University of Arkansas offers a Professional Development course, Greenhouse Management Online, designed to enhance the knowledge of professionals in the greenhouse industry.
This course is priced at $660 and is offered online and on-demand. It's taught by Dr. Ryan Dickson, Assistant Professor of Horticulture at the University of Arkansas. Once enrolled, course materials are available 24 hours per day, seven days per week via the university's online learning system. You have six months from the date of registration to complete the course.
This professional development course begins with an overview of the controlled environment industry, as well as the principles of horticulture. After that, it covers the fundamentals of greenhouse management, fertilizing and irrigation, soilless substrates, and water quality.
You'll also learn about plant height control as well as supplemental and photoperiodic lighting. There's also a brief section on greenhouse pest control. Finally, Dr. Dickson will teach you about cutting-edge technologies for heating, cooling, lighting, irrigation, hydroponics, robotics, and more.
Though this is the most expensive course on this list, it's also the most comprehensive. If you're serious about greenhouse growing, this course will teach you everything you need to know about professional greenhouse management.
Greenhouse Gardening Classes
These courses on greenhouse growing are informative, engaging, and cost-effective. If you want to learn greenhouse growing from the experts online, then there's no better way than through MasterClass or Udemy. Just think – each course is vetted by greenhouse enthusiasts just like you to ensure quality!
Before you start your course, give our Ultimate Guide to Greenhouses post a read as a primer! It'll help you understand the basics so that you can hit the ground running.
If you're looking for basic greenhouse knowledge for a backyard operation, then you're best off going with Ron Finley's Greenhouse Guide. If you're looking to go bigger, though, then you should consider the University of Arkansas's Greenhouse Management course.
Perhaps you're looking for more technical information about something like drip irrigation or hydroponics. For the latter, go with Rob Littlepage's ground-up course on drip irrigation. For the former, get a certificate proving that you're a hydroponics master in Caleb Johnson's Build Your Own Home Hydroponic Farm.