Investing in a good 8×16 greenhouse kit comes with tons of benefits for your garden! They extend your growing season, optimize the level of humidity for the plants, offer added protection against the elements of weather as well as pests, and more without taking up too much space!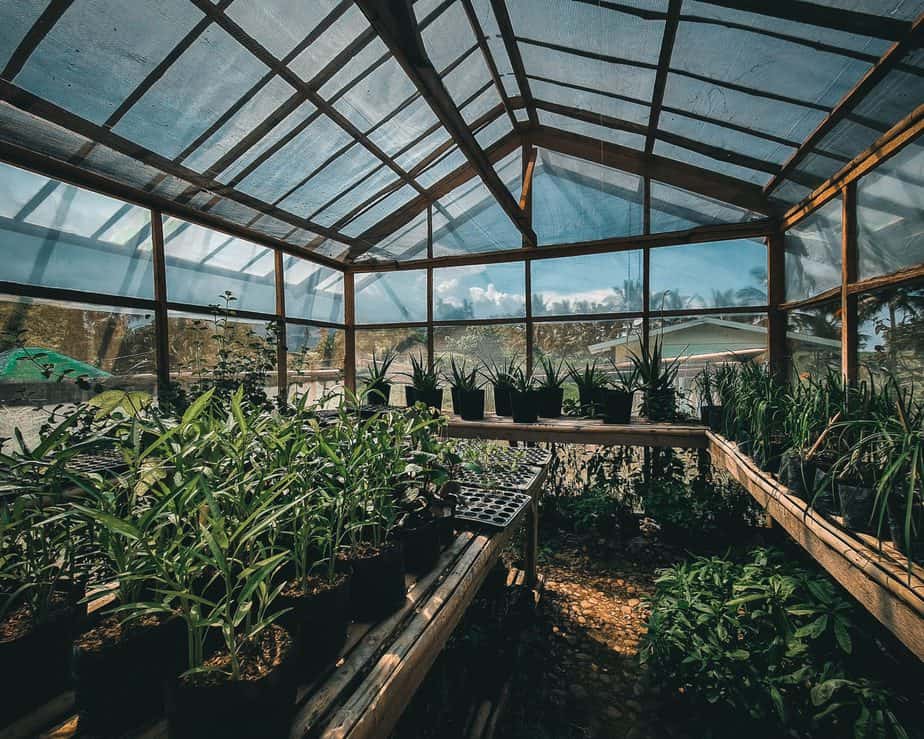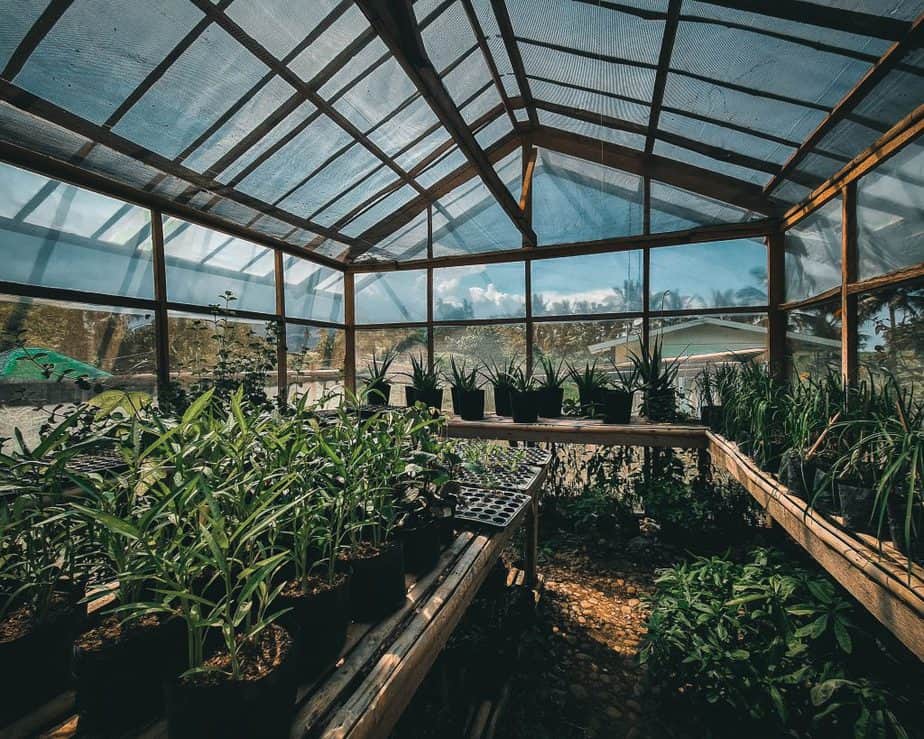 Greenhouse kits come in a variety of sizes. However, the 8×16 ft ones are among the most common choices for gardeners.
In this article we'll provide you with all the information that you need to know, so you can pick the best 8×16 greenhouse kits for your needs. Let's dive in!
Top 3 8×16 Greenhouse Kits
Best Quality

Preview
Title
Riverstone Industries Monticello (8 x 16 Ft) Black Greenhouse
Size Options
8' x 4'
8' x 8'
8' x 12'
8' x 16'
8' x 20'
8' x 24'
Material
Extruded Aluminum
Warranty
10 Years
Our Rating
9.0/10
Cost
$$$
Link
Check Price

Best Deal

Preview
Title
Rion Grand Gardener 2 (8 x 16 Ft) Twin Wall Greenhouse
Size Options
8' x 8'
8' x 12'
8' x 16'
8' x 20'
Material
Resin & Polycarbonate

Warranty
7 Years
Our Rating
8.6/10
Cost
$$$
Link
Check Price

Best Price

Preview
Title
Palram Snap & Grow (8 x 16 Ft) Silver Greenhouse
Size Options
6' x 8' x 7'
6' x 12' x 7'
6' x 16' x 7'
8' x 8' x 9'
8' x 12' x 9'
8' x 16' x 9'
8' x 20' x 9'
Material
Aluminum
Warranty
5 Years
Our Rating
8.2/10
Cost
$$
Link
Check Price
Finding a good greenhouse kit can be a bit tricky. To make the search process easier for you, here's a brief overview of the 3 best 8×16 ft greenhouse kits that you can find out there: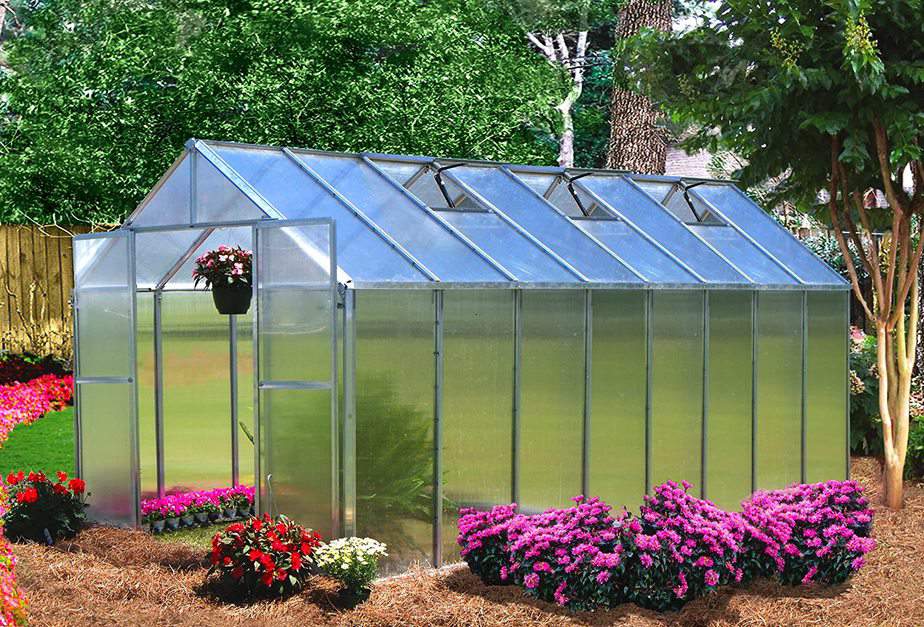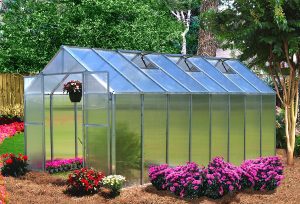 Kicking off the list with one of our favorite greenhouse kits, the Monticello Black Greenhouse.
This one has a frame that is made of high-grade and heavy-duty extruded aluminum with an attractive electrostatic painting for added protection. However, you can choose between a black or aluminum finish to suit your garden style.
The walls are made of an 8-millimeter polycarbonate panel in a twin-wall design that boosts the insulation and durability of the greenhouse kit.
The 7.5 ft height allows for a large headroom inside the greenhouse and boosts the quality of heat displacement inside the kit.
Users absolutely loved the functionality and durability of the greenhouse. Yet, the room for improvement regarding this greenhouse kit is the assembly. The process might be a bit lengthy and requires some patience.
Things We Like
Excellent design for headroom and heat displacement
Available in two finishes
The roof vents pull in a lot of air when opened
Things We Didn't Like
Can be a bit tricky during assembly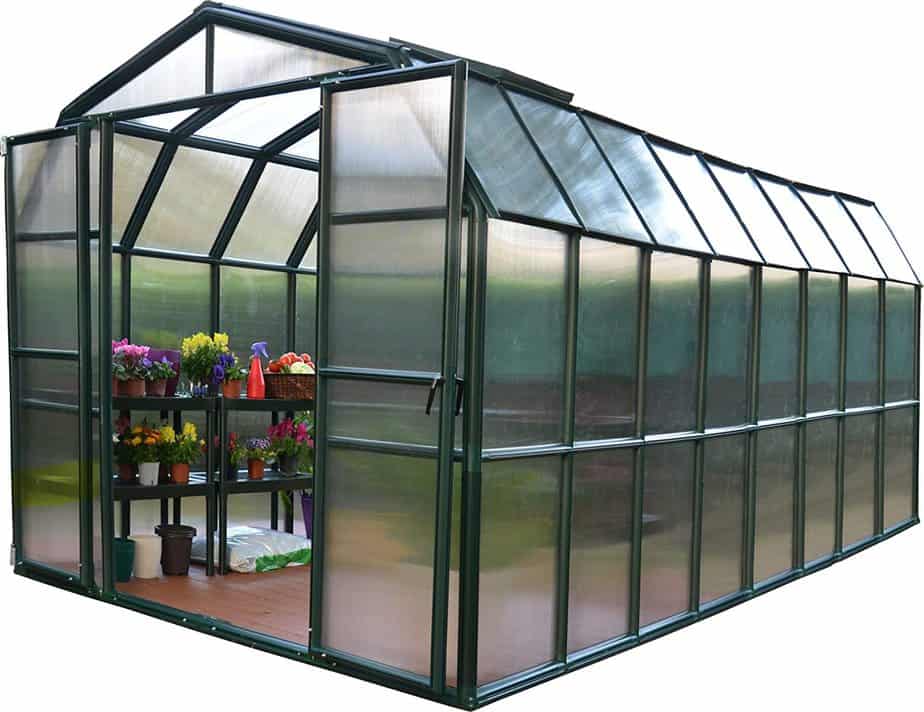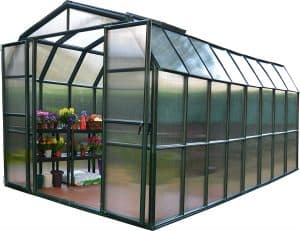 The Rion Grand Gardener 2 Greenhouse is another excellent choice for the 8×16 ft variety. It offers a sturdy resin frame in a dark-green color that balances between insulation and durability. Yet, Rion offers an option for clear walls if you don't need the added insulation.
The walls of the greenhouse are made of double-wall polycarbonate panels, which are 4 and 6 mm thick.
This thickness is great for UV rays protection and impact resistance, without being too heavy to deal with.
The greenhouse has a double door design, which is not only good for easy transport in and out of the greenhouse, but also for offering a great air cycle inside.
The greenhouse looks pretty lovely with the barn design, which is also very practical for heat displacement inside.
Things We Like
Heavy-duty construction makes it highly durable and stands the test of time
Takes less time to assemble when compared to other options on the market
The double doors are great for ventilation and ease of transport
Things We Didn't Like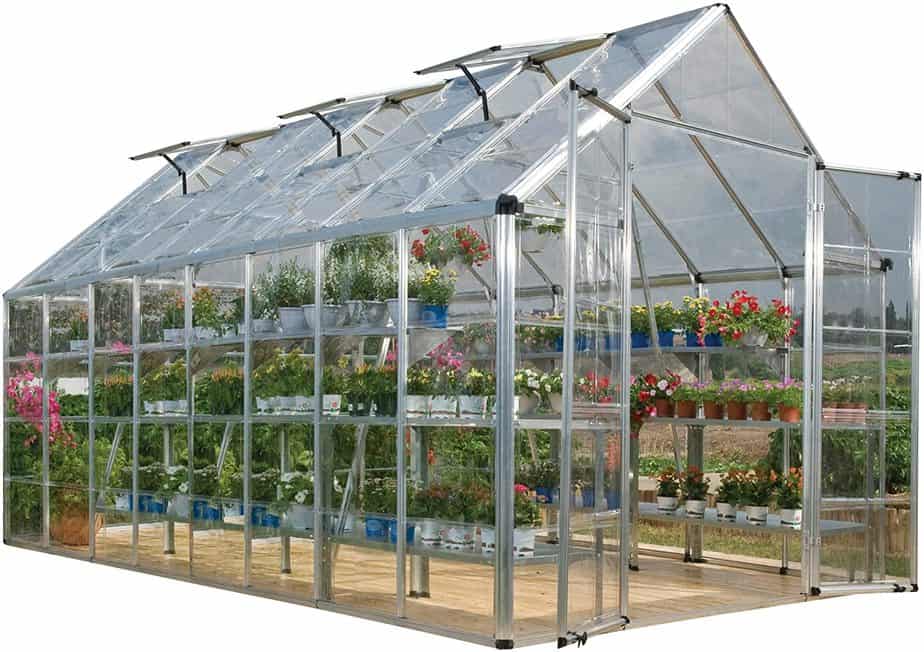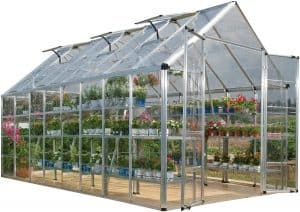 Lastly, if you're on a strict budget and looking for an 8×16 ft greenhouse solution, this one might pique your interest!
This one comes with a galvanized steel base, which offers an outstanding level of durability. Not only that, but we also loved that it comes with multiple upgrades that add more value to the package, such as the manual roof vents and the built-in rain gutters.
Another excellent bonus that makes this one a great value for money is the 5-year warranty included with the greenhouse!
Users loved the ease of assembly and the durability of the frame. However, the 1 mm polycarbonate panels might not be ideal for gardens grown in extremely windy weather.
Things We Like
Ideal for buyers on a budget
Features multiple accessories, such as rain gutters and roof vents
Comes with a 5-year warranty for a worry-free purchase
Things We Didn't Like
The thin panels might warp in strong wind
How to Choose The Ideal Greenhouse Kit for Your Needs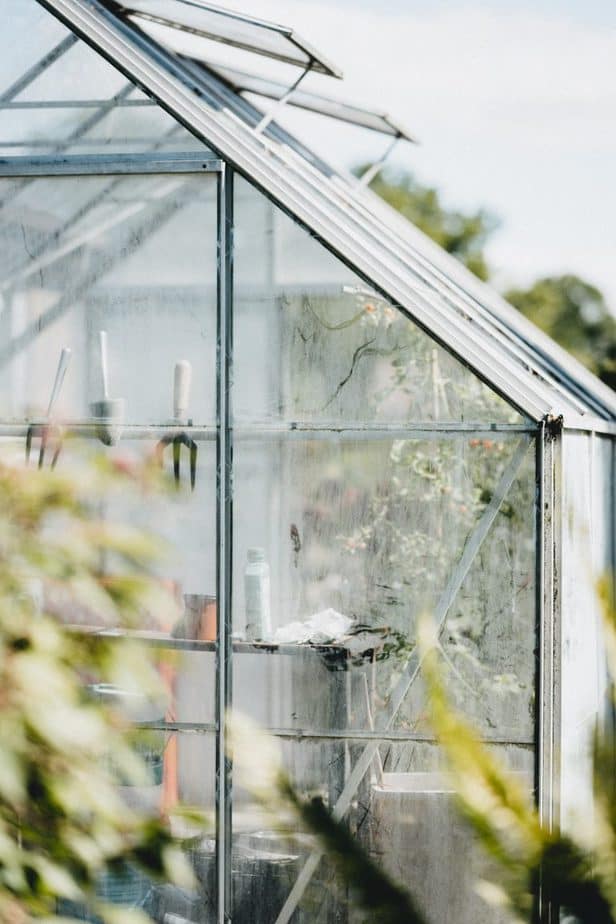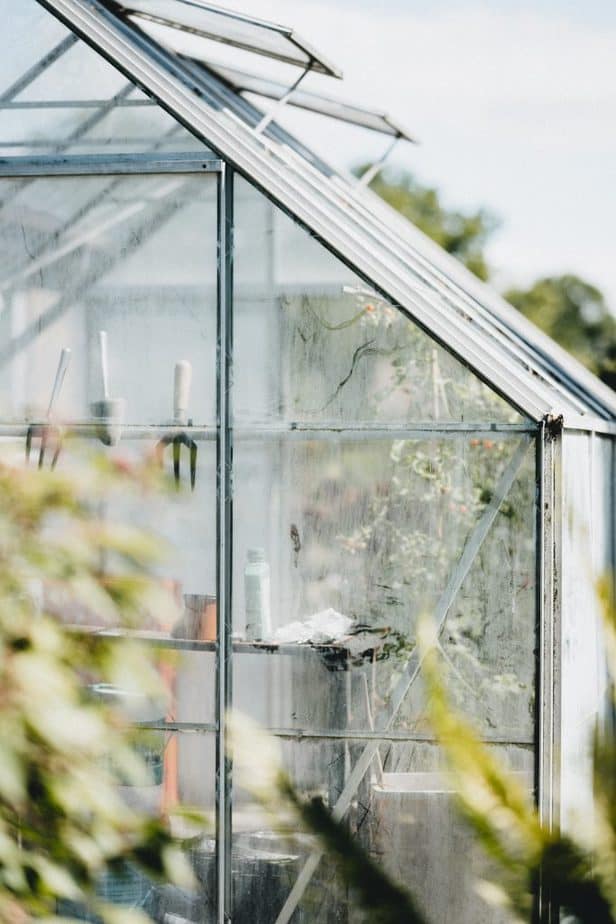 While shopping for an 8×16 ft greenhouse kit, there are some aspects that you need to keep in mind to make the most out of your investment, so we've summed up these critical points in this section. Here's what you need to know.
Durability
The durability of a greenhouse kit relies mainly on the construction of the frame, as well as the materials used in designing the exteriors.
Ideally, you should go for polycarbonate panels for the walls. Polycarbonate is quite translucent yet powerful against the wind and blocks UV rays nicely. The thicker the panels, the sturdier it'll be against the strong wind.
The frame can be made of hard resin or aluminum. Choosing between those materials also depends on the strength of the wind in your area vs the ease of assembly. As a rule of thumb, resin construction is easier but not as durable against the wind as aluminum.
Insulation
Ideally, twin-wall polycarbonate panels will have a higher level of insulation than the regular one. Thicker polycarbonate panels will also have a better UV resistance.
However, twin walls are not as transparent and will cost significantly more. The choice here depends on the weather in the area you're growing as well as your budget.
Ventilation
A good greenhouse should balance between insulation and a decent room for ventilation. Always make sure that the greenhouse kit offers various windows, whether manual or automatic, as well as doors.
Wrap Up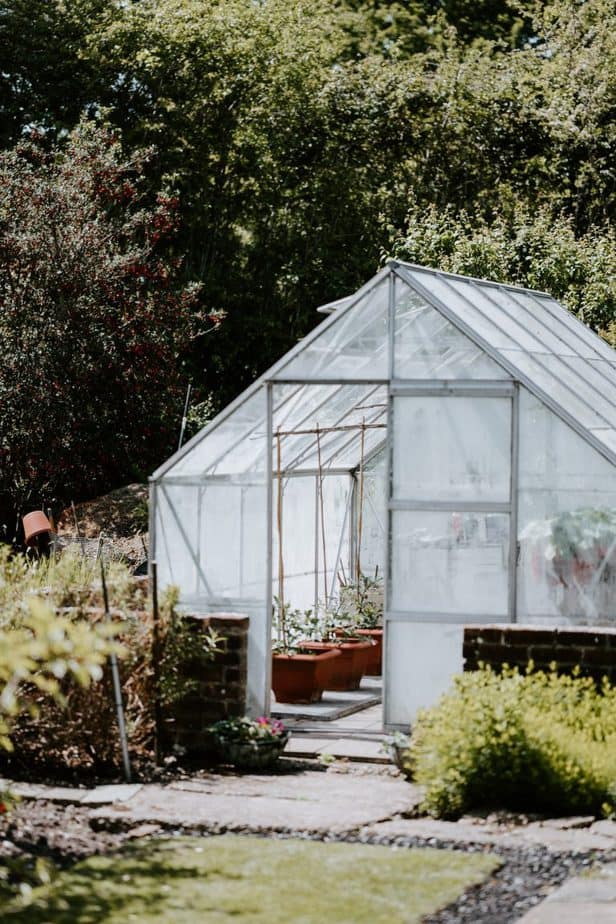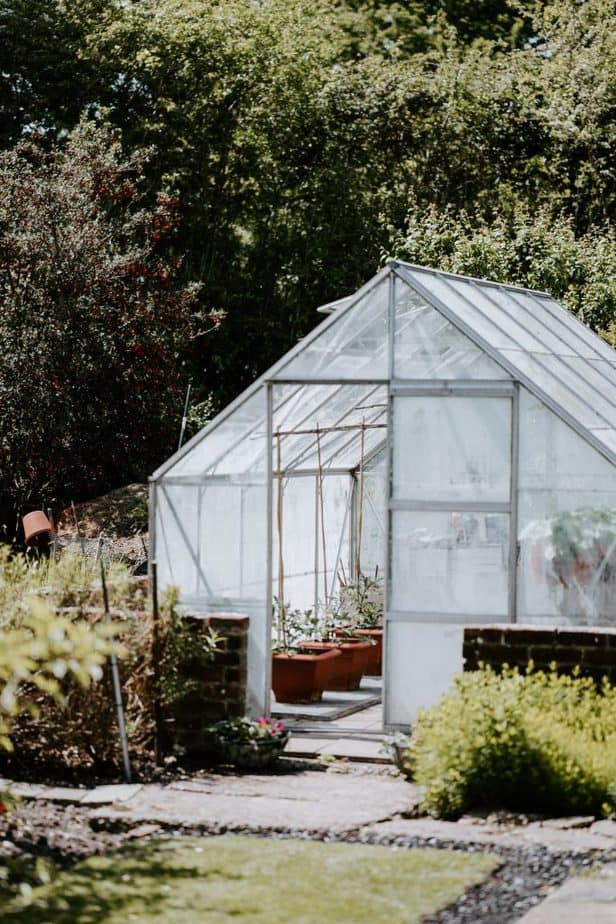 There you have it. A complete guide with everything you need to know before deciding on the ideal 8×16 greenhouse for your gardening needs.
Ideally, we recommend the Riverstone Industries Monticello Greenhouse as the overall best option on the market. 
Despite being a bit tricky while putting it together, it comes with all the necessary features for a greenhouse kit, such as the heavy-duty extruded aluminum frame construction, the UV stable polycarbonate twin walls, and the highly adjustable vents and doors.However, if you're on a budget, the Palram Snap & Grow Greenhouse would be a more suitable choice for you. It offers decent protection and insulation for a price that won't put a dent in your wallet!