Depending on where you live, your greenhouse may get excessively hot during the day. You need stable temperature so that your crops grow well, which means a timer-controlled fan won't be enough. You need a temperature-controlled ventilation system for your greenhouse.
A greenhouse fan controller is a thermostat that measures your nursery's temperature and turns the ventilator on or off accordingly. This article will compare three of the best greenhouse controllers on the market in 2021.
Fan Controllers for Greenhouses
Product Name
Product Preview
Buy Now
Our Rating
Cost
Max Output Load
Temperature Range
Product Dimensions
Cord Length
WILLHI WH1436A
Check Price
8.9/10
$$
1100W (110V)
-58 ~ 230 F
-50 ~ 110 C
4.9" x 3.6" x 1.8"
3'
BN-Link Digital Cooling Thermostat
Check Price
8.5/10
$
1000W (100V)
40-108°F
4.5" x 3.5" x 1.6"
6'
Inkbird ITC-308
Check Price
9.0/10
$$
1100W (110V)
-58~248 ° F
-50~120 °C
5.5" x 2.7" x 1.3"
5'
A fan controller for a greenhouse needs to be easy to use and accurate. A fair price tag also won't hurt. We'll get into the nitty-gritty of each product to help you decide the most suitable one.
Learn more about greenhouse ventilation if you don't know why fan controllers are so important.
WILLHI is a Chinese company that specializes in manufacturing temperature and humidity controllers. This is their most sold product.
This product has a cooling and heating option, so if you happen to have a heater in your greenhouse, you can plug it in and keep the temperature within a specific range of degrees for your crops!
Specs
Thermostat resolution: 0.1 degrees
Thermostat Accuracy: 0.5 degree
Maximum Load: 10 Amperes
Pros
Has both cooling and heating options
Includes both Fahrenheit and Celsius settings
Has temperature alarms for when it gets too hot
It has a power switch to completely turn off everything
Cons
Not the easiest to set up; you'll need to understand the manual
More expensive than other competitors
BN-Link is a distributor of home appliances. This product is the most economical choice. It's also relatively easy to start and set-up. There are only three control buttons and an LED screen, and the probe length is 6 ft.
Specs
Thermostat resolution: 0.1 degrees
Thermostat Accuracy: 1 degree
Maximum Load: 8.3 Amperes
Pros
Less expensive than its competitors
Super easy to set up
Includes both Fahrenheit and Celsius settings
Cons
The maximum amperage is only 8.3A.
Shorter probe length
Inkbird is a promising company in the temperature control industry. The ITC-308 is their best seller. It has two displays, which help you see the current temperature and the set temperature.
This thermostat comes in another version, called the Wi-fi ITC 308, which can be connected to the InkbirdSmart app and allow you to control and keep up with your greenhouse through your mobile device. The application is available on both iOS and Android platforms.
This product has both heating and cooling options for more accurate control in case you also plug in a greenhouse heater.
Specs
Thermostat resolution: 0.1 degrees
Thermostat Accuracy: 1 degree
Maximum Load: 10 Amperes
Pros
Two displays for set and current temperatures
Easy to set up
It comes in a wifi-enabled version that helps you control it through your mobile
Cons
Short probe length
More expensive than other options
A Toe-To-Toe Greenhouse Fan Controller Comparison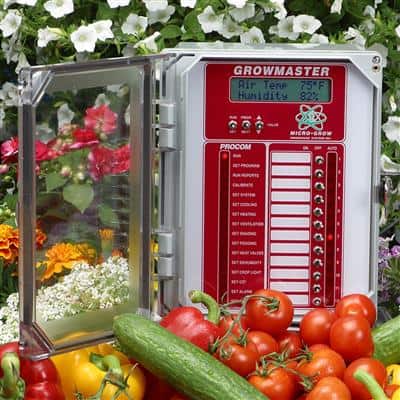 We'll discuss some of the most important features and see how these products compare.
Design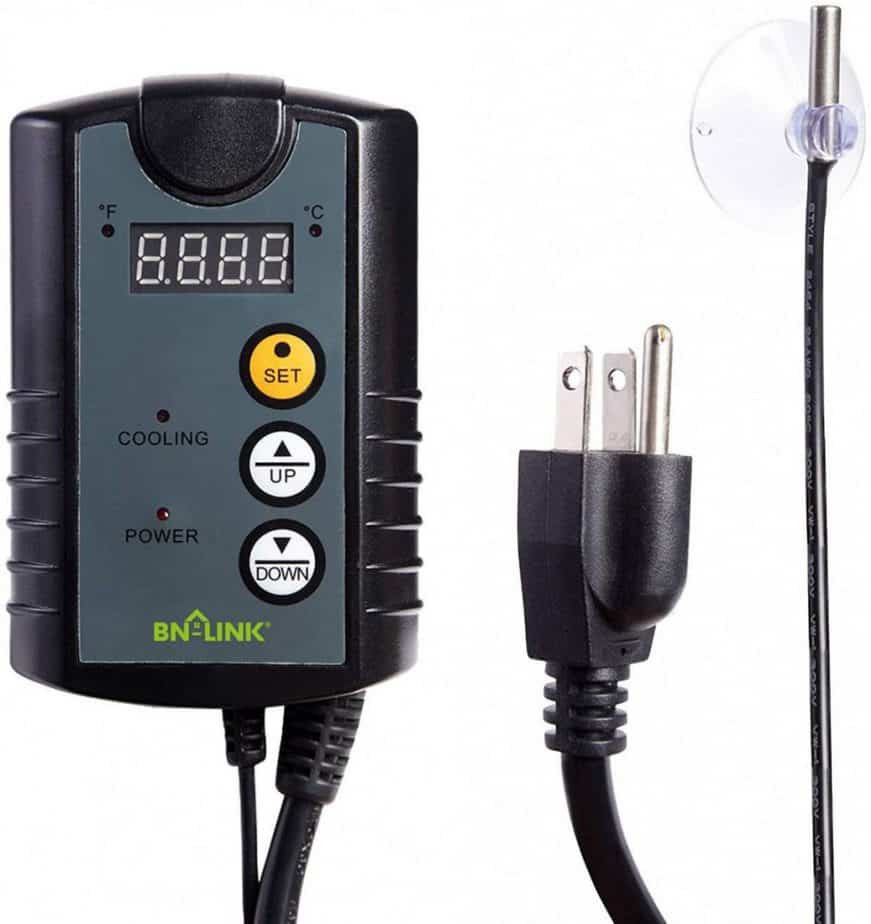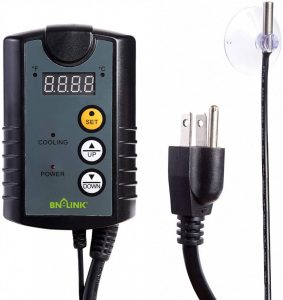 Good design features give the product better functionality and more durability. We'll be comparing the probe length, the screen design, and any other design feature that helps contribute to the product's quality.
The WILLHI
The WHILLHI features a large LED screen that can fit four digits. This helps in setting decimal increments in temperatures above 100.
The sensor cable length is 9.8ft, which should be good for your greenhouse.
The BN-LINK
The BN-Link's screen isn't as powerful as the WHILLI's. Additionally, its probe length is only 6ft long. However, it has a simpler interface with only three buttons that do just what you need.
The Inkbird
The Inkbird comes with two screens. This is a great feature that clearly shows you the current temperature and the desired temperature.
The probe length is 6.56 ft, which is a little short compared to the WILLHI; however, if you don't need a long probe for your greenhouse, this thermostat may be a reasonable choice.
Winner
The Inkbird wins here. Even though it doesn't have the longest sensor length, the dual-screen makes the product more user-friendly.
In addition, the option of purchasing a version that supports a mobile device makes monitoring your greenhouse a piece of cake.
Temperature Range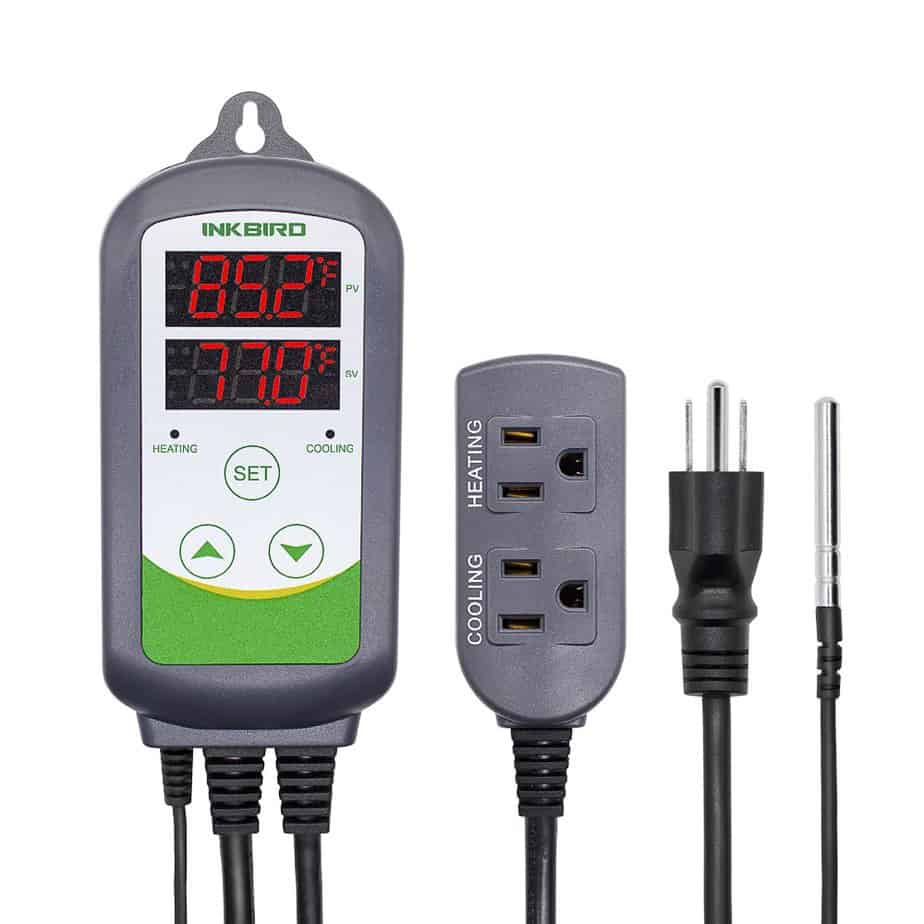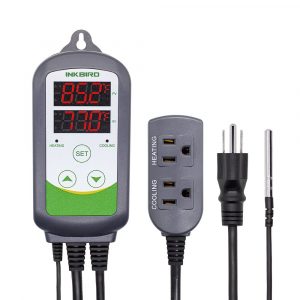 Depending on the crops you're growing, you may want the temperature to stay at a specific degree of warmth. Some thermostats allow you to freely go up and down a wider range than others.
The WILLHI
The WILLHI will go all the way up to 230 degrees Fahrenheit and as low as -58 degrees. This low feature is meant for refrigeration purposes and won't be needed for greenhouse purposes.
The BN-LINK
The BN-Link works between 40 and 108 degrees Fahrenheit. This is good for just control purposes, but it won't notify you if your greenhouse reaches critically high temperatures.
The Inkbird
The Inkbird works between -22 and 167 degrees Fahrenheit. Although that's a sufficient range, it's still a narrower range than the WILLHI's.
Winner
Our winner is the Inkbird. Although it does have an impressive temperature range, and the large range coupled with its safety buzzer alarm and smart application option can be a lifesaver.
Safety Functions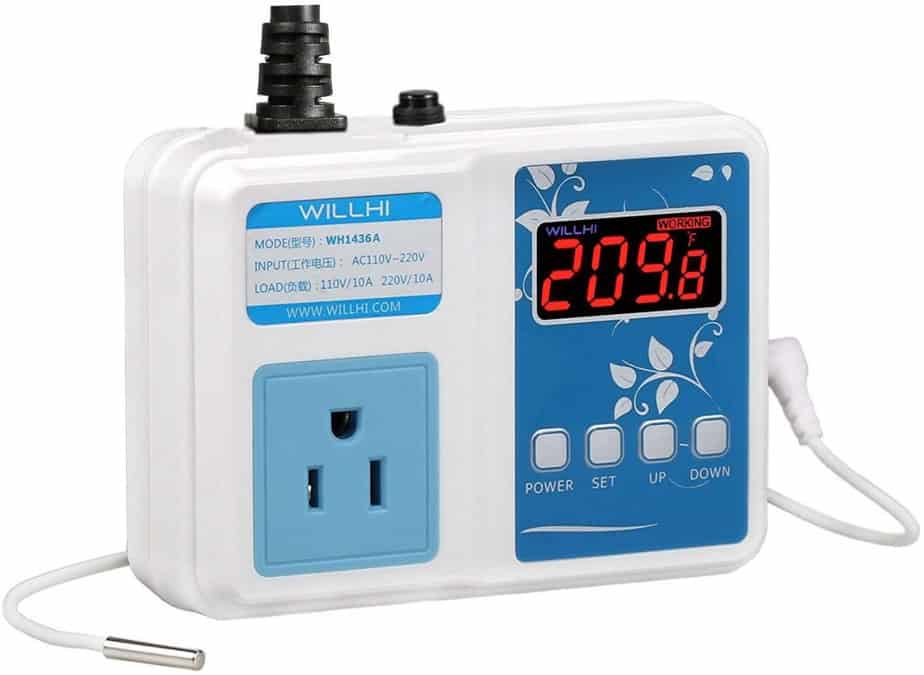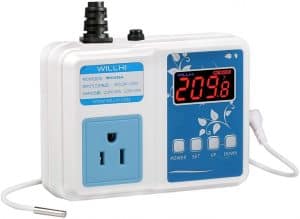 Safety functions are built in a temperature control device to ensure no mishaps occur.
The WILLHI
The WILLHI has high and low-temperature alarms. This will notify you when the temperature gets too high or too low for your plants so that you can quickly intervene.
The WILLHI also has an auto shut-off timer. Which is an option you can set to stop your fan from running after a specified amount of time regardless of the temperature. It keeps your fan safe.
The BN-LINK
The BN-Link doesn't have any safety features.
The Inkbird
The Inkbird comes with a buzzer alarm for too high and too low temperatures. However, it doesn't have a shut-off timer.
Winner
The WILLHI has two much-needed safety features. It comes occupied with both the buzzer and the timer, which ranks it first in the safety aspect, in our opinion.
The Bottom Line – Fan Controllers and Your Greenhouse
If you're looking for safety, the WILLHI has the best safety options of all the products. It also has the best build quality out of the three, providing a more user-friendly experience. This makes it the more expensive product.
On the other hand, if you just want a greenhouse fan controller that does the job efficiently, have a look at the BN-LINK. It doesn't come with innovative features, but it has all the basics.