If you're ready to invest in a light deprivation greenhouse, frequently called a light dep greenhouse, you may be wondering where to start. For most growers, buying a kit and putting it together yourself is the most popular approach.
For growers that already have an existing greenhouse, you may also be able to buy a kit to retrofit the new parts to your old structure without having to start from scratch. To save you some time and effort on this project, we've put together a list of the best light dep greenhouse kits on the market.
Why Light Deprivation For Your Greenhouse?
If you're not familiar with the concept of a light deprivation greenhouse, you might be wondering why something like this would benefit your operation. No, you aren't depriving your plants of light entirely. Instead, you can better control the amount of light your plants are getting.
A light dep greenhouse allows you to have complete control over your greenhouse lighting regardless of the season. You can even mimic seasonal changes, but at an entirely different time of year if you so choose.
Though most frequently used by cannabis growers to produce denser flowers, light dep can benefit a wide variety of crops. From mums and poinsettias to fruit and vegetables, a light dep system can help nearly any grower have more control over their harvest.
Learn more about how light deprivation can help your greenhouse by reading our thorough guide!
Light Dep Solutions operates in southern Oregon with the goal of improving hemp growing operations across the country. Their greenhouse kits come in a wide variety of sizes and builds. Whether you're interested in an exterior or interior light dep greenhouse or are interested in a retrofit kit, Light Dep Solutions has you covered.
Even if your greenhouse budget is small, Light Dep Solutions can help you build the light dep system of your dreams. Their retrofit kits are budget-friendly and even come with an option for solar-powered lights. 
They also have a semi-automatic light dep kit, which requires you to use a manual motor controller for safety purposes. However, the down function can be completely automated with a timer as the company believes that far fewer problems exist during the down phase. They also have a completely manual chain kit if you'd prefer to skip the motors entirely.
Light Dep Solutions has greenhouses from 20′ x 30′ to 30′ x 98′ or larger, depending on your budget. Custom sizes are also available if you don't see what you need on their website.
Greenhouse Megastore is one of the top light dep companies in the United States. They offer three different series of greenhouses, as well as retrofit kits that will change the way you grow in your existing greenhouse structure.
Their High Country Series comes in two widths: 30′ and 60′. Length options include 48′, 72′, 96′, and 120′. The posts are spaced at 12′, with 8′ tall sidewalls to manage up to a 30 lb ground snow load. The Light Deprivation System and fans are all automated to ensure the greenhouse is as efficient as possible.
Their Gable Series is consistent through and through. This series is crafted to give growers complete control over their growing environment with roof and sidewall vents, hydronic heating, environment controls, evaporative cooling, and more. Available widths are 30′ and 41.5′ but can be customized as needed. Greenhouse lengths are fully customizable with gutter heights of 12′, 14′, and 16′.
Their third greenhouse series, the Gothic Arch Series, was designed to help growers maintain moisture control. The frame channels condensation away from crops and keeps plants exactly as moist as needed. The environment features extensive options for control with roof and sidewall vents, hydronic heating, bench, floor heating, and evaporative cooling. Greenhouse width options are 30′ and 35′, though custom options are available too. Length is fully customizable with the same gutter height options as the Gable Series.
Humboldt Light Dep claims to have the most affordable and effective automated light dep greenhouse and retrofit kits on the market. Their greenhouses, designed by an electrical engineer, can be used on or off-grid.
Although Humboldt Light Dep prides itself on its auto systems, they also have manual systems available at a more budget-friendly price point. Their greenhouses are available in 20′ and 24′ widths with lengths varying from 24′ to 100′.
Humboldt greenhouses are built to withstand diverse climates and can be upgraded as needed. Their retrofit kits suit a variety of greenhouse shapes and sizes to ensure that you make the most out of your existing structure. Best of all, their website features a gallery of photos to show how their customers are using their Humboldt Light Dep Greenhouses, so you can get some new ideas on how to improve your own operation.
Another excellent option for light dep growers is Full Bloom Greenhouses. They offer both interior and exterior light deprivation greenhouses in a wide variety of sizes and accessory options. Like the others on this list, they also offer retrofit kits to transform your old greenhouse into a more sustainable and efficient light dep structure.
Whether your operation is relatively small or you're running a commercial growing business, Full Bloom has the perfect greenhouse for your needs. Their light dep greenhouses are available in a wide variety of sizes with widths ranging from 18′ to 30′. The length of the greenhouse depends on which model you choose.
In addition to their standard kits, upgrades are optional so that your greenhouse can be equipped with exhaust fans, HAF fans, motorized intake louvers, and heating equipment. Additional support for greenhouse frames is also available, depending on the conditions your greenhouse may encounter.
Full Bloom Greenhouses allow for manual roll-up sides or fully automated systems, depending on the greenhouse kit of your choice. This company also offers heavy-duty rolling benches to make sure your operation is as efficient as possible.
What's The Best Light Dep Greenhouse Kit?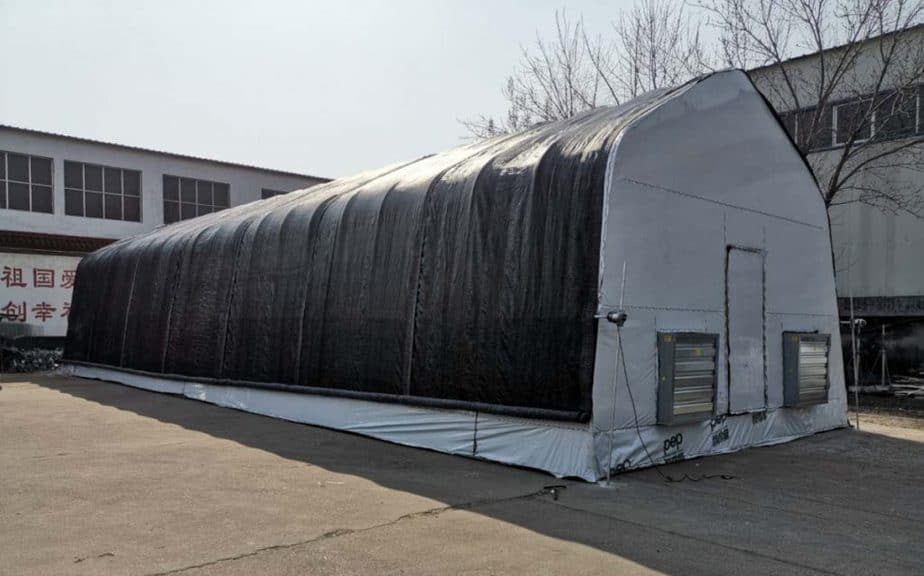 The best light deprivation greenhouse kit is the one that fits your structure and adequately maintains the temperature in your greenhouse without breaking the bank. While there are many boxes to tick, there's definitely a light dep greenhouse kit on this list that suits your needs.