When it comes to greenhouse ventilation, we're fans of exhaust fans.
Good air circulation is absolutely essential to a productive greenhouse. Remember, you built your backyard plant haven to create a more toasty environment. The greenhouse's whole raison d'etre is to keep heat in.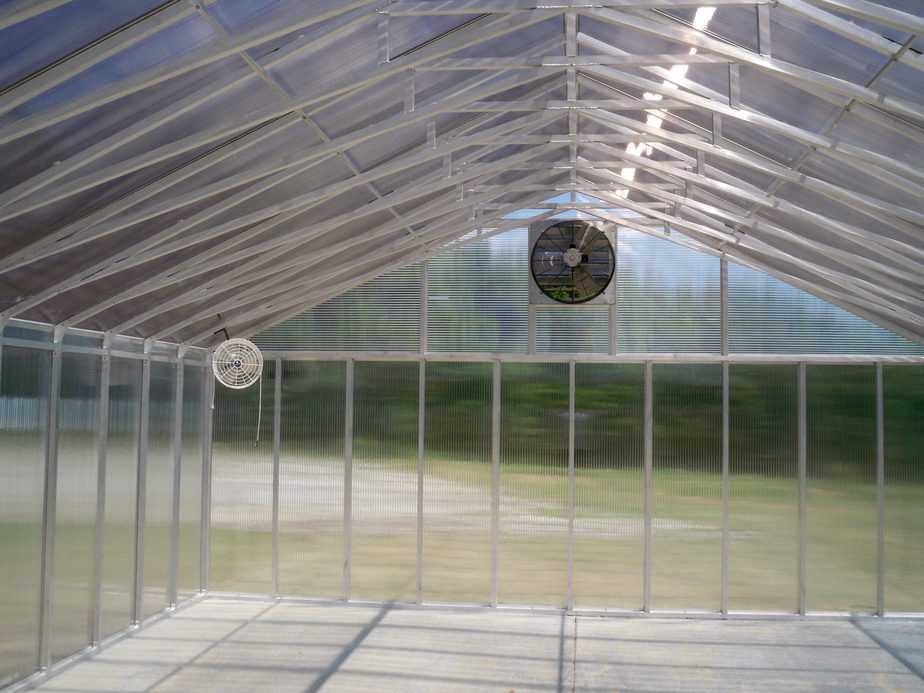 But what about those months when the sun is downright scorching?
Or how about when air gets stagnant and lack of airflow deprives your plants of the gases they need to survive?
How do you plan to keep the humidity right and prevent condensation on inside surfaces?
Not to mention those pesky bugs that will flock around your greenhouse crops without intervention.
That's where fans come in!
Exhaust fans (and most other greenhouse fans) will help with:
Temperature control
Humidity control
Airflow and carbon dioxide replenishment
Pest control
Pollination assistance
Plant hardiness
Exhaust Fans: A Greenhouse Favorite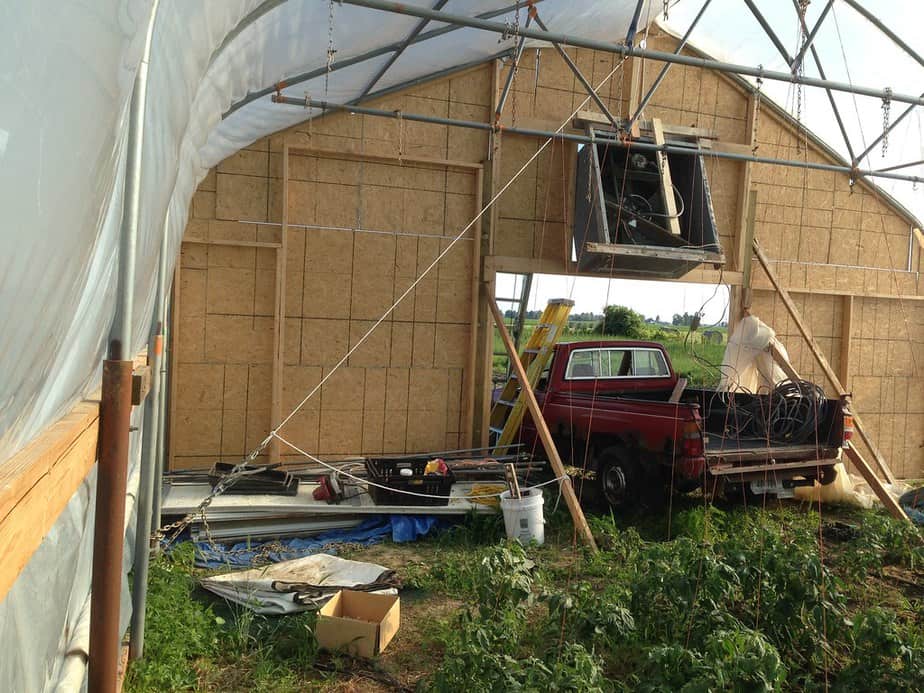 Exhaust fan systems are probably the most popular type of greenhouse fan because they are incredibly efficient and functional. They provide the most beneficial and sensible kind of airflow for plant health and productivity.
Additionally, an exhaust fan system is relatively easy to set up and can be adapted for a multitude of different styles and sizes of greenhouses.
For a more in-depth look at the ins and outs of greenhouse ventilation and climate maintenance, check out our full Greenhouse Ventilation and Climate Control guide.
How Do Exhaust Fans Work?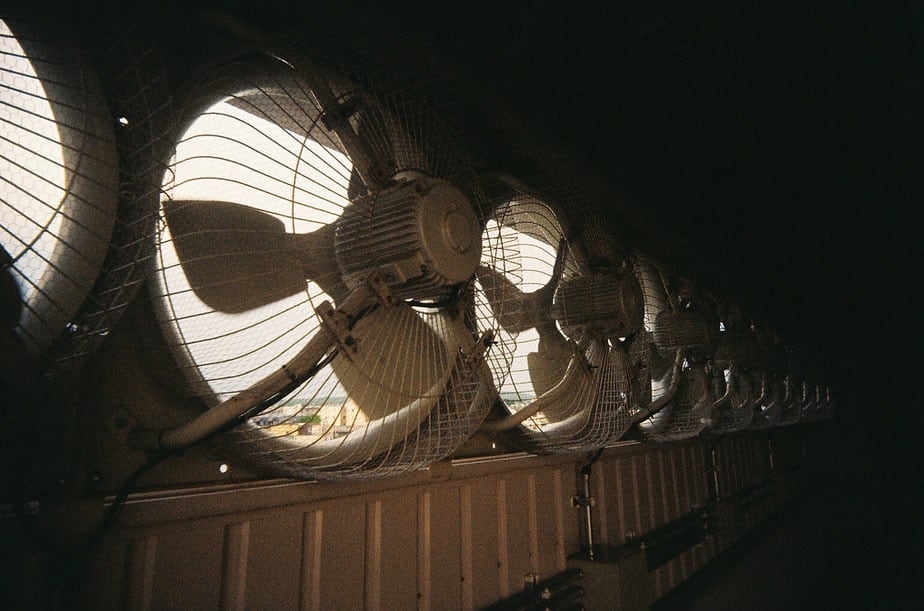 Exhaust fans work in partnership with shutters or vents, which get installed onto the opposite side of a greenhouse. As the exhaust fan sucks warm air out of the greenhouse space, a negative pressure state develops inside the house. This pressure variant pulls in fresh outside air through vents, windows, and doors.
You can see how this is a low-energy way that mirrors a good natural cross-breeze, the age-old ventilation technique. Think of it as cross-breeze plus. In this, you simply need to power the exhaust fan with electricity—the air intake happens naturally!
Exhaust fans also help decrease humidity by encouraging evaporation with this kind of airflow.
Good-quality exhaust fans come with speed controllers so that you can adjust for your greenhouse size, plant needs, and climate.
Choosing A Fan
Do you need some more information on the different types of fans you can employ in your greenhouse? Then do this light reading.
How Much Power Do You Need?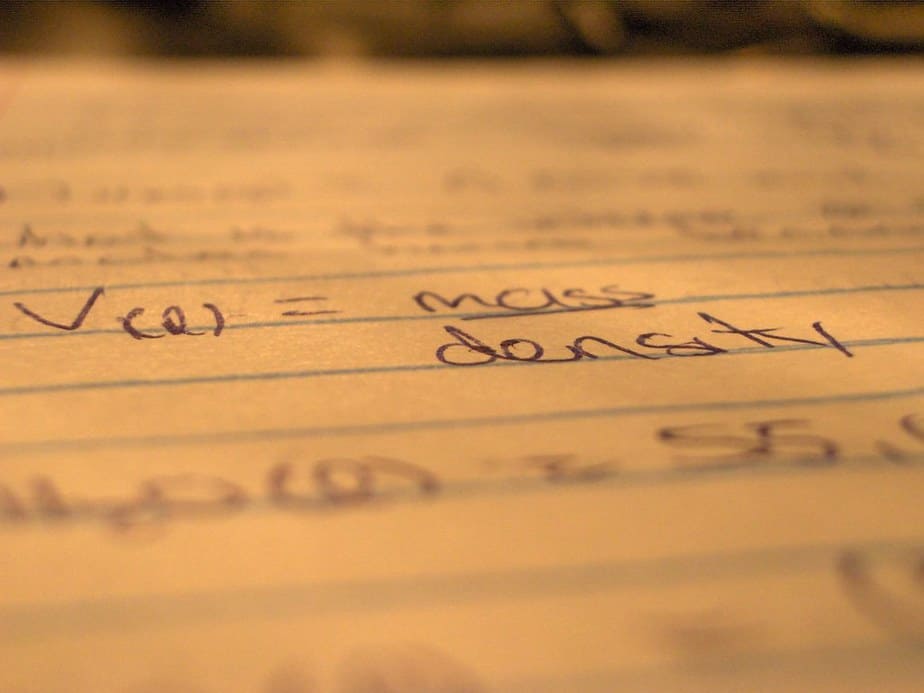 The size of your greenhouse will be the most significant determining factor as you choose your exhaust fan. And that means the size of the greenhouse as well as the size of the fan!
Calculating your specific greenhouse ventilation needs can get a bit tricky and requires a little math, but taking the time to figure it out is worthwhile.
The power of a fan is designated in CFM: Cubic feet per minute. The higher the CFM, the more powerful the fan. CFM measures how much air moves; a fan's CFM will change how quickly and effectively it shifts the air in your greenhouse.
Start with your greenhouse volume to determine how much power you need from your fan(s). Whoops, you forgot your middle school math? Volume is:
Length x Width x Height
Now you can calculate your required CFM.
Greenhouse volume x 0.75 = required CFM
Get It Dialed In With Speed Control
It's best to choose a fan that has variable speeds. Typically, you'll find exhaust fans with three speeds.
But, if you live in a climate that doesn't change very much from season-to-season, or if you're growing plants that have a very acute need for fresh, not-too-hot air, you could get away with a single-speed fan—which can save you a few bucks.
Top 3 Greenhouse Exhaust Fans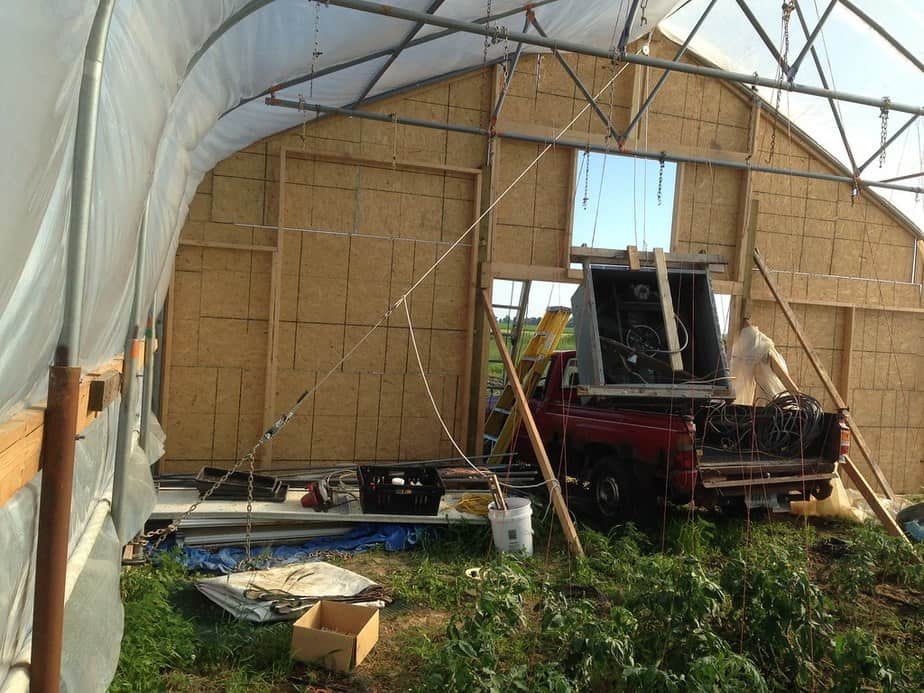 So, you're sure that you're looking for an exhaust fan, now you just need to be sure you choose the right one for your greenhouse. Well, the three options below represent the best options on the market in 2020. These products span a variety of sizes and price-points to be sure there's an ideal choice for you and your gardening needs.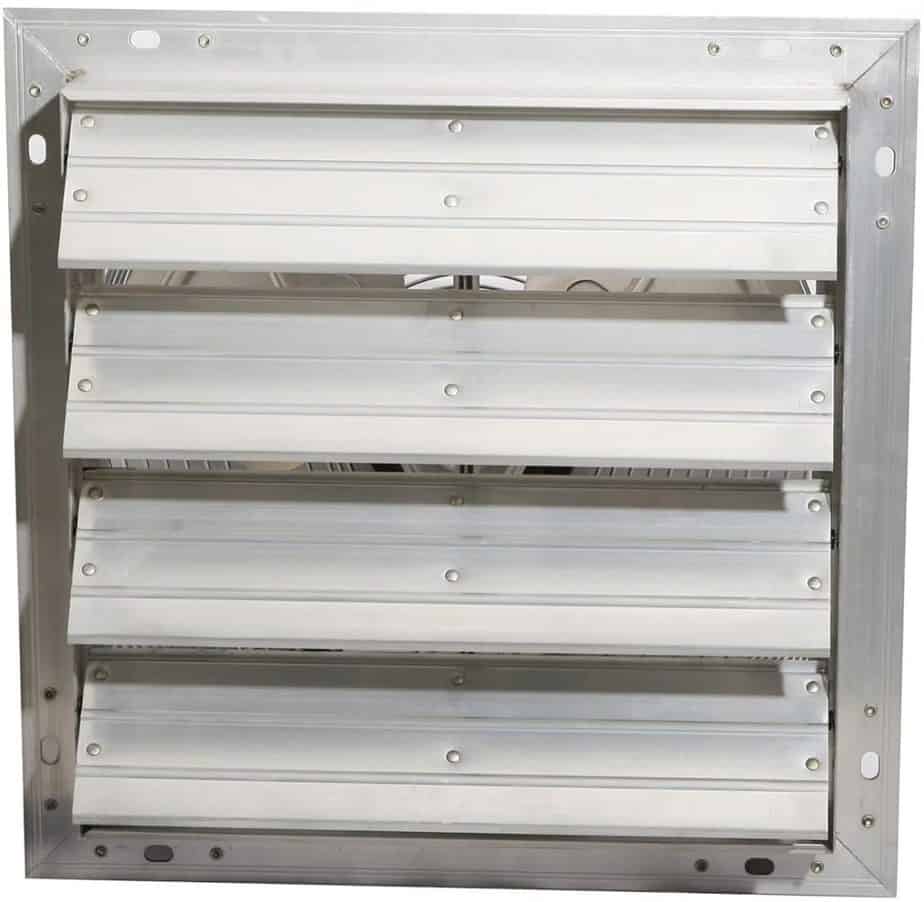 Cost: Moderate.
Durability: Good.
Speed variability? Yes.
Ease of installation: Easy.
The Durafan is an extremely popular choice thanks to the company's good reputation and this fan's variable 3-speed selector.
A 9-foot cord and easy mounting installation make this a versatile choice for many greenhouses. The corrosion-resistant aluminum shutter also features a tie-bar that reduces noisy shutter flapping and keeps the shutters closed when the fan is not running.
At list price of around $220, this is a pricier but completely worthwhile option.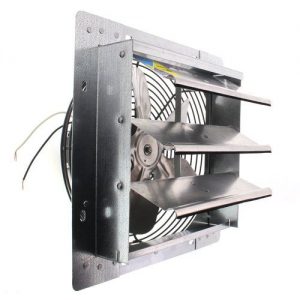 Cost: Low.
Durability: Moderate.
Speed variability? Yes.
Installation: Very easy.
This puppy comes in so many varied sizes—from 7" to 36"!
With a price tag of under $200 for the 16-inch diameter fan, this is an affordable choice. It is shipped ready to install and doesn't require any extra framing.
Another reputable company, Fantech has been making ducts, ventilation components, and filtration systems for over 30 years.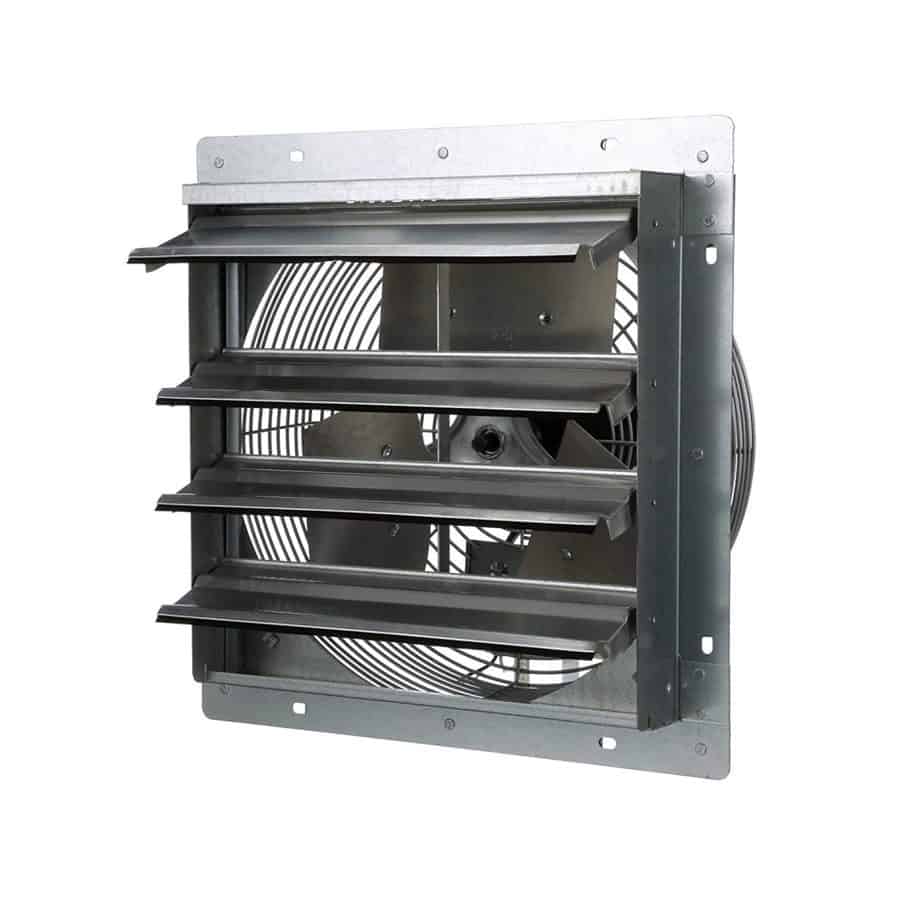 Cost: High.
Durability: Excellent.
Speed variability? Yes.
Installation: Medium-to-hard
This fan features neat self-closing shutters that seal to prevent rain or snow from entering the fan. Super cool!
A steel hub ensures durability, and steel spiral wire guards make this a strong piece of machinery.
The TPI fan runs at a steep price, listed at nearly $350, but you can find it online for a significant discount.
One potential disadvantage to this fan is that it does not come with a cord—instead, it utilizes a junction box for direct wiring to a wall switch (which may, in fact, be an advantage to some builder-minded greenhouse owners!). The "on-off" mechanism is a pull-cord.
How to Calculate Greenhouse Exhaust Fan Requirement (CFM)
Here's a greenhouse fan calculator that should give you an estimate of how much "fan power" (measured in cubic feet of air moved per minute, CFM) you will need.
Still Curious?
Aching to learn more about everything to do with your greenhouse? Read through our complete guide to greenhouses.