A greenhouse allows you to grow plants, flowers, and your favorite vegetables year round. Even if you're a first-timer, the best PVC greenhouse kits will make the project easier to execute and faster to complete.
The thing to know, though, is that there aren't really any fully PVC greenhouses. There are greenhouses with PVC parts, but that's about it. As a result, the greenhouses included on this list may not be what you envision.
Finding the right greenhouse kit that suits your gardening space and climate can be a little tricky, but not impossible. In this article, we'll list the most important factors that you need to consider before buying the best PVC greenhouse kit. We'll also suggest some products that you can check out.
How to Choose the Best PVC Greenhouse Kit
Before picking a greenhouse kit, you must make sure that you've got all the necessary permits to avoid legal issues. The greenhouse kit you pick should be suitable for the climate and plants you wish to grow.
So, why are PVC greenhouses a thing if they aren't really a thing? Well, PVC pipe isn't an ideal building material on its own. On the other hand, PVC is a great option for connecting greenhouse pieces. The result is that greenhouse kits with PVC connectors are referred to as PVC greenhouse kits.
Size
Are you planning to grow vegetables in your garden or want to grow your favorite flowers? A smaller greenhouse will work if you're growing flowers in your garden. A bigger greenhouse will be necessary if you're growing veggies in your backyard.
You should also think about the space you have available in your backyard. A larger greenhouse won't fit properly in a small backyard, leaving no space for other activities. You must also consider how the greenhouse will affect the views of your neighbor as they might complain. If you need help choosing where to put your greenhouse, then check out this guide on greenhouse locations.
Consider the interior too – think of the layout and design of interior shelves. The shelves will support hold your greenhouse plants in all likelihood so adequately laying out and purchasing the correct products are of the utmost importance.
Panel Types
There are several materials available for paneling. You must think about the weather condition and the plants, crops, or flowers you're planning to grow. Clear panels are suitable for a grower because they allow most of the sunlight to pass through.
If you're buying a greenhouse to help your plants reach maturity, you will need a greenhouse with relatively opaque panels as the direct sunlight can be too much for your plants. These opaque panels diffuse the light and promote healthy flowering. 
The real question you need to answer is plastic or glass. While glass has a certain sex appeal when it comes to greenhouses it has cons associated with it too. For example, glass is expensive, breakable, and a poor insulator. This is really just a long-winded way of saying, learn about the plastics options for greenhouses instead of assuming that glass is the way to go.
Insulation
The surrounding environment affects how efficient your greenhouse will be. If you experience snowfall in your area, you need a greenhouse that provides excellent insulation. You also need to make sure that the walls are designed to resist winds, especially in winter. 
Vents and Doors
Although the greenhouse's main job is to protect your plants from low temperatures, overheating can also be a big problem. Most greenhouses come with vents that allow the air to pass through. Additionally, you can use shade cloth or paint to control overheating! Doors allow for easy access, so you can check on your plants. 
The 3 Best PVC Greenhouse Kits
Best Quality

Preview
Title
ShelterLogic 10' x 20' GrowIT Greenhouse
Size Options
10' x 20'
Material
Steel
Polyethylene 5.5 oz

Warranty
1 Year Limited
Our Rating
8.6/10
Cost
$$$
Link
Check Price

Best Deal

Preview
Title
Ohuhu Greenhouse for Outdoors
Size Options
4.7' x 2.4' x 6.4'
Material
Polyethylene Sheet
Thin Metal
PVC Connectors
Warranty
1 Year
Our Rating
7.8/10
Cost
$
Link
Check Price

Best Price

Preview
Title
Home-Complete HC-4202 Walk-In Greenhouse
Size Options
56" x 78" x 56"
Material
Steel Frame
PVC Cover
Warranty
Available for Purchase
Our Rating
8.1/10
Cost
$
Link
Check Price
After you've picked the right space to set up your greenhouse, it's time to pick the most appropriate greenhouse kit. Check out our top picks.


This is a durable and easy to assemble greenhouse that you can use to grow plants, start seeds, and extend the growing season regardless of the weather. It features a sturdy steel frame for long-lasting performance in extreme weather. The tubes are powder-coated to be rust-resistant. The greenhouse comes with strong anchors to guarantee its stability.
The translucent cover is UV-resistant and diffuses the light to protect your plants. At the same time, the clear cover provides excellent illumination to help the plants carry out the photosynthesis process. The RipStop material is also waterproof.
Thanks to the roll-up panels and vent screens, you will be able to regulate the temperature inside the greenhouse. It provides optimal airflow to help your plants grow in perfect conditions, and the resistant cover reduces the need for regular watering.
Although this greenhouse comes in two different sizes, it's suitable for people who have bigger backyards. It's available in two sizes, 10 X 20 X 8 inches and 6 X 8 X 5.3 feet. The bigger version weighs 148 pounds, so it won't tip over. It's also more expensive than other models.
What We Like
Easy to assemble greenhouse.
Sturdy frame with powder coating to protect it from the elements.
Durable anchors to keep the greenhouse steady.
The cover is UV-resistant and diffuses the light.
Waterproof RipStop material.
Roll-up panels and vent screens to control the temperature and airflow.
What We Don't Like
More expensive than other models.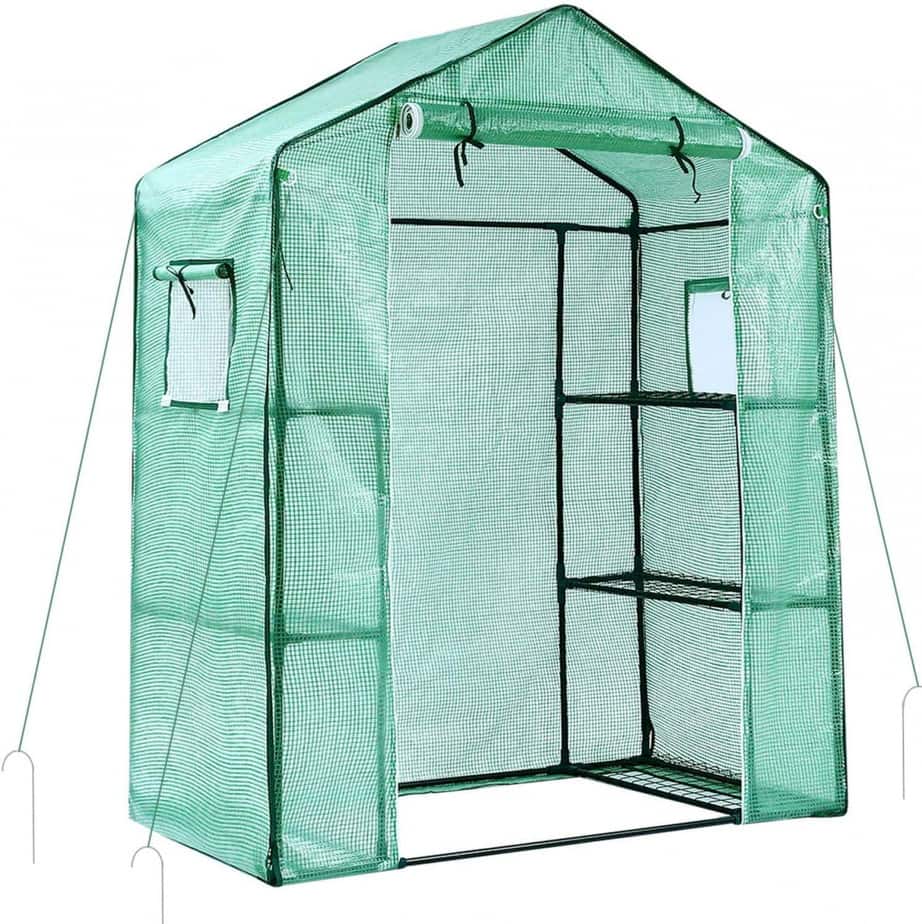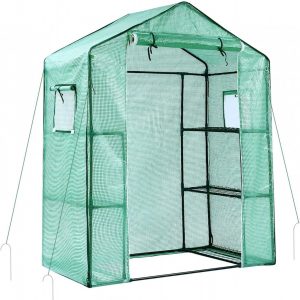 Regulating the temperature and airflow inside this greenhouse is extremely easy, thanks to the roll-up door and two Velcro side windows. You can also open the windows to check on your plants and zip the door to retain the heat. This greenhouse will keep your plants warm, so they won't freeze in the cold winter.
The interior space is big enough to accommodate your vegetables and plants, and there are six wired shelves, three on each side. You can use these shelves to support flower and herb pots or use them to store tools. The greenhouse measures 4.7 X 2.4 X 6.4 feet.
This affordable greenhouse is made of durable rust-resistant tubes to withstand long-term use. The cover is UV-resistant and waterproof to protect your plants. The material is green, so it diffuses some of the light.
You can set this greenhouse up in your backyard, patio, or deck due to its compact size. All the parts are detachable, so you can move the greenhouse around. Although it comes with extra pegs for more stability, this greenhouse won't withstand strong winds and might tip over.
What We Like
Easy to assemble and affordable greenhouse.
Velcro windows and roll-up door for easy access.
Interior shelves to support pots.
UV-resistant and waterproof material.
Detachable parts to move it around.
What We Don't Like
The greenhouse might tip over in strong winds.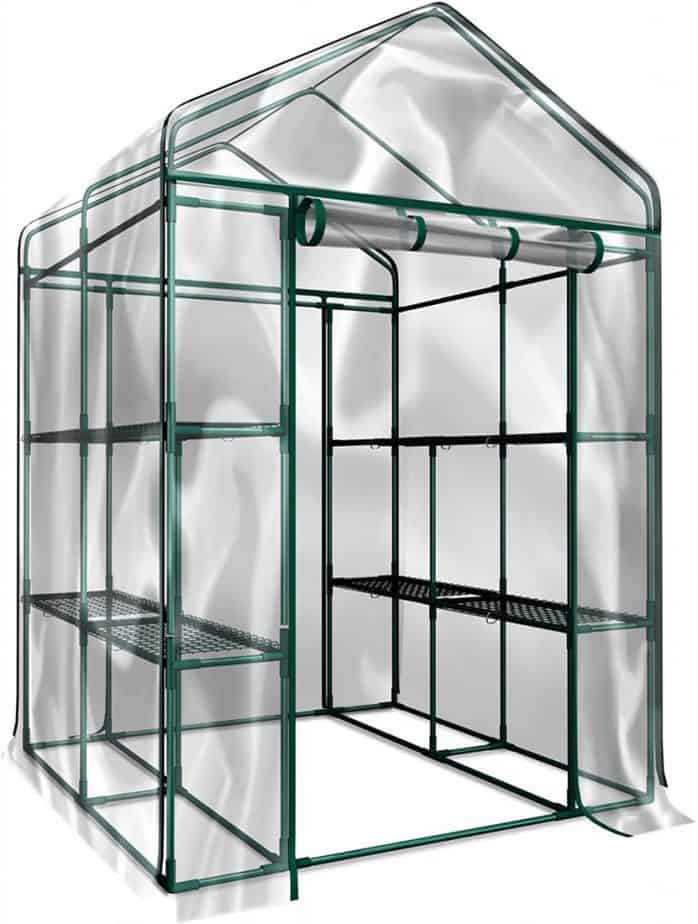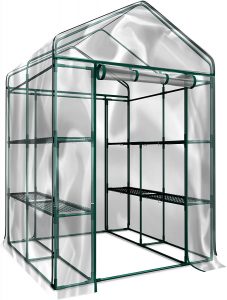 This is an affordable and versatile greenhouse that can be used in your backyard or basement, thanks to its sturdy construction. The sturdy steel frame is durable, and the PVC panels will protect your plants from weather conditions and pests.
If you're a beginner, this will be an excellent greenhouse kit to buy because it needs no tools. It also comes with rope and anchors for more stability. The roll-up door is easy to adjust, providing easy access.
You can use this greenhouse to grow your vegetables or put flower pots and grow herbs on the included eight shelves. The shelves are secured, so they won't tip over, so you can even use them to store tools. You can also remove the shelves to create more space.
However, this greenhouse won't survive in heavy snowfall. You will also have to cut windows to regulate the temperature when the temperature rises.
What We Like
Affordable and versatile greenhouse that can be used indoor or outdoor.
Sturdy steel frame for more durability.
Easy to access roll-up door.
Extra space with eight shelves.
Easy assembly.
What We Don't Like
Not suitable for snowy weather.
Lacks windows for proper ventilation.
Wrap Up
PVC greenhouse kits are easy and fast to put together. They will help you grow the seeds and protect your plants when the weather conditions aren't that favorable.
The ShelterLogic 10′ x 20′ GrowIT Greenhouse is an excellent choice because it has a sturdy frame. The panels are UV-resistant to protect your plants. If you're on a tight budget, you can take a look at the Ohuhu Greenhouse for Outdoors. It's also easy to move around.